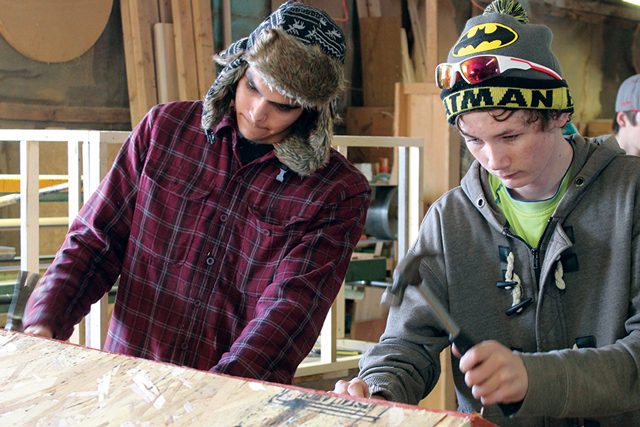 Trade Start builds career future for youth
Co-op education alternative mixes at-risk kids with power tools, and sees success.
By Kristin Ostensen –  
They're the kids you've probably written off. Most are high school dropouts. Some have had problems with drugs and alcohol. None are employed. But at Trade Start none of those labels apply.
Operated by The Salvation Army in Wiarton, Ontario, Canada, Trade Start provides a path forward for youth who are struggling to find the right one. The 20-week carpenter assistant program is in the middle of its first official run, after a successful eight-week pilot project that ran from September to November 2014. Within a week of being in the shop, the young participants were measuring wood with concentration and then cutting with precision, hammering the pieces together to build doghouses and garbage bins.
"I wake up in the mornings and say, 'Yeah, I get to go to work,'" said participant Kristian Stanish, 16. "I don't have to sit down in a classroom with a pen and paper, and have to write everything the teacher's saying. You get told what you have to do, what cuts you have to make, and then you do it. It's pretty cool."
Captain Mary Millar, corps officer at Wiarton Community Church, said in the preliminary days they thought the program might not be accepted because of the risks associated with kids and power tools.
"We started this pilot project, we chose eight kids and we thought it would be really great if two or three of them made it," Miller said. "All of them made it. But they didn't just make it, they had 95 percent attendance. It's surpassed our expectations."
Located three hours northwest of Toronto, Wiarton is a community of 2,300 people, near the large Cape Croker First Nations reserve. The lakeside town is picturesque, but Millar sees a different reality.
"Fifty-seven percent of the children in this area live in poverty; the Ontario average is 17 percent," Millar said. "At The Salvation Army, every day we are seeing the circumstances of people who are stuck. We can offer emergency assistance, but what they really need is a training program, a vehicle to lift them out of the place where they are."
Trade Start can be that vehicle.
"The goal of Trade Start is to take students who have fallen through the cracks in one way or another and teach them skills and make them employable," said Scott Concordia, Trade Start program coordinator. "It's a kickstart in the right direction."
The program runs from 9 a.m. to 4 p.m., Monday to Thursday, and most of that time is spent in the furniture workshop where they learn carpentry skills. They also have in-class time to learn about Workplace Hazardous Materials Information System (WHMIS), occupational health and safety, basic math and how to read drawings for measurements. Trade Start also includes a life skills component, teaching students basic budgeting and financial literacy.
Jake Stott, 16, participated in the pilot project last fall and returned this spring to further develop his skills.
"I was pretty much sitting at home, doing nothing, until I found this course,"  he said. Because of Trade Start, Stott feels that carpentry is what he wants to do for a career.
Finding steady work is also the key motivating factor for Wolf Squires, 19, who did not complete high school. He was looking for a job when his cousin told him about the program.
"It's kind of hard to go to school now because my girlfriend's pregnant and I have to help her out at the house," Squires said. "I want to be able to help out a lot more. At the end of the day, you definitely feel a sense of accomplishment because you look back at what you did today, seeing that you built doghouses and garbage bins. It feels pretty good."
Community partnerships are crucial to the success of Trade Start. The furniture shop belongs to John Foris, who volunteers with The Salvation Army. The wood the group uses to make doghouses and benches comes from local factories, who donate their skids. The program also receives support from the Cape Croker First Nations, who sponsor the cost of supplies, such as boots and tools, for First Nations students.
Trade Start also operates in conjunction with the local school, which treats it as a co-op program. Four of the participants in this session will receive high school credit for completing Trade Start. More than a skills-training program, Trade Start is about helping participants see themselves and their potential differently.
"They don't have anyone believing in them," Concordia said. "People are always pointing out how bad they are. We're on the other side, pointing out all the good things they do and what they have to offer."
Millar recalled a 17-year-old male who participated in the pilot project.
"He had been through so much—addictions, abandonment," she said. "He was the highest-risk boy, but he became the prize student. He is no longer suicidal and is interested in coming back to Trade Start to further develop his skills. These are young people who've lost their hope and now they are filled with hope. We feel very confident that there are going to be great victories ahead."
With the exception of one participant from the pilot project, none of the Trade Start students have had any prior experience with The Salvation Army.
"It's such a privilege to speak into their lives," Millar said. "After the pilot project, the school principal said to me, 'What happened with the kids in that program was magic.' But it's not magic—it's Jesus. He wants to help people to be fruitful, to be using their gifts and talents. These young people are creating things and it's healing them."
Excerpted from Salvationist