Brewing Hope
Vu Pham Hoang, 28, grew up on a coffee farm in Pleiku.
Located in central Vietnam, Pleiku was strategically important during the Vietnam War as the main center of defense in the highland region and home to the U.S. Camp Holloway.
The farm belonged to Hoang's grandparents, and his parents worked the land when they weren't going to school. Hoang's father went on to become a doctor and his mom a pharmacist; they provided Hoang, their oldest child, with an education from the University of Economics in Ho Chi Minh City. Soon after graduating, he worked for an agricultural export and import company before landing a well-paying job at the city's BMW dealership.
The coffee farmers, who work from 4 a.m. to 8 p.m. each day, were on his mind, however, and in early 2010, Hoang quit his job to return to his hometown village.
"My grandparents and all of my family were farmers," he said. "I am the witness of their daily struggles…I feel for their suffering. Therefore, I have a special love for the farmers. My biggest dream and goal was to return and help the farmers in my hometown."
Far from Pleiku, in San Francisco, Major Jack Phillips, then area coordinator for the San Francisco Adult Rehabilitation Center (ARC), had an idea for an open coffee bar in the local family store: Customers buy a cup, mostly donated mugs, and fill it with free, fresh brewed coffee—The Second Cup.
Sitting in the coffee corner in the Geary Family Store, it occurred to Adult Rehabilitation Centers Commander Major Man-Hee Chang that The Salvation Army should produce its own coffee considering that the average ARC uses 150 to 200 pounds of coffee per month.
Through a string of connections, Hoang made contact with Chang and submitted a 16-page business plan proposing a direct trade between the coffee farmers in Pleiku and the Army's ARC Command in the West.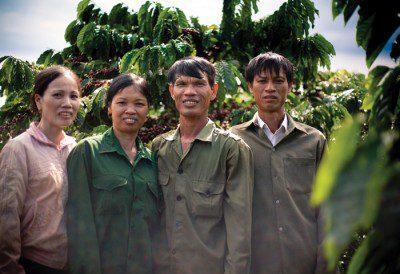 "My parents strongly objected my intentions because they thought what I was doing is not useful for my own life," Hoang said. "They also objected because they saw that the connection with the Americans is not beneficial for me."
Because of his dealings with Chang and others involved with the project—all Americans—Hoang is now on a government blacklist that will make it nearly impossible for him to ever get a job again in Vietnam.
Hoang developed a network of roughly 50 local farmers who agreed to let him handle the sale of their coffee harvests, bypassing the typical broker and ensuring a higher sales price for the farmer. In turn, this money supports additional production, which further increases profit.
"The only reason that makes me want to do this job is my love for the farmers," Hoang said. "I went through [poverty] during my childhood, but I was fortunate to escape it. I want to help so that other families can escape poverty also."
And these beans are big business.
Americans alone drink 400 million cups of coffee per day, making the U.S. the world's leading consumer of coffee, much of which is produced in developing countries.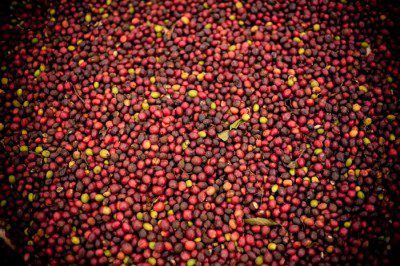 Vietnam is now second only to Brazil in tons of coffee exported nationally, according to the Foreign Agricultural Service, an agency within the U.S. Department of Agriculture. It is the largest producer of the Robusta coffee bean, which accounts for roughly one-third of the coffee produced in the world.
In Pleiku, most families in the town and the surrounding Gai Li Province have a coffee farm—in some cases acres of land, but more commonly, a small patch outside the house.
One acre of land can grow roughly 1,500 coffee plants, which live up to 30 years but must initially develop for three years before harvesting. The initial cost for seedling and three years of care is roughly $750 per acre, according to Hoang. Brokers often loan money to the farmers at 5 percent monthly interest (60 percent per year), with a requirement to sell the harvest to the broker at extremely low rates.
Annual upkeep for pruning, insecticide, weeding, watering, fertilizer, and labor costs nearly $1,300 per acre. According to Hoang, the net income for local farmers is $1,350 per acre—barely above the cost of its operation. The broker then sells the beans at a much higher rate and profits.
In this partnership with The Salvation Army, by eliminating the middleman, the net income for a farmer in Hoang's network is $2,120 per acre, representing a 57 percent profit increase.
At least two of these farmers are family.
On a winding, narrow dirt road outside of Pleiku, Van and Tam—Hoang's aunt and uncle—live with their two children in a one-bedroom house on a 10-acre coffee farm. They have some 15,000 coffee trees, which grow eight- to 10-feet tall. The leafy, green plants grow long vines with red berries with a seed—the coffee bean—inside.
Van and Tam's farm can produce 10 loads—440,000 pounds—of un-shelled coffee berries per year.
Though harvest season runs from November to January, caring for Van and Tam's farm is a year-round, daily endeavor. When the time for harvesting arrives, it takes about a month to complete. Neighboring farmers work together to harvest crops, roughly an hour per tree, sliding and twisting a gloved hand down each individual vine to strip the ripe, red fruit off and onto a tarp below the tree.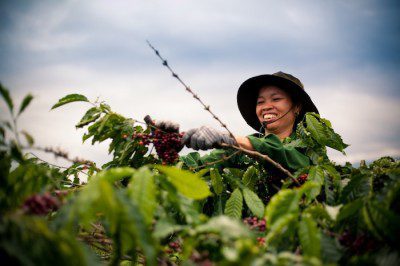 The berries are then carried to the house, and laid out on a tarp to dry in the sun for seven to 10 days. When the bean can be heard rattling inside, the berries are bagged for sale. The typical 90-pound bag of machine-shelled beans sells for $16.
The Salvation Army ARC Command in the West purchased its first load (44,000 pounds) of these Robusta coffee beans in November 2009.
"The [Salvation Army] price is much better than selling to the brokers in Vietnam," Hoang said. "With this help, the farmers sell for a fair price…and are able to take care of their debts, so it will lessen their burden."
The Army began experimental roasting with a contracted company in San Francisco, called Jeremiah's. In this research phase, numerous blends were created before conducting taste tests at ARCs in the West in March 2010. A blend of 75 percent Robusta bean and 25 percent Arabica bean from El Salvador created the right taste—a bold, earthy flavor—with both light and dark roasts available.
A design firm tested six names for the coffee among consumers, deciding on New Day.
Currently, 20 of the 22 Western ARCs serve the coffee to the beneficiaries and staff.
Chang's goal is for the Army to consume 40 percent of the high quality beans and for Hoang to broker the remaining harvest to outside buyers, which will also provide him with an income.
"The market is so big; the potential so great," Chang said. "This is not fair trade; this is direct trade and the net proceeds go back to Vietnam."
Per pound, the roasted coffee costs the Army roughly $3; a 12-ounce bag of New Day or 16-ounce bag of Cafe la V is sold for $5.50. The profit, through a contracted U.S. brokerage firm that is assisting, is then donated to social projects in Pleiku.
To date, the coffee project has assisted the Sao Mai Orphanage, which houses 50 children and is operated by the Catholic Church, with the purchase of new classroom desks and the cost of general operations.
"The Army is not profiting on trade but is winning people through our actions," Chang said. Though The Salvation Army currently has no presence in Vietnam, Hoang expressed interest in becoming a member.
"My prayer is that this will lead to an official presence," Chang said. "Who knows how God will lead us."
For now, The Salvation Army, in a direct trade coffee partnership, is promoting and perpetuating a better future for the farmers and people of Pleiku.
Drink good, do good.