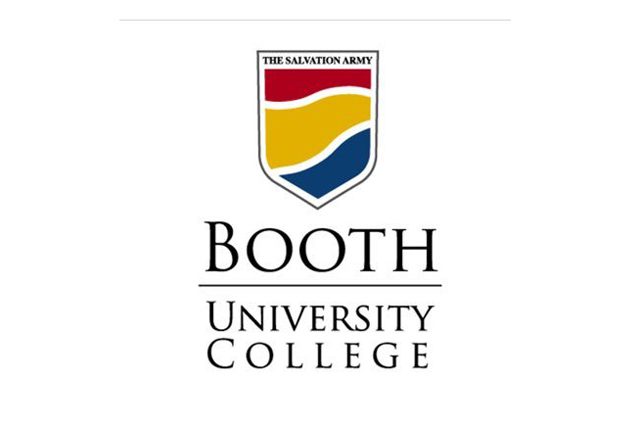 Booth UC to launch Kroc Center leader training course
Initial cohort will start training this January.
In the latest of a series of moves to broaden its global reach, Booth University College (UC) has partnered with The Salvation Army's Kroc Centers to launch a leadership development training initiative early next year.
At the recommendation of the National Advisory Board, the National Kroc Centers Task Force tailored specific training content for Kroc Center leadership staff, including both current and future officers and non-officers.
Booth UC, which has generated leadership development initiatives for distinct Salvation Army requirements through its certificate programs, will offer a "Certificate in Kroc Center Leadership" for Kroc Center staff in the four U.S. territories.
Lt. Colonel James Nauta, Kroc Center Project Specialist for the Central Territory, said the fact that Booth UC had already developed leadership training content for nonprofit leaders made it an ideal partner. The need to adapt this content to Kroc Center leaders grew out of the unique challenges in leading one.
The Salvation Army currently runs 26 Kroc Centers across the four territories, from San Diego, Calif., to Camden, N.J., serving over 130,000 people each week. The centers contribute open space, recreation and needed services to the community, including fitness and wellness activities, social services, aquatics, childcare and other programs, depending on location. It's a diverse range of responsibilities.
"These are some of the most unique appointments," Nauta said. "So we need to make sure we're preparing our leaders to step in. We also feel that this could be useful your own personal or professional development. For instance folks that might be in the second tier position but might eventually move to a director of operations, for example."
The program will accept roughly 20 students from across the country in each cohort. The curriculum will include two five-day intensive cluster of courses—one with a concentration on leadership and another with a concentration on operations—along with online courses on human resources and financial management. The program will culminate in a capstone project and practicum experience.
According to Steve Bireley, who represents the Western Territory on the Kroc Centers Task Force, financial analysis was among the greatest areas of need for Kroc Center leaders.
"I think it's important understanding how to read financial reports, and how to use them to help bring about organizational change," Bireley said. "There's also a very specific leadership challenge in that you're managing a large group of managers on our staff and so the leadership style needs to be different."
Because this is the first cohort, Lt. Colonel Susan L. van Duinen, Dean of the School for Continuing Studies at Booth UC, said one of the goals needs to be constantly improving the course content.
"This is a first," she said. "Ultimately, we need to help them keep their ministry units safe, to drive their mission, and to ask lots of questions."
For more information, visit bit.ly/krocbooth