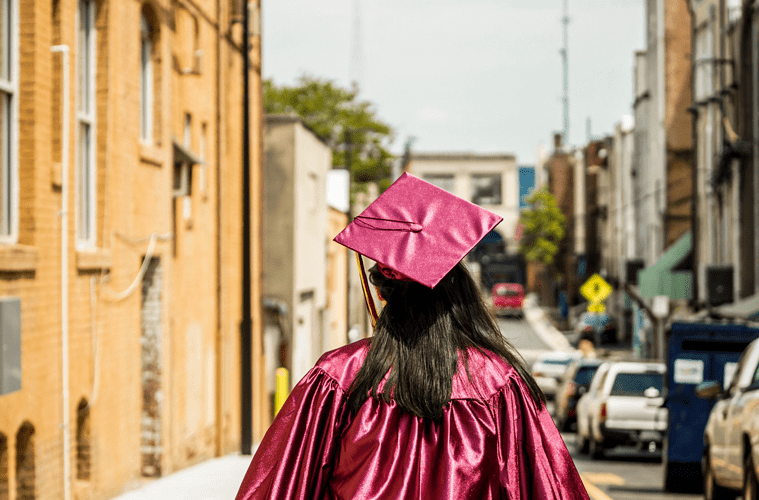 8 Books to inspire graduates to live the good life
If you've ever graduated, you've probably heard excerpts from Dr. Seuss' book, "Oh, The Places You'll Go!"—famous lines like, "You have brains in your head. You have feet in your shoes. You can steer yourself any direction you choose."
While the book's rhythmic inspiration is, perhaps, the most popular go-to graduation book, there are a number of other titles worth gifting to the grad in your life. If you're looking for ways to inspire your favorite new grad to get the most goodness out of the next chapter of their life, consider gifting one of these books.
New York Times-bestselling author George Saunders' reflections on his regrets in life are not about the admittedly dumb things he's done, but the opportunities in which he chose not to be kind. In "Congratulations, by the way: Some Thoughts on Kindness," Saunders builds on his viral commencement address at Syracuse University that argued life is a gradual process of becoming kinder and more loving, so why not hurry it up? Instead of being selfish, "Congratulations, by the way" encourages readers to lead kinder, more fulfilling lives.
In "In Conclusion, Don't Worry About It," "Gilmore Girls" actress and New York Times-bestselling author Lauren Graham builds on the graduation speech she gave to her hometown high school, and offers advice for graduates and reflections about staying true to yourself.  "Whatever path you choose, whatever career you decide to go after, the important thing is that you keep finding joy in what you're doing, especially when the joy isn't finding you," Graham writes.
For a lighter inspirational read, choose "Whatever you are, be a Good one," by Lisa Congdon. The hand-lettered quote book features wisdom from famous figures like Harriet Tubman, Joan of Arc and Marie Curie, who said, "Nothing in life is to be feared. It is only to be understood." Congdon aims to encourage readers to make the most out of life, one inspirational quote at a time.
"Harry Potter" series author J.K. Rowling's 2008 Harvard commencement speech is published in book form in "Very Good Lives: The Fringe Benefits of Failure and the Importance of Imagination." Drawing from stories from her own post-graduate years, Rowling addresses embracing failure and using our imagination to better ourselves and others. "We do not need magic to transform our world; we carry all the power we need inside ourselves already," she writes.
A poem for the dreamers of the world, "For Every One" is Jason Reynolds' reminder of our own abilities to dream. The poem was originally performed at the Kennedy Center for the unveiling of the Martin Luther King, Jr. Memorial, and takes the form of a letter. In the letter, Reynolds draws from his own experience to show he, too, is a traveler on the journey. "This letter is being written from the inside. From the front line and the fault line. From the uncertain thick of it all," he writes.
If you fondly remember the parting words from a loved one of, "have a good day!" each morning before school, Jennifer Universe's "Make it a Good Day" will be the grown-up reminder to give those you care about for their next chapter. In the colorful illustrated book, Universe gives tips for good days, so you can turn each day around and create a positive routine for readers.
Artist Susan O'Malley asked more than 100 people of various ages and walks of life what advice would your 80-year-old self give you? Prior to O'Malley's early death, she transformed the responses into typographical designs in "Advice From my 80-Year-Old Self." Advice ranges from "travel before the knees give out" to "it's OK to have sugar in your tea." One thing's for sure, we each have wisdom no matter our age.
In "Make Your Bed: Little Things That can Change Your Life and Maybe the World," Admiral William H. McRaven shares 10 principles he learned during Navy Seal training that helped him overcome challenges both in his career and throughout life—lessons he originally shared in a commencement speech at the University of Texas at Austin. In the book, McRaven aims to encourage anyone to embrace the principles to change themselves for the better. And the first step? Making your bed.
---
Do Good: