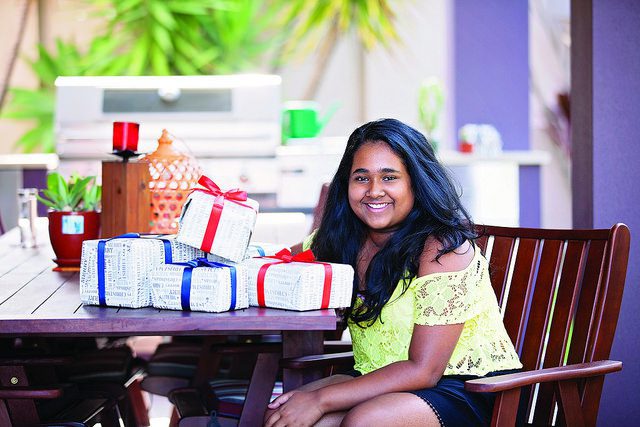 Australian schoolgirl demonstrates true spirit of Christmas
Inspired by a family tradition of serving others, Reshmi reaches out to children in Sri Lanka.
By Esther Pinn – 
Most children write a Christmas wish list hoping that Santa will be good to them on Christmas morning. But not Reshmi, who lives in Sydney, Australia, where she attends the Blacktown Salvation Army Corps. Two years ago her wish list looked a little different. Instead of wanting presents for herself, this 12-year-old asked her family and friends for gifts she could give to orphans in Sri Lanka.
Supporting her request, on Christmas Day in 2012 Reshmi's family and friends wrapped presents for her to give to orphans. The following Christmas, Reshmi and her family flew thousands of miles from Sydney to personally hand out gifts to children at The Salvation Army's The Haven and Sunshine Homes in Sri Lanka.
"I didn't get Christmas presents but that didn't really matter after seeing [the children's] faces," Reshmi said. "And just a little thing such as a teddy bear brought so much joy to them."
Reshmi's spirit of giving stems from her family's long history with The Salvation Army. Starting with her great-grandfather, Lt. Colonel James Wickramage, who devoted his life to serving others as a Salvation Army officer in Sri Lanka, both her parents followed in his footsteps, holding health clinics at The Haven and Sunshine Homes more than 13 years ago.
"My grandparents and my mum and dad and uncles and aunties [have] always [been] very encouraging about giving to people who don't have much," Reshmi said. "[My parents] were telling us the story one day [about the orphanage]. I just thought, 'Wow. These kids have so little and we have so much.'"
From one selfless act, Reshmi's giving spirit spread like wildfire. Her principal at Pacific Hills Christian School in Sydney heard about her generosity toward Sri Lankan orphans and put a plan into action. Seven students from the school, including Reshmi and her two siblings, Dilara (16) and Enosh (7), spent two weeks on a mission trip to Sri Lanka in 2014, along with two Pacific Hills school teachers and Reshmi's mother, Sharmila. Each student personally invested into the trip by paying for their expenses with the help of their parents. All money raised through school fundraisers went toward helping Sri Lankans.
"We really feel it's a great privilege that The Salvation Army [allowed] us to come and serve with them," said mission team leader and biblical studies teacher Juliana Harmeling. "Our school really strongly believes in mission … to help and serve others is something we want to instill in our students."
Pacific Hills Christian School in Dural, northwest of Sydney, collected almost $1,000 to help finance the mission work. With the funds raised, the mission team purchased bedding and cots for The Haven and Sunshine Homes. They also repainted the nursery at the orphanage and ran programs for the preschool children and their mothers.
The team also purchased sporting equipment for a Salvation Army boys' home in Sri Lanka.
The Salvation Army elders' home was another stop for the team, who gave out presents to the residents. This home was where Reshmi's great-grandfather lived before his death in 2013. Lastly, the team visited a school–not run by The Salvation Army–to paint a classroom.
Through all activities, the team aimed to show Christ's love in every action, according to Harmeling.
For Reshmi, the mission trip was an opportunity to gain a worldview perspective and make a difference in the lives of others. "We have such good schools, good education and we have amazing parents who provide this all for us," she said. "Some people just don't and that's really sad. But even by just doing this little bit we can make their day or do something they will remember for the rest of their lives. That's an easy way we can make an impact in this world."
Reshmi credits her great-grandfather, Lt. Colonel Wickrama James Wickramage, as one of the inspirations for wanting to help orphans in Sri Lanka. Wickramage served as a Salvation Army officer in Sri Lanka for more than 40 years. He was promoted to Glory in September 2013, at age 104.
He entered the Army's training college when he was in his early 20s. As an officer he held a range of positions including returning to the training college many years later as principal. In 1965, he represented Sri Lanka at the centenary celebrations of the international Salvation Army in London. Four years later, he was appointed general secretary, second in charge of The Salvation Army, in Sri Lanka. He retired from active service in 1974.
Reshmi's mother, Sharmila, said she is proud of what her children have done. After establishing medical clinics while living in Sri Lanka many years ago alongside her husband, a doctor, Sharmila said she is eager to pass a spirit of generosity on to her children.
"We often talk about the less fortunate we came into contact [with] when living in Sri Lanka," she said. "That is basically what made my kids start thinking [about how they could help]."
First published in "Pipeline," a Salvation Army periodical from the Australia Eastern Territory