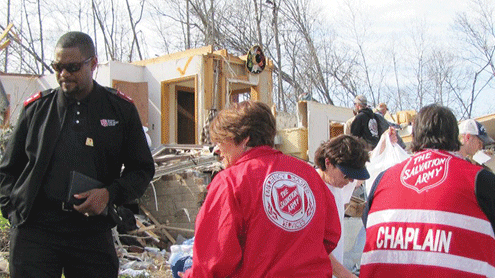 Army responds to tornadoes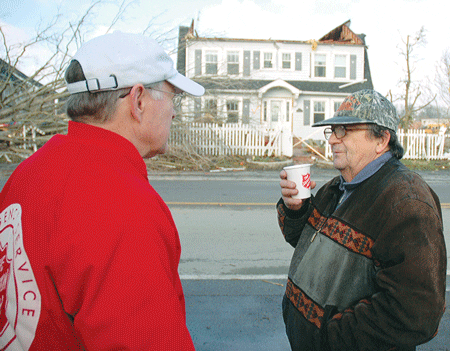 By Martin Hunt
At least 39 people have been killed, following the deadly tornadoes that swept through the Midwest and the South. On Feb. 29, The Salvation Army's Emergency Disaster Services teams (EDS) mobilized to provide aid to those affected in Kansas, Missouri, Illinois, Alabama, Tennessee and Indiana.
"Our Emergency Disaster canteens are in the hardest hit communities providing food and supplies," said Major Lonneal Richardson, divisional commander in Missouri and Southern Illinois. "We are there to provide a hand up and relief to those in need."
Salvation Army canteens deployed to Branson, Joplin, Kimberling City, and Lebanon, Mo.; Harveyville, Kan.; Harrisburg, Ill.; and Athens and Meridianville, Ala., to provide meals, snacks and drinks to first responders, survivors and clean-up crews along with emotional and spiritual care to anyone in need. In Chattanooga, Tenn., more than 200 meals were served at the evacuee center, and The Salvation Army of Cleveland, Tenn., served as a shelter for those seeking refuge from the storms.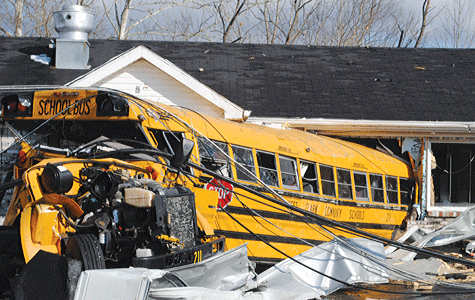 In Henryville, Marysville, and New Pekin, Ind., the Army served more than 5,100 meals to survivors and emergency workers. The number of meals is expected to increase as survivors return to their homes. An EDS Warehouse and Command Center in Jackson, Miss., is also being utilized to manage the widespread response across Alabama and Mississippi.
"We are here to serve in whatever way we can," said Dee Smith, EDS director out of Topeka. "And we will not leave until all the needs…are met."
Supporting the tornado relief efforts of The Salvation Army, Local TV Station FOX 59 in Indiana, hosted an 18.5 hour telethon. Beginning March 5 at 4:30 a.m. and running until 11 p.m. (CST), the telethon raised $236,598 to assist the survivors of the deadly storms.
"There's an awful lot going on in the state, but I don't know anybody that's done any more or more quickly than you guys have," said Governor Mitch Daniels of Indiana, during the telethon.