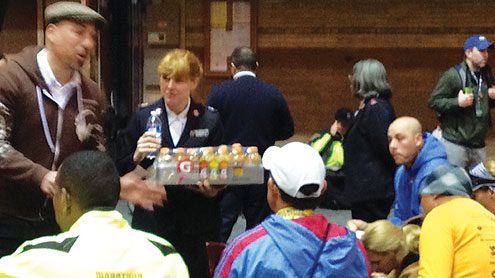 Army responds to Boston Marathon tragedy
Salvation Army staff provides physical and spiritual care to victims.
After two explosions injured more than 170 people and left three dead at the Boston Marathon finish line April 15 in Boston,  Salvation Army first responders provided support for survivors. Canteens supplied food and Army staff offered emotional and spiritual care.
"We thank God for the meaningful conversations that occurred during this difficult time," said Major David E. Kelly, divisional commander for The Salvation Army Massachusetts Division. "I am deeply grateful for the quick response, compassionate spirits, and heart for ministry with which our officers, staff, and volunteers responded."
The canteens were positioned at various sites throughout the city, including the Unified Command Post, the Family Assistance Center at Park Plaza Castle, and Kenmore Square, where meals, snacks, and beverages were served to survivors, families and first responders. As of April 16, more than 2,000 meals and drinks had been distributed.
Army personnel were also stationed at area hospitals to be on hand for pastoral care.
The Salvation Army is collaborating with the Office for Emergency Management, the Boston Fire Department, the Boston Police Department, Sparks, the American Red Cross, the Department of Child, Youth and Families (DCYF), Riverside Trauma and the Boston Public Health Commission, and will remain on site at the Family Assistance Center as long as support is needed.
"Please continue to pray for those so dramatically impacted by this tragedy," Kelly said.
Donate to The Salvation Army's Emergency Disaster Services efforts at donate.salvationarmyusa.org.