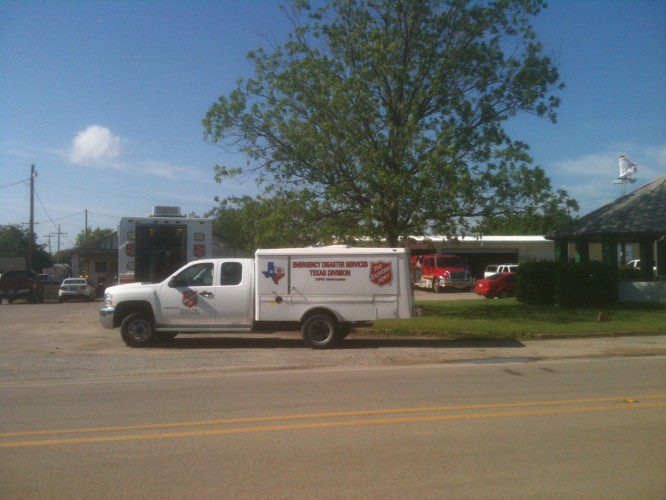 Army requested after Texas tornadoes
Severe storms in Dallas-Fort Worth Metroplex spawned a large tornado last night that caused damage and power outages.
After a tornado touched down in Rio Vista, Texas, at approximately 10:29 p.m. Sunday night, the Cleburne Fire Chief, who is working with the Rio Vista Fire Department for the tornado response, requested that The Salvation Army provide meals and hydration to the fifty responders conducting operations around Rio Vista.
The Fort Worth Lancaster Corps Canteen and DFW Metroplex Catering Truck arrived, led by Jimmy Stanford, DFW Metroplex Command emergency services manager and Frank and Bera Calvert, to provide donuts, snacks, coffee, water, and other drinks.
Elizabeth Aranguren, The Salvation Army Cleburne service center director, also arrived with breakfast burritos, salsa, snacks, and drinks to the responders at the Rio Vista Fire Station. A helicopter damage survey is being conducted and all that has been confirmed so far is structural flood and wind damage.
Four twisters have been confirmed by the National Weather Service so far. Three of those tornadoes have been confirmed near Rio Vista, and all four were EF0, the lowest level on the Enhanced Fujita Scale.
The entire town of Rio Vista, Texas, was without power Monday morning following the severe storm, according to NBC DFW.
If you are interested in learning more about The Salvation Army Emergency Disaster Services (EDS) in the great State of Texas, or to become a local disaster volunteer, please visit: www.disaster.salvationarmyusa.org.
For the most up-to-date emergency disaster services news from The Salvation Army in Texas, please visit: disaster.salvationarmyusa.org and follow the latest updates on Twitter and Facebook.
Joshua Moseley contributed to this report