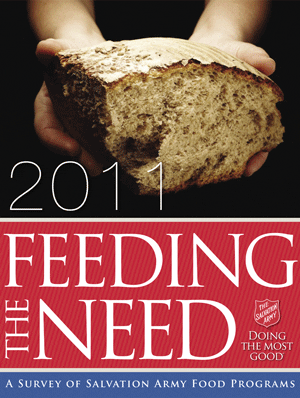 Army conducts food assistance study
National survey shows 94 percent increase in need.
by Alma Bahman
The Salvation Army National Headquarters surveyed over 30 of its U.S. food assistance programs from Oct. 20, 2010, to Nov. 22, 2010, measuring demand for services, food supply and donations. The results, released Jan. 18 and titled Feeding the Need, examine the past 12 months of program operation in cities from San Francisco to Amery, Wisc. The Army hopes this study will emphasize the need for public support.
"Food programs nationwide are noting significant increases in demand still, despite the official 'end' of the recession," Commissioner William Roberts wrote in the report.
Feeding the Need notes that an expanding group of clients—including young people, families with children and the working poor—led to a general increase in food assistance in 94 percent of the surveyed programs. It also attributes steady or reduced donations from government, public and private donors to tightened budgets. Other findings include:
There was no reported decrease in demand, but 10 percent of programs. reported an increase of 50 percent or more
Donations remained the same or decreased in 58 percent of programs.
About one-third of respondents reported that food stocks were approaching low (20 to 40 percent full) or are at low (less than 20 percent full) levels.
Food items most requested at these Army programs include meat, produce and dairy followed by ready-to-eat meals (e.g. canned soup), assorted grains, diapers and personal hygiene products.
Despite these times of need, volunteer rates are promising with 57 percent of programs reporting sustained levels of volunteers and 23 percent seeing an increase. The study also reports nearly half of the programs felt they could meet needs in the coming year.
With the proper support, the Army can assist approximately 30 million people per year.
Visit salvationarmyusa.org to read or download the full report.