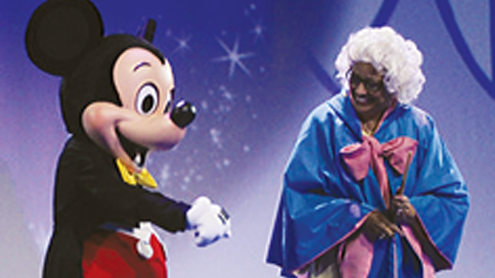 Army advisors assemble in Orlando
NAOC 2011 is a time to 'Just Imagine.'
By Bob Docter and Christin Davis
As April turned into May, over 2,000 Salvation Army advisory board members, officers and employees from across all four U.S territories assembled for the National Advisory Organizations Conference (NAOC) amidst the forests and lakes of Walt Disney World in Orlando, Fla. The conference is  held every four years.
They came to be stretched and challenged, to Just Imagine. "Just imagine what God has in store for us—the good he will do through us—how new technologies can spread the good news of physical and spiritual salvation," conference material challenged. "Just imagine the world of possibilities we will encounter, the small steps and giant leaps we will make and the good we will do—together."
Kay Coles James, member of the National Advisory Board (NAB) and president of the Gloucester Institute of Richmond, Va., chaired the conference. In the spirit of Disney, she wore a fairy godmother costume and a large silver wig in session one.
Onstage with Mickey Mouse, James communicated her affection for The Salvation Army and drew on thoughts from the Doing the Most Good Manifesto: "I am an Army, commissioned by a man who defied death. My enemies are despair and destruction; my ammunition is grace and mercy; my desire is to help others be all they can be." She reminded the delegates: "In The Salvation Army, there are no discarded lives—only discarded pasts."
A number of Army and advisory leaders addressed the delegates in the opening session. Commissioner Max Feener, territorial commander in the South, said, "The Salvation Army is stronger today than ever before, and we are grateful for your efforts in helping us achieve that continuing goal." National Commander Commissioner William Roberts said, "Expect to be challenged, stretched and encouraged. We meet not to convince you of something. You already believe. This conference is about strengthening. Let's imagine things together." Charlotte Jones Anderson, NAB chairperson, said, "One of the greatest assets of The Salvation Army—its humility, can sometimes be its greatest challenge." She encouraged each attendee to create association between the Army and one corporate sponsor in his/her community.
In following general sessions, NAOC featured appearances by families helped from the throes of difficulty and despair. Called "Our Family Album," delegates heard the family's story and then met its members as they took the stage. Each received a standing ovation. The album entries included a young girl who participated in Army afterschool programs while both of her military parents were deployed overseas, an unemployed father whose family was rescued by the Booth Emergency Shelter in Akron, Ohio, and a teenage foster child from Santa Monica, Calif., who has become a remarkable pianist through the corps' music education program.
In one keynote address, Jenna Bush Hager, 30, daughter of President George W. Bush and former first lady Laura Bush, said, "I'm inspired by the work of The Salvation Army—working now for almost 150 years helping hurting people."
She spoke about her book Ana's Story: A Journey of Hope (2007, HarperCollins), which tells the story of a young girl she met while working as a UNICEF intern in Latin America who struggled to free herself from abuse and illness. Hager compared this work to what Army ministries do around the world every day. "The more we know someone, the more we can help," she said. "Numbers don't provide a way into people's lives. It's the details that resonate with us." Hager now works as a contributing correspondent to NBC's Today.
Laura Bush, a member of the NAB, graciously received the Evangeline Booth Award along with singer-songwriters Bill and Gloria Gaither; Michael Flaherty, president of Walden Media; and Glen Keane, a 36-year veteran of Disney Animation.
NAOC delegates heard from two other keynote speakers: Peter Sheahan, a dynamic and energetic consultant on workforce trends and generational change, and Tom Tierney, a leader within the non-profit community and chairman and cofounder of the Bridgespan Group.
Sheahan captivated the audience with the pace of his words, the power of his ideas and the scope of his knowledge. His book, Flip, is a New York Times bestseller, and he often speaks to the necessity of engaging members of Generation Y (those roughly 18-30). Shehan said we "predict the future on the basis of your present assumptions" and often make two inaccurate assumptions. First, "that Gen Y doesn't volunteer or become involved," he said. "The second is that they don't want to work. Both are wrong."
According to Sheahan, if the Army fully engages this group it will find success. However, he said, "Our job is not to be 'cool' with them, and please understand that if you're working to be 'cool' you're not! Our job is to engage them and build relationships around specific ideas."
Tierney challenged the Army to impact and target issues of concern through collaboration and passion in a manner that will move it into a decade of massive change.
"You have a wealth of talent—a network for good to aid communities," he said. "You are willing to invest time for a higher commitment. You seek to repair the world. We need clear results to achieve that end. Serving is not as important as results. People want specific clarity." To succeed in this, Tierney said we have to ask the right questions: what results are we accountable for and how should we accomplish our aims?
"You own one of the world's most deeply trusted brands. Stability is comfortable," he said. You can increase your service as communities reduce theirs. You can serve this growing population and strive to find ways, also, to solve the array of problems confronting us."
Roberts addressed the NAOC delegation at a Sunday morning worship service, communicating that God is able to meet all we can imagine when it comes to our relationship with him, with others and with ourselves.
"Our imaginations have been stimulated, our minds challenged, and there has been no better place for that to happen than here in the capital of 'imaginationism,'" Roberts said.
He cited the conference's selected biblical text: Now to him who is able to do immeasurably more than all we ask or imagine, according to his power that is at work within us, to him be glory in the Church and in Christ Jesus throughout all generations, for ever and ever. Amen (Eph. 3:20-21 NIV).
"What he had been saying, words which were indeed incredible and beyond belief, was that God, the God of Abraham, Isaac and Jacob, yes, even the God of creation, was not the property of any one particular people, faith, culture, race, nationality, or political party," Roberts said. "Actually, God was the God of all, all things, all persons.
"Here is a God who can do the unimaginable, and is not limited to anyone's thinking, or knowledge, or persuasion, or expression, or belief, or imagination as to what he is like," he said.
"I can imagine your relationship with God restored; I can imagine your relations with yourself restored; I can imagine your relationship with others restored," Roberts said. "Can you?" He reflected on the words of Jesus: "whoever comes to me I will never drive away" (John 6.37).
Read more about the NAOC, including a profile of Charlotte Jones Anderson and a feature story about Santa Monica's youth music program, in the spring 2011 issue of Caring.