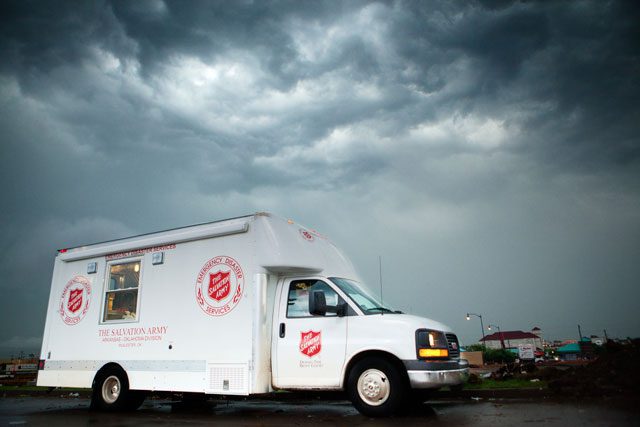 Tornadoes wreak havoc in Southern and Central territories
Text "STORM" to 80888 to make a $10 donation by cell phone.
 Powerful storms raged from Iowa to the Carolinas May 27, wiping out homes and killing at least 16 people, with Arkansas hardest hit as tornadoes left a trail of destruction along a 100-mile stretch. This is to date the most destructive tornado outbreak of the year.
The Salvation Army's Emergency Disaster Services (EDS) personnel have been at work, coordinating their efforts with other emergency managers, providing relief to first responders and victims, and assessing the damage.
This animation of NOAA's GOES-East satellite data shows the development and movement of the weather system that spawned tornadoes affecting seven central and southern U.S. states on April 27-28, 2014.
Image Credit: NASA/NOAA GOES Project
The Army's Arkansas-Oklahoma Division placed disaster response teams and mobile feeding units across the division on stand-by for 48 hours. EDS team members are ready to meet survivors' immediate needs, including food, water, cleanup kits, and emotional and spiritual care.
Monetary donations are the most critical need as supplies and personnel are mobilized.
• Donors are encouraged to give online at SalvationArmyUSA.org or by calling 1-800-SAL-ARMY (1-800-725-2769).
• You can also text the word "STORM" to 80888 to make a $10 donation through your mobile phone; to confirm your gift, respond with the word "Yes." (Please be aware of any fees associated with your plan.)
• Donations in the form of checks designated to ARKANSAS Tornado Relief may also be mailed to:
The Salvation Army
PO Box 738
North Little Rock, AR  72115-0738