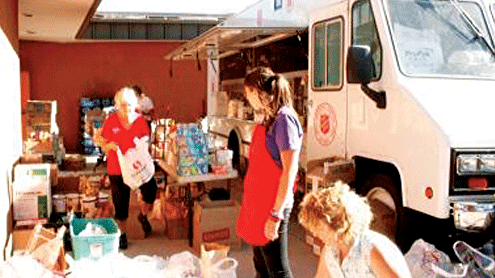 Arizona wildfire continues to burn
The Salvation Army remains on the scene providing assistance.
By Heather Andreasen
Still burning across more than 520,000 acres, eastern Arizona's Wallow Fire is now the largest wildfire in Arizona history. At one point, nearly 10,000 people had to evacuate their homes, and as of June 21 it was just 56 percent contained.
The wildfire started on May 29, when an abandoned campfire in Bear Wallow Wilderness, located in the Apache-Sitgreaves National Forests, changed the lives of thousands of Arizona residents. As displaced inhabitants and business people left the area, The Salvation Army headed in.
Evacuees found temporary shelter at Blue Ridge High School in Lakeside, and The Salvation Army was called upon to provide meals. The White Mountain Outpost's mobile kitchen was deployed, and David Sherman, employee in charge, along with several volunteers, began providing three meals a day to evacuees and fire responders. One evening, they were able to serve a special meal of steak and shrimp when the Amberian Peaks Lodge in Greer donated the food—valued at more than $5,000—after they were forced to evacuate.
As the fire grew and more cities were evacuated, a Salvation Army team from Las Vegas arrived with a mobile kitchen, support truck and food service supplies.
In response to the great need created by such a disaster, local grocery store chain Bashas' established a partnership with The Salvation Army to collect money that would directly benefit the Army's fire relief efforts. Additionally, Albertsons grocery store donated $20,000 to assist with disaster relief. Volunteers and donors also stepped up to help, providing gifts of time and money to help fire victims.
Although the fire is still burning, the shelter has closed and the Army's focus has transitioned to recovery assistance. Jim Puza, Phoenix area Emergency Disaster Services director, said, "We will be providing recovery assistance at least until reentry into all evacuated areas is permitted."
The Salvation Army has provided 2,700 meals, 673 snacks and 206 food boxes to evacuees.
Karen Gleason contributed to this article.