Annual spring festival benefits Salvation Army's Pinehurst Lodge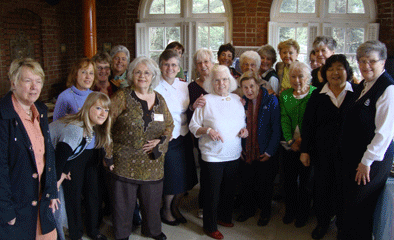 Event raises thousands of dollars for women's adult rehabilitation center.
By Cindy Engler
More than 300 people attended the Pinehurst Women's Auxiliary's annual spring festival/fundraiser on June 4 in San Francisco, raising almost $7,000 for Pinehurst Lodge, a women's adult rehabilitation center (ARC).
"We are truly blessed with the overwhelming support we receive from the community every year at this enjoyable fundraiser," said Major Katherine Reed, Bay Area coordinator for The Salvation Army ARC in San Francisco and Lytton Springs.
"Since 1946, Pinehurst has been a safe haven for women in the San Francisco Bay Area," Reed said. "By attending the festival, these supporters are allowing us to continue our work helping women find salvation."
The fundraiser featured a silent auction where guests bid on items including Franklin Mint collectibles, hand-painted ceramics and paintings. Attendees could visit the outdoor garden, jewelry boutique, and book and collectible departments.
Guests especially enjoyed the cheesecake and tea café where beneficiaries and alumni shared their stories of recovery.
"They're what it's all about. We do this for them and their spiritual wellbeing and health," said Yvonne Daubin, president of the auxiliary. "It's important to share these stories," to show how far they've come and the role The Salvation Army played in their journey."
Pinehurst accommodates 24 beneficiaries and two resident managers.