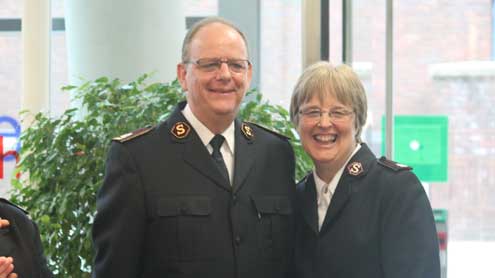 André Cox Named General_High Council elects 20th General

By Christin Davis and Robert Docter
The vision is clear: André Cox stood at the entrance of a James Bond film and saw himself in uniform, preaching the gospel in Africa.
It was an image that would become reality, and the first step in one Salvationist's impact on an Army.
On Aug. 3, the 18th High Council elected Cox, 59, as the 20th General of The Salvation Army. He assumes international leadership following 34 years as an officer, most recently serving as Chief of the Staff at International Headquarters in London.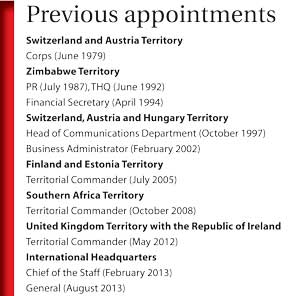 "Rank and position don't amount to much," Cox said in an interview with New Frontier Publications. "I've never felt called to rank and position. God called me as an individual, and he created me the way he created me… I'm not important, God is important and I want to follow his leading."
In his first 100 days as General, Cox said he plans to focus on four aspects of The Salvation Army—administration, youth, spirituality and leadership development.
First, he said he will look at the Army's administrative structures.
"I want to see how appropriate those are. Our administration really only exists to support the frontline ministry and I hate with a passion unnecessary bureaucracy," he said. "I understand the need for good administration and we will do that but [will look at] how we can facilitate things at the front line."
Cox said he and wife Commissioner Silvia Cox, who will continue in her current role as World President of Women's Ministries, have a "particular heart for young people."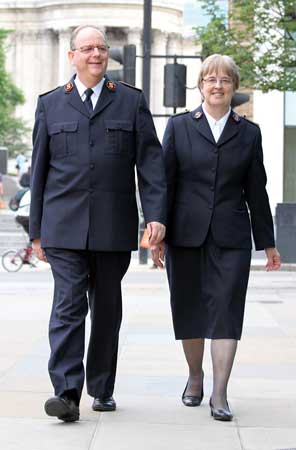 "I'd like to see how we can encourage and develop programs for the teaching, the discipling, the mentoring of our young people," Cox said. "I don't consider our young people to be the Army of tomorrow, they are already the Army of today and they need to be reaching today's generation effectively."
He said he is also concerned about the spirituality of the Army's ministry.
"We need to rediscover, I think, faith and confidence in the authority of Scripture as being the divine revelation given to us by God and we need to be serious about that," Cox said. "A lot of our people are fed on sermons from Sunday to Sunday. We want to be people rooted, grounded in the Word of God."
And he said leadership development is a key issue.
"I am concerned about how we prepare people for future leadership, for present leadership and how we could do that better," Cox said.
As a member of the High Council's questions committee, Commissioner Carol Seiler of the USA Central Territory, said, "The discussion before and during the High Council, as well as questions posed, clearly show an increasingly complex context for mission, which is being grappled with around the world by officers and soldiers who show great diversity threaded through with a sincere love of God and the Army. The General has no easy road as he negotiates complex cultural, financial and spiritual issues."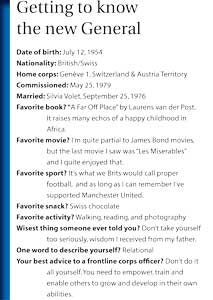 The council's 117 members (64 women and 53 men) nominated five commissioners—three Americans and two Europeans. On the sixth day of meeting, each member cast a ballot in secret before High Council President Commissioner William Roberts, USA National Commander, announced the results. Six days after his election, Cox appointed Roberts as Chief of the Staff, effective Oct. 1.
Roberts presented Cox, wearing the uniform trim of a General, to the council members immediately after his election. "You have placed an awesome task upon our shoulders," Cox said. "I want this Army to be a force for good throughout the world, transforming communities and living up to the spiritual values we proclaim."
These values are part of Cox's roots.
Born in Harare, Zimbabwe, to a Swiss mother and an English father, Cox spent his childhood in Africa and the U.K. prior to moving to Switzerland, where he met his wife. Commissioner Silvia Cox (nee Volet), who also had officer parents, was born in Argentina in 1955, but her home was Switzerland.
The couple trained at the Army's International Training College in London, each one commissioned in 1979. They served in two corps appointments in Switzerland and then moved to Zimbabwe in 1987 with their three daughters: Myriam, Esther and Sarah. The Coxes served at Zimbabwe Territorial Headquarters for 10 years in the public relations, finance and trade departments; she also served as superintendent of Braeside Social Home.
From Africa, the pair returned to the Switzerland, Austria and Hungary Territory in 1997 and held headquarters appointments in the mission and public relations departments; he also served as head of communications and head of business administration. They were then appointed territorial leaders to the Finland and Estonia Territory in 2005, the Southern Africa Territory in 2008 and U.K. Territory with the Republic of Ireland in 2012. In February 2013, he was appointed the Chief of the Staff and she the World President of Women's Ministries.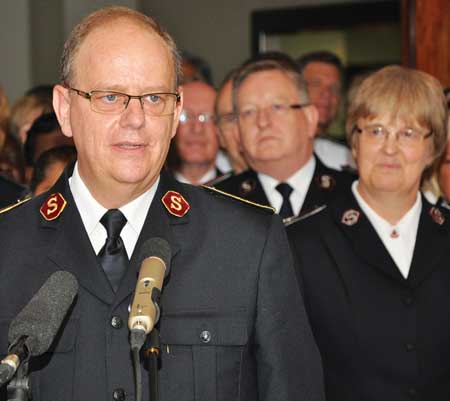 "Diversity is one aspect I love the best about The Salvation Army," Cox said. "I've seen the beauty of cultures, and how much we are conditioned by the environment we grow up in. Such diversity should be celebrated…it's exciting to see how our different cultures—as they are exposed to the light of the gospel—all begin to move toward the values of the kingdom."
Cox also acknowledged challenges facing The Salvation Army today—from perceptions, to poverty and rotating leadership.
"Of course we are guided by our own understanding of Scripture," Cox said of the Army's relationship with the LGBT community. "We are first and foremost a people to whom grace has been shown. If God held you or I to account for the things we have done, our past sins, we would stand condemned before him. God has shown us great grace in Jesus Christ. Then I think that first and foremost our reaction should be to show grace, to reflect grace."
He said we need to embrace anyone who seeks God with integrity and not stand in judgment, but we do need to reflect on our theology in order to feel confident in our understanding of the authority of Scripture for our own lives.
"I don't think we can simply impose our own understanding on others," Cox said. "I think there is a real danger that we can now, having been shown grace, say that we are the religious people of today and stand in judgment of others. We need to be careful about that… We are a people to whom grace has been shown and we need to reflect that grace."
In our corps, Cox said, we've evolved to a more comfortable or middle-class style of living, which in some ways challenges the corps in reaching those in need.
"We are in danger in our corps of being very comfortable with ourselves, enjoying our music, enjoying our sermons, enjoying the routines of the Sunday worship and missing the point," he said. "People think that William Booth was a great social reformer, but he himself said that our social ministry actually stems from our own spiritual experience. It's because Christ called us that we do reach out to those in need."

Cox said the Army should work with communities and help people find solutions to problems rather than tell them what they need.
"The poor should not be looked at as a subject of pity; they are extremely resilient and very often have ideas about how they can improve their situation," he said. "First and foremost, we should come alongside them; we should seek to understand what their situation is and to try and help them to identify how they can help themselves."
Cox said we need to better use our influence in the political sphere and work with politicians on policy issues in order to find long-term solutions.
Recognizing rotating leadership in the office of the General in recent years, Cox said this fact has both positive and negative implications.
"New leadership sometimes brings new impetus, sometimes new vision," he said. "I think the fact that there is a rotation can be positive. I agree, though, that too rapid change is obviously not good because we've all seen evidence of lack of continuity when that happens, so I think there needs to be a balance.
"When I look at myself, I like to think that…none of us should be indispensible," Cox said. "We should all be working ourselves out of our jobs, in a way, so that someone else is ready to take over for us."