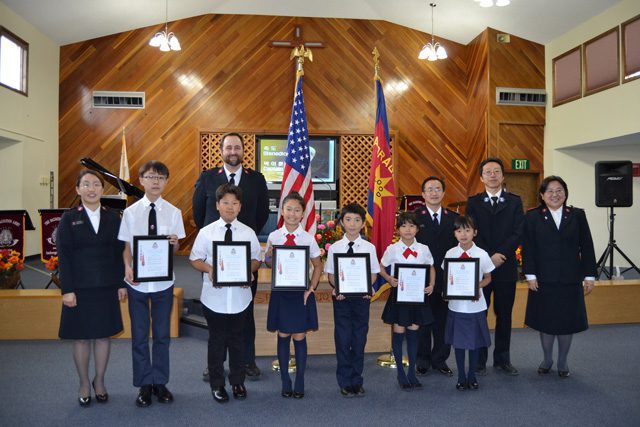 Anchorage Korean Corps enrolls six junior soldiers
The Salvation Army Alaska Division's Anchorage Korean Corps, led by Captains Eric and Amy Park, recently enrolled six junior soldiers: Elijah Kim, Eric Lee, Daniel Lee, Eilis Lee, Eunice So and Grace Choi.
Alaska Divisional Youth Secretaries Captains Rio and Rachel Ray participated at the enrollment.
"The Anchorage Korean Corps did an amazing job at making a memorable moment for the young people of their corps," Rio Ray said. "Not only were the junior soldiers properly trained and perfectly dressed in their uniforms, but the service was designed to make this a significant event in their young lives."
Prior to their enrollment, the youth met every Wednesday afternoon for six weeks to complete the junior soldier class, "Totally His."
"We are very proud of them and we confidently call them junior soldiers of The Salvation Army," Amy Park said. "[They] dedicated their lives to God and [vowed] to follow all the junior soldier promises."
Corps Sergeant-Major Daniel Choi and Youth Pastor Min Kim were the flag bearers during the ceremony. After the youth recited the junior soldier promise, their parents gave them their soldier pins and Ray presented their certificates to them.
The congregation willingly accepted the challenge to pray for and support the young people.
"It was a day full of blessings," Park said.