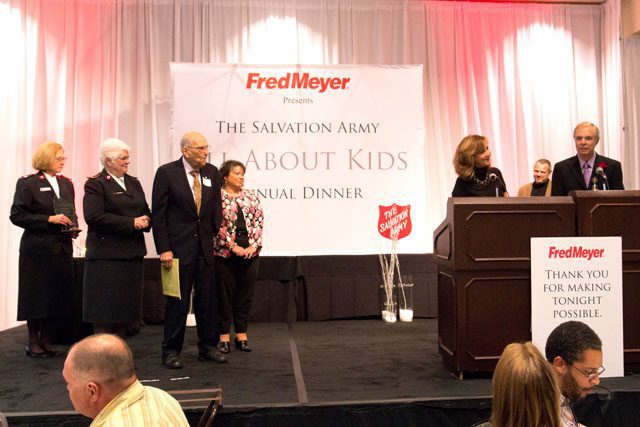 Portland Metro community raises kids up
Annual event brings in $434,000 and counting for Salvation Army youth programs.
Portland Metro community members assembled at Oregon Zoo's Cascade Crest Ballroom Sept. 23 for the 20th Annual All About Kids Dinner to support the area's Salvation Army youth programs. To date, through fundraising leading up to and on the night of the event, the All About Kids campaign–themed "Together, We Can!"–has raised $434,000.
"'Together, we can,' and 'together, we have' succeeded in raising precious and needed funds for children in our very community who are in need of love and support," said Major Nancy Dihle, Portland Metro coordinator for The Salvation Army. "What an honor it is to work alongside our community to meet these needs and give these children a hand up for a brighter future. We truly have the best community and we are so fortunate to be able to work together."
Attendees heard the story of a family–a single mother with six kids–who found encouragement and support in a time of need. The mother turned to The Salvation Army for help when her children were little. Now, more than 15 years later, they are active in The Salvation Army and flourishing in different ways; one common thread, however, is their desire to pay it forward. View their story here.
Among the event's speakers was Carla Piluso, retired long-time Gresham, Ore., police chief, currently running for a spot on the Oregon state legislature.
"The work of The Salvation Army is the best crime prevention out there," she said. "Through the services it provides to the community, The Salvation Army engages thousands of children in a positive way and in a supportive and encouraging environment."
Several people were recognized for their service. Fred Preston received the Fred Meyer Founders Award "for establishing new beginnings for our youth," Carol Breeling received the Hoffman Construction Partner in Excellence Award "for continuous contributions to the physical, emotional and spiritual impact of our young people," and Bob Lamb and Lamb's Markets received the Atiyeh Legacy Award "for creating opportunities and lasting changes with your investment through the years."
Fred Meyer, Inc., sponsored the All About Kids Dinner. The Salvation Army Portland Metro Advisory Board and Councils provide continuous support for  the Army's youth programs throughout the Metro area.