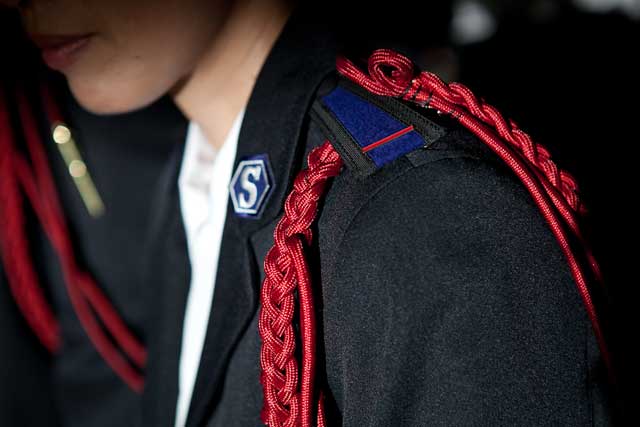 Accountability movement
By André Cox, General – 
One of our significant discussions at the International Conference of Leaders in Singapore in July 2014 addressed the twin themes of accountability and impact measurement. A focussed attention on these themes has continued since in a variety of forums, each of which has affirmed the need for further progress.
Whenever change is discussed, whenever accountability is considered, there is a danger that some people raise barricades or seek to avoid hard decisions, preferring to leave things as they are. Dare I say that some find it easier to bury their heads in the sand in the hope that someone else will deal with difficult issues? Such inaction is a regrettable abdication of God-given leadership responsibility within The Salvation Army.
My own view is that we should be mature enough to frankly and honestly examine ourselves and then address areas of weakness in a timely fashion, rather than waiting for others to point these out. Having said that, I must reiterate that during international travel I have seen many instances where Salvationists get things absolutely right, resulting in spectacular evidence of God-ordained change and transformation in the lives of men, women, boys and girls.
However, we must face the reality that there are issues that need to be addressed, particularly in respect of our governance structures and in the area of accountability. This has been a growing concern to me over a number of years.
At the High Council in 2013, candidates were asked, "What factors do you identify as impacting The Salvation Army's global mission?" Part of my response to that question included the following statement: "Corruption is a huge issue that we face both inside and outside of the Army. It is sad to say, but we are not exempt from moral failures, corruption and mismanagement of finances. It does worry me when I see evidence that some of our people accept compromise by taking on some of the negative standards of the world."
Transparency and raising our game
It would be stating the obvious to confirm that corruption is not endemic everywhere. That, however, does not mean the possibility of it is something to be ignored. The potential for corruption in any organization should concern us.
In James 2:14 we are reminded, "My brothers and sisters, what good is it for people to say that they have faith if their actions do not prove it?" (Good News Bible) Leaders, like it or not, are being judged all the time. As officers in The Salvation Army, people look to us, as disciples of Jesus, for an example of authentic Christian living. Our people see how we treat them. They realize if our words and deeds don't go hand in hand. They know if we are involved in Kingdom business or in personal business!
It is a privilege to lead—but with the privilege comes responsibility. Salvation Army officers should be beyond reproach in the way they deal with people and handle finances, showing in all matters transparency and accountability. We owe it to God, we owe it to our people and we owe it to our donors to model integrity. It is the case that we are accountable to our people; we are accountable to our funders whether they be governments, local authorities, businesses or private donors; and, crucially, we are individually accountable to God who calls us to reflect the values of his Kingdom in all things. We must guard against and speak out against the corrupting influences of personal power-seeking, greed and private financial gain.
The accountability agenda is one I have held strong convictions about and sought to promote for many years. It takes only a cursory glance at too many audit reports from around the world to understand that our accounting and governance systems require urgent attention. Time and again weaknesses are reported, not least of which is the sometimes blatant ignoring of the most basic policies and procedures when it comes to the handling of Army finances. On occasion, significant financial decisions are made without any accurate or up-to-date financial information at hand. Sometimes, there is even evidence of decisions or decisive action taken outside of board structures. This exposes Salvation Army leaders to all kinds of allegations, ranging from lack of transparency to incompetence or even corruption. Failure to improve in this area could lead to serious reputational damage.
Calculating the cost
The real danger of overextending ourselves financially is one to which we must remain alert. The dependency culture seen in all too many corps, divisions, territories or commands is concerning. The Salvation Army cannot continue to expand and finance new openings when some countries where we have worked for over a century remain heavily subsidized. Whereas I hope we retain a vision for expansion and remain sensitive to the Holy Spirit's promptings, ongoing funding sustainability is a matter that cannot be ignored.
We should be concerned that 12 territories support the major part of international finance structure. Across the globe some Salvationists contribute financially in a truly God-honoring way but far too many do not. I wish that all Salvationists were characterized by the generosity of their giving, but that seems unlikely to happen unless our people sense they are stakeholders in the great salvation war and feel fully mobilized for the mission of God. In our boards and councils this should remain ever in our minds, so that decisions made empower and inspire the people of God to build for the Kingdom of God and faithfully steward the resources of God.
The Salvation Army does own a significant amount of property in the countries where we operate. We are, alas, far from the best of property managers. Many of our facilities are in a poor state of repair while some of our valuable assets do not yield the financial potential that they should. I would like to see how, with professional help, we could utilize our property assets more strategically and hence secure higher income from them. We cannot idly expect donors to keep providing more and more resources, but must intentionally examine our property portfolio to identify which assets could generate sustainable income to support our mission.
The cost of our administrative structures is not insignificant and needs to be constantly reviewed in terms of mission effectiveness. Currently, several territories are actively reviewing this and others will soon embark upon that process. We need to know and understand the cost of administration, for in some cases this has increased though without better equipping The Salvation Army for fruitful mission and Kingdom impact. The risk of becoming a self-replicating and self-sustaining bureaucracy must be countered by the imperative of saving souls, growing saints and serving suffering humanity.
What are we aiming for?
I am not sure that key mission priorities are always clearly articulated, and am aware that even now some territories and commands operate without an overarching strategic plan. There are others who, though having a strategic plan on paper, neither monitor it nor have Salvationists who understand it and are committed to it. In reviewing hundreds of small mission support projects submitted to International Headquarters for funding each year, I regret that the desired Kingdom impact is not always immediately apparent.
Furthermore, I have yet to be convinced that The Salvation Army's non-negotiables are consistently evident in our work. When reflecting upon the variety of activities undertaken across a diverse range of programs, it seems the limit of our abilities can quickly be reached and our expertise exhausted. Does trying to manage beyond our capability divert energies from Spirit-filled evangelism and Jesus-centred discipleship? Does fevered endeavor, on occasion, serve merely to obscure the absence of strategic intention or transformative impact? Who is actually steering the ship?
I do view accountability and impact measurement as being very closely linked. Impact measurement is about strategic focus and the desired outcome of our dedication, commitment and hard work! What are we aiming for? What do we want the Lord to accomplish through us? How do we know if such aims are being achieved? How can we demonstrate that every decision made in our board meetings and everything we do most effectively facilitates divinely ordained change and transformation in people's lives?
In reviewing results of activity, recourse is often made to statistics and reliance placed upon measurable outputs. These measures may be the number of meals served or bed spaces occupied, but such outputs only hint at true outcomes and impact. In moving intentionally from serving to solving, in deliberately seeking impact as opposed to output, Salvationists can grasp a greater vision of God's mandate to minister in Jesus' name. Impact-filled, transparently conducted ministry in the power of the Holy Spirit can glorify God as people come to know Jesus as their Savior.
In 2 Timothy 2:15, Timothy is instructed: Do your best to present yourself to God as one approved, a worker who does not need to be ashamed and who correctly handles the word of truth.
Salvation Army officers, as Christian leaders, set the tone for the rest of the Army world. Our people want our lives to be in accordance with the spiritual values we preach. They are looking for us to demonstrate the love of God, the mind of Christ, the fruit of the Spirit. If our lives do not evidence this, we discredit the very gospel that we proclaim! Let us together, as men and women—the General included—under authority, focus upon the one who calls us and concentrate on those to whom he sends us. Then, with our people, we can live as purpose-filled disciples of Jesus, knowing the joy of fruitful Kingdom impact.
–  From The Officer