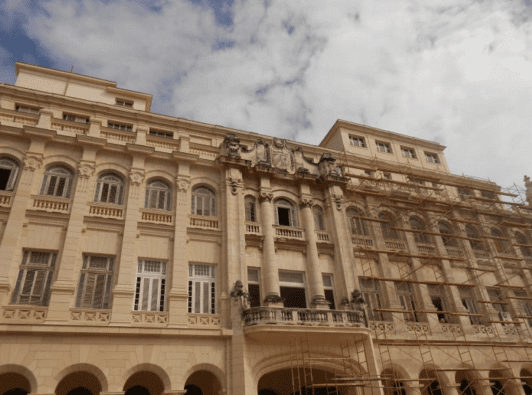 A historic visit to Cuba is a return home for one
The Eastern Pennsylvania and Delaware Division make official visit alongside Cuban native turned employee
By Alexandra Ferber –
Stepping off the plane in Havana, Cuba, in February, the Rev. Bonnie Camarda was overwhelmed with emotion.
A native of the small island nation, Camarda, a director of partnerships for The Salvation Army of Eastern Pennsylvania and Delaware, had not stepped foot in her home country in more than three decades.
It took The Salvation Army Eastern Territory's historic 2016 mission trip to bring her back, a visit designed to share faith, fellowship and music with the Cuban people and local Salvation Army, along with service projects at local corps. The trip represented the first time any Salvation Army officers from the contiguous U.S. had traveled to the once-closed off communist country in nearly 40 years.
With Camarda traveled Eastern Territorial leaders Commissioners Barry and Sue Swanson, and representatives of the Eastern Pennsylvania and Delaware Division—Lt. Col. Stephen Banfield (divisional commander), Major A. Philip Ferreira (greater Philadelphia director of operations), Aaron Cohen (advisory board chairperson)—and more than 30 members of the New York Staff Band.
Amid the sights and sounds of Cuba—a mixture of beautiful aging architecture, deteriorating infrastructure, late-model vehicles, poverty and lack of access to modern technology—Camarda said she felt touched by the spirit of the people.
"I felt like God was with us the entire time," she said. "The country was so open to The Salvation Army. It was very impressive."
Escaping the communist regime in 1967, Camarda left Cuba at the age of 15 with her family and moved to Madrid, Spain. But the plight of the Cuban people had left its mark on her, and Camarda maintained a passionate commitment to urban ministry and working with the poor. She graduated from the University of Madrid with a degree in business administration and administrative science, then moved to the U.S. to attend the University of Pennsylvania where she earned a MBA from the prestigious Wharton School of Business. She also received a masters of divinity from the Luther Rice Seminary in Jacksonville, Fla.
In 1983, Camarda traveled to Cuba to visit her father and other family who never moved out of the country.
"My father was always optimistic that conditions would someday improve," she said.
Although she treasured that trip, Camarda didn't think she would ever have the opportunity to return. She enjoyed a successful international career in the business world, but ministry called her back to Philadelphia where she served as a church pastor for many years. She became an advisory board member with The Salvation Army Greater Philadelphia in 1984 and was hired full-time as divisional director of partnerships in 1999.  
"My faith gives me a purpose in life," she said. "The people [in Cuba] don't enjoy the freedom of religion like we do here in the United States. We should put our arms around them to make sure the church prospers."
The Salvation Army of Cuba is headquartered in Havana, and has 22 corps across the island. There is little opportunity to fundraise, so the Army depends on the sale of food—fruits, vegetables and eggs—to help sustain the ministry. In addition to worship services, The Salvation Army operates a housing program for seniors, an adult rehabilitation center and a feeding center. Its Officer Training College is meager, with a small shelf of books for a "library" and one guitar for music instruction.  
"People are challenged with poverty in the country, but they are very resourceful and caring," Camarda said. "Food and other items are rationed by the government. I was amazed at how people will take buses, then walk for several miles just to make the equivalent of $20 or $30 a month."
The visiting group performed service projects at two corps community centers, where members painted and helped with building repairs.
Salvationists from across Cuba gathered Feb. 21 for worship—a rarity, since The Salvation Army there only owns one vehicle. For this occasion, buses were rented to transport people from long distances to the service. Nearly 300 packed the church to worship and sing together. The New York Staff Band played its traditional British brass style, as well as Latin inspired music.
"This was a time for celebration," Banfield said. "The trip itself was an opportunity to assess the needs of The Salvation Army of Cuba, and to help us plan for a future mission trip."
The Salvation Army is already planning a 2017 return to Cuba, and the divisional women's ministry department has made it a goal to raise money for new uniforms for officers and to expand the library at the training college there.
"We have a strong desire to return to assist The Salvation Army of Cuba, so they are able to provide better service and programs and to help them help themselves to be more sustainable," Banfield said.
For Camarda, this visit was as much about spreading the Army's mission of "Doing the Most Good," as it was a journey to rediscover her roots. Her sister, stepmother, two cousins, a niece and 90-year-old aunt who reside in Cuba welcomed her with tears and open arms. They took her to see markets, landmarks and the church where her parents were married; and they reminisced about her childhood.
"It was a great opportunity to reconnect with my family doing the work that I love," Camarda said. "We left with hope that we are able to provide support to The Salvation Army of Cuba. I will go back as long as The Salvation Army asks me. Cuba has a special pull for me."