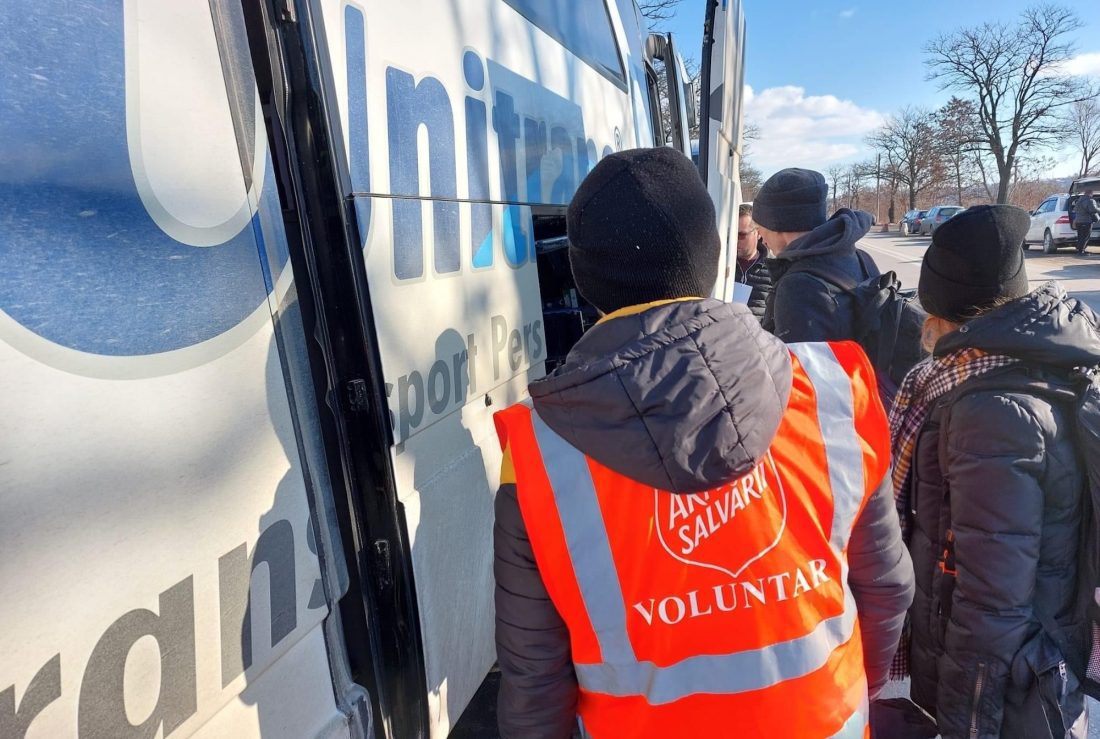 5 updates from The Salvation Army in Ukraine after first month of conflict
In the first month of the conflict in Ukraine and the resulting humanitarian crisis, The Salvation Army Eastern Europe Territory has responded within Ukraine and surrounding countries.
"We have felt the prayers of the world for Ukraine, our Army in Eastern Europe and the millions of refugees who have fled the violence. We have also been humbled by all those who have come alongside, sent messages and supported financially in these difficult times," wrote Eastern European Territorial Commander Colonel Kelvin Pethybridge in an email to international leaders. "Eastern Europe Territory is still a young territory in many ways, but I have been very proud of the way our officers, soldiers and volunteers have stepped up to the challenge and tirelessly cared for those suffering around them."
Here's five updates from the territory's report of the first month of conflict with an insight into life in Ukraine between Feb. 24 and March 20:
1. All Ukrainian officers and soldiers are alive. Two corps operate Sunday meetings, weekly Bible studies and prayer meetings in bomb shelters.
2. In its first month of response, The Salvation Army Eastern European Territory distributed:
– 6,480 cooked meals
– 2,750 food parcels
– 1,343 water bottles
– 1,285 hygiene products
– 2,218 diapers
– 415 baby formula
– 278 health supplies and medication
In addition, it provided temporary accommodation for 2,846 people.
3. The Salvation Army's main priority in Ukraine is to continue providing assistance for internally displaced people, including childcare provisions at the corps, canteens and hot meals that can be delivered to those in need, providing places of safety for the displaced and free wi-fi and supplies. Salvation Army officers are providing a "listening ear" and pastoral care to those at the corps and in the communities.
4. Because of the immediate danger in the surrounding communities, the Kharkiv and Donetsk Corps have paused operation.
5. In Kropyvnytsky, schools are closed so the corps started a children's program in the corps apartment with five children. A number of volunteers are assisting with activities and lessons.
"Sadly, this emergency is far from over and we pray that peace will come soon," Pethybridge said. "As we wait, we face the situation with 'Faith and Courage.'"
From the USA Western Territory, John Berglund, Emergency Disaster Services Coordinator, is deployed in Eastern Europe assisting in the on-the-ground assessment of needs and how The Salvation Army can best help right now as part of the International Emergency Services response team. Stay tuned for an episode of the Do Gooders Podcast this Monday, April 4, with John sharing more about what's happening in the current disaster response and what he's doing from Moldova to offer a better context for how The Salvation Army counters disaster. 
The Salvation Army is providing hope, healing and comfort to displaced and affected families and individuals with food, shelter and spiritual care. Our faith in God transcends borders and we service those in this humanitarian crisis with compassion and without discrimination or prejudice across Eastern Europe, from Ukraine to Romania, Moldova, Poland, Slovakia, the Czech Republic and Russia. Find current updates on The Salvation Army's response to the Russia-Ukraine conflict, and more on how you can support the relief effort.
---
Do Good: