2013 annual report released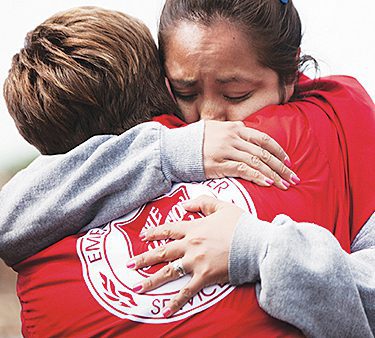 The Salvation Army's report card highlights efforts made across the country.
The Salvation Army served more than 30 million Americans in 2012 and provided details of its operation in the recent release of its 2013 annual report.
"God is truly working through the tireless officers, the compassionate volunteers, and the generous donors who give their time, efforts, and resources so willingly to The Salvation Army," said Charlotte Jones Anderson, national advisory board chairman of The Salvation Army. "And despite the still-struggling economy, the results are astounding.
"In fact, the Red Kettle donations reached a new record-high for the eighth year in a row––$148.7 million," Anderson said. "That comes not from an abundance of wealth in our country, but from a rich desire to help others and a confidence that The Salvation Army will use every last penny to do the most good."
One glance at the news tells a sobering story. Millions are living in poverty. Unemployment is preventing families from putting food on their tables and a disregard for the sanctity of life is resulting in senseless violence. As the report communicates, in the midst of it all, The Salvation Army provides hope––hope that comes from a deep faith in God and an unquenchable desire to do his will by serving others.
"In 2012, we saw great need and distress met by great compassion and generosity," said Commissioner William A. Roberts, national commander. "From natural disasters to addiction, poverty to human trafficking, the ills of this world did not relinquish their grip whatsoever. But through the generosity of our donors and volunteers, we were able to offer a refuge of healing for those victims and survivors––a place of shelter, warm meals, helping hands and spiritual strength."
In addition, The Salvation Army World Services Office (SAWSO) is active across the globe, not just meeting needs, but strengthening communities. SAWSO is leading efforts to eradicate polio in Angola, increase literacy and financial education in Kenya, and help the people of Haiti conserve their natural resources for future generations.
"In all, more than 30 million people experienced the hand of God working through The Salvation Army last year," Roberts said. "They were encouraged by his love, they were comforted by his mercy, and they were strengthened by his hope. As a result, lives were changed. For good."