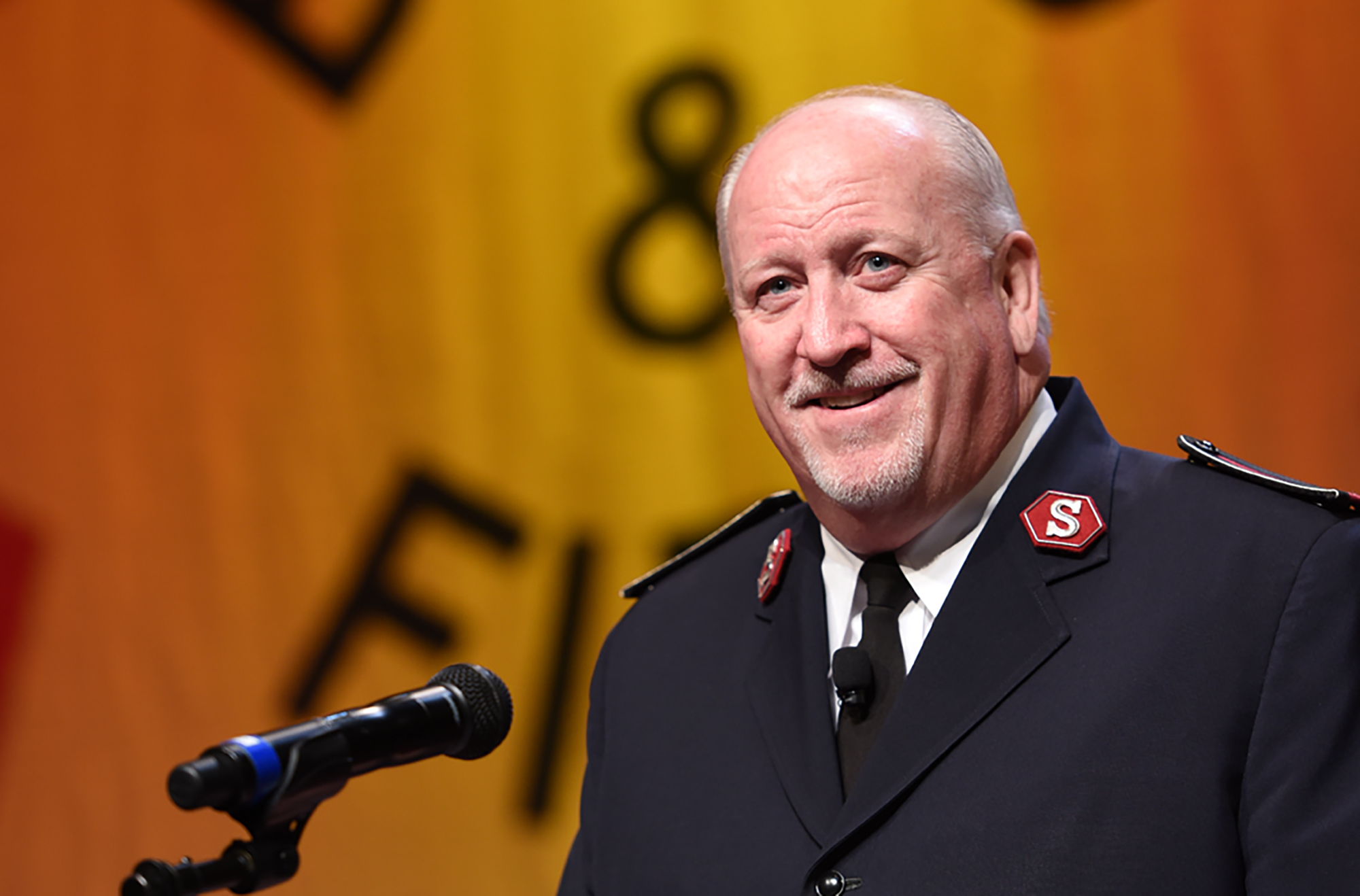 107: Good Word: Jesus is alive with Commissioner Doug Riley
Happy Easter!
We're coming to you this Easter Sunday with a good word from the Good Word with Commissioner Doug Riley.
Commissioner Riley is the Territorial Commander of The Salvation Army in the western U.S. You may remember him from previous episodes of this podcast on gratitude and the Christmas story.
Now, he's bringing us the good news: Christ the Lord is risen today.
Listen in for more on the empty tomb as an enduring symbol of the resurrection—plus what it means to see the life of Christ come alive in you.
So allow me to introduce once again to you, Commissioner Doug Riley.
Listen and subscribe to the Do Gooders Podcast now. Below is a transcript of the episode, edited for readability. For more information on the people and ideas in the episode, see the links at the bottom of this post.
* * *
BBC News, London, England, says this: Easter is the most important holiday in the Christian calendar. Why? Because it celebrates the resurrection from the dead of Jesus, three days after he was crucified and buried in a tomb. The Easter story is at the heart of Christianity.
Why is the Easter message of paramount importance? It's the most defining moment in history. Without the resurrection, our Christian faith would be just hopeful thinking, no better than secular philosophies and fanatical religions. It's one of the most controversial yet conclusive events in the history of mankind, for it shouts to our unbelief—our God is the only and true God.
No other can make this claim.
In fact, the 17th-century philosopher John Locke, some of whose ideas were incorporated into the Declaration of Independence, wrote, "Our Savior's resurrection is truly of great importance in Christianity, so great that his being or not being the Messiah stands or falls with it."
The Apostle Paul understood that without Christ's resurrection, our salvation couldn't be possible (1 Cor. 15). He also believed a person could not be saved without believing in Christ's resurrection: "If you confess with your mouth Jesus as Lord, and believe in your heart that God raised Him from the dead, you shall be saved" (Rom. 10:9).
The empty tomb, as an enduring symbol of the resurrection, is the ultimate representation of Jesus' claim to being God.
Theologian Gerald O'Colins put it this way: In a profound sense, Christianity without the resurrection is not simply Christianity without its final chapter. It is not Christianity at all.
It's proof of his triumph over sin and death. It's the basis of Christian hope. It's the miracle of all miracles. The medical evidence, the physical evidence, the body and the evidence of the appearances. And even though the followers were discouraged and depressed and the Jesus movement stopped for a short period of time, then we see them abandoning their occupations, regathering and committing themselves to spreading a specific message. So much so that they were willing to rest their lives on this, proclaiming it, in hardship, without food, beaten, imprisoned and executed in torturous ways and not one giving in because they were convinced without a doubt that they saw a living Jesus. They knew it was true. It marks a new era.
When you study it, you can see all the historical records and come to your own conclusive conclusion. But let me say we can't just focus on the resurrection, yet in all its importance, the scriptures don't spend time defending the history. It matters—all the historical backup—but the rest of the New Testament moves on…..he's not on the cross, he's not in the grave, he has risen and he's alive and available for you and me. That's who we worship. You don't have to spend a lot of time defending the truth, it's there and millions have tried to refute it, but they can't because it's true. You and I have that spirit, that hope and that knowledge of a living God and so the big question is what we are going to do with that?
The resurrection matters….it does, but now what?
We have come through Covid, inflation on the verge, war across the sea, foundations breaking down, focuses have changed for the good and the not so good.
Brennan Manning says the most radical demand of Christian faith lies in summoning the courage to say yes to the present riseness of Jesus Christ.
If we, if I, leave the resurrection to an historical event then I have missed the meanings of the rest of the New Testament and God's purpose for my life.
The pyramids of Egypt are famous because they contain the mummified bodies of ancient Egyptian kings. Westminster Abbey in London is renowned, because in it rests the bodies of English nobles and notables. Mohammed's tomb is noted for the stone coffin and the bones which it contains. Arlington Cemetery in Washington, D. C., is revered, for it is the honored resting place of many outstanding Americans. There is, however, all the difference in the world between the tomb of Christ and these renown tombs. They are famous and draw visitors from afar because of what they contain; while the Garden Tomb is famous because of what it doesn't.
It is only as the resurrected Christ takes possession of us, and his resurrection power and ability are poured into us, that we fulfill the purpose for which we are made. Jesus is alive and don't ever forget it! He is alive in you.
Because of the resurrection: you can trust the Bible; overcome the odds; experience complete transformation; live with God's power; live with God's joy; trust his claims and live with God's purpose; know God; overcome discouragement, fear and trust his promises; change direction, stop worrying, let go of guilt; expect great things, experience real peace, know hope.
That's the answer to "what now?" He did it for love. That's his motivation. And that's why we must go forward.
The resurrection changes lives—it changes yours and mine as we experience the power and presence of God. There is simply no better way to live.
I once read the story of little Philip, who attended a third-grade Sunday school class. Little Philip had been born a special child. Typical of that age, the children did not understand Philip with his differences and were reluctant to include him as part of their group. On one Easter, the Sunday School teacher brought Leggs Pantyhose containers, the kind that look like large eggs. Each child received one and was told to go outside and find some symbol for new life and put it in the egg-like container. They would return and share with their class their new-life symbols. After running the church property in wild confusion, the students returned to the classroom and placed the containers on the table. Surrounded by the children, the teacher began to open them one by one. After each one, whether a flower, leaf or butterfly, the class would ooh and ahh.
Then one was opened and there was nothing inside. The children exclaimed, "That's stupid. That's not fair. Somebody didn't do what they were told," etc. Little Philip spoke up and said, "That's mine." One student retorted, "Philip, don't you ever do anything right? There's nothing there!" Philip insisted, "I did do it. I did so do it. It's empty. The tomb was empty!" I submit unto you that little Philip gave the best symbol of new life one could give—an empty container, for an empty tomb and a resurrected Christ is a message of new life.
Easter is a marvelous season of hope! It is "because he lives" that "we shall live also." The message of Christ's resurrection is proclaimed in the might of his power—resurrection power, the same power that raised Christ from the dead and is available to us today.
I am once again amazed at God's gift of love and forgiveness in Jesus Christ. The death and resurrection of our Lord is the very heart of our celebration of Easter. But only if we take it and go from there, we move on and apply it in our lives.
Christ made this promise to his disciples shortly before his death and resurrection: "Before long, the world will not see me anymore, but you will see me. Because I live, you also will live…You will realize that I am in my Father, and you are in me, and I am in you" (John 14:19-20). His promise to live in us means that we each have his power to help us face our own daily struggles.
Today, you can make a vow to cherish life forever with this new beginning of the rest of the story. Enjoy our Resurrection Sunday with us and see the life of Christ come alive in you. Christ the Lord is risen today.
Additional resources:
Listen and subscribe to the Do Gooders Podcast now.