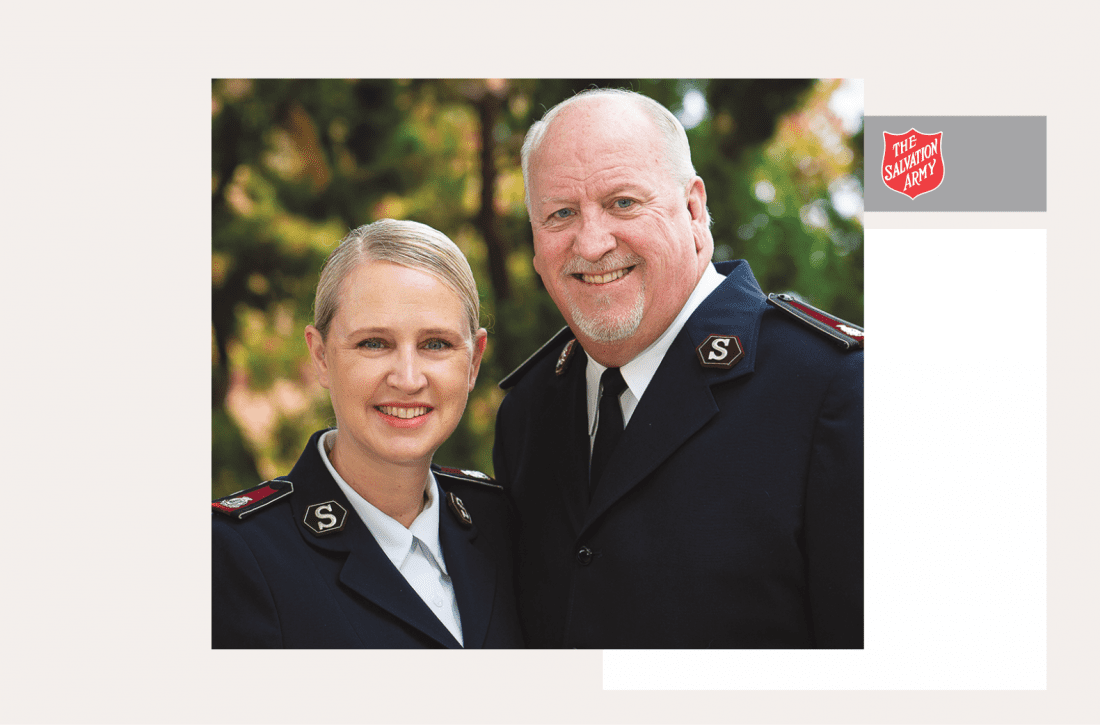 68: How to find gratitude, especially in a year like 2020 with Commissioners Doug and Colleen Riley
Online searches for gratitude spike every year, right around this time.
In fact, Google has 196 million search results for the word gratitude.
So it's a concept we're well familiar with, and have plenty of information about.
But what does it really mean to be grateful? Why is it important? And how does it improve your daily life?
Commissioners Doug and Colleen Riley are territorial leaders of The Salvation Army in the western U.S. The pair met while working at a summer camp, married and in 1995 were commissioned as officers—or pastors—in The Salvation Army.
He holds an MBA from Pepperdine University and she a master's degree in ministry leadership from Indiana Wesleyan Seminary. Colleen Riley also serves as the Territorial Secretary of Spiritual Life Development.
In 25 years of pastoral leadership, they've experienced rejoicing and endured suffering. They've sat with people in all circumstances, good and bad. Simply put, they know what it is to be grateful.
The Rileys are on the show today to dive deeper into gratitude, to help us see biblical examples of it and point us toward how to find it, especially, in a year like 2020.
Show highlights include:
What 2020 has been like personally and as leaders in the Salvation Army West: A year that requires reflection and flexibility

What we should be learning from everything that has happened this year: Needs are always present 

Who Paul is and what he experienced: No matter what Paul faced, he was focused on what God called him to do

How to acknowledge suffering without being overtaken by it

Traits of those who choose gratitude: Someone who is full of hope

How to cultivate gratitude in your own life

What is true joy and where do we see it in Scripture: Settled assurance that God is in control of everything

Importance of understanding you will face trials

Importance of not rushing through the trials we face: Builds perseverance and truly tests our faith

How to encourage perseverance  

How to stay connected to each other with love: Show kindness and care for others

What God is trying to work in the Rileys' souls

One thing someone could do today to engage gratitude more in their life: Look outside ourselves 
Good words from Commissioners Doug and Colleen Riley in this show:
"We tend to get focused internally, on ourselves, but this year has caused us to focus in a different way and different direction."
"The reality is need knows no season, it knows no person, and it doesn't differentiate between people and cultures."
"If we give thanks to God and have that attitude, it changes our circumstances. We don't let our circumstances control us because we know there is a greater source."  
"We are all going to have days that are really rough. But when we choose gratitude, eventually you go forward and you find the good." 
"By encouraging one another, we not only bring more joy to our lives, we become an encouragement to them and we become more joyful."
"When you have joy in the Lord, it is something that sustains you; it stays in you always."
"If you choose joy every day, you are going to see the joy in others. You are going to see the joy in your circumstances. Even on difficult days, you are still going to be able to see the joy."
"We don't want anyone to have to suffer, but through that, we can test our faith, we can test our power of what we believe in, we can test how we respond and how we react. Through that, it produces perseverance. Perseverance finishes its work and makes us mature and complete." 
Additional resources:
Download this episode wherever you get your podcasts. Find show notes for this episode and more at caringmagazine.org/podcast.  Connect with Commissioners Doug and Collen Riley via The Salvation Army. 
[button color="yellow" size="normal" alignment="none" rel="follow" openin="newwindow" url="https://podcasts.apple.com/us/podcast/the-do-gooders-podcast/id1462063355″]SUBSCRIBE AND LEAVE A REVIEW[/button]