05: Five Strategies for Raising Kind Kids with Harvard's Dr. Rick Weissbourd
If we want our children to be moral people, we have to raise them that way.
Yet Harvard researchers found the majority of youth in a study said their parents were more concerned with their achievement or happiness than whether they cared for others.
And that's exactly what Dr. Rick Weissbourd is out to correct.
As he says, it's most important that we help teach kids to be kind.
It's what he studies as Harvard University's Faculty Director for Making Caring Common—looking at how adults can mentor children's moral and ethical development.
He's a psychologist and lecturer at the Harvard Graduate School of Education and the Harvard Kennedy School, and two-time author, including "The Parents We Mean to Be," which was named one of the best books of its year by The New Yorker.
He consults with schools and organizations across the country and has advised on family policy and school reform at every level of government.
In this episode, Dr. Weissbourd shares five strategies to raise moral, kind and caring kids. Because, as he says, our primary role as parents should be growing good citizens who care.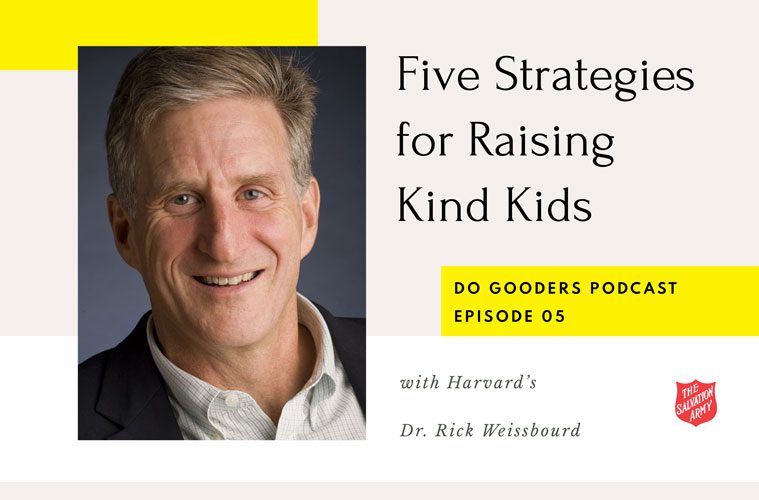 Show highlights include:
What do you want to be when you grow up? Dr. Rick Weissbourd wanted to be a "general" in the War on Poverty.

Problem to solve: How do you raise children who care about others, who care about the common good and who care about justice?

Making Caring Common: Sending the message to young people that caring for others is important.

Parenting culture concerns: Instead of being happy, kids are more self-evolved and preoccupied with their own feelings. Caring for others needs to become a child-raising priority and national movement.

Parents should focus not only on their own kids, but every kid in the community to raise better people with more empathy and capacity to care for others.

Create habits and routines to show that caring for and doing things for others should be expected, not rewarded.

Five strategies

to raise moral, caring children, according to Making Caring Common:

Make caring for others a priority. (Learn to balance own needs with those of others. Hear from parents care for others is a priority.)

Provide opportunities for children to practice caring and gratitude. (Needs daily repetition.)

Expand your child's circle of concern. (Learn to care for someone outside of family/friends, such as new kid in class.)

Be a strong moral role model and mentor. (Children learn by watching actions of adults. Must display honesty, fairness, and caring.)

Guide children in managing destructive feelings. (Teach that all feelings are okay, but some ways of dealing with are not helpful. Learn productive ones like breathing through nose and exhaling through mouth.)

What works and in what context? There's an abundance of activities, tips and games to grow gratitude, diligence and empathy, but lack of data to back up their effectiveness and success.

Signs and signals to know if your kid is naturally empathetic or not involve listening to and understanding others; liberate them from biases, stereotypes and feelings that get in the way.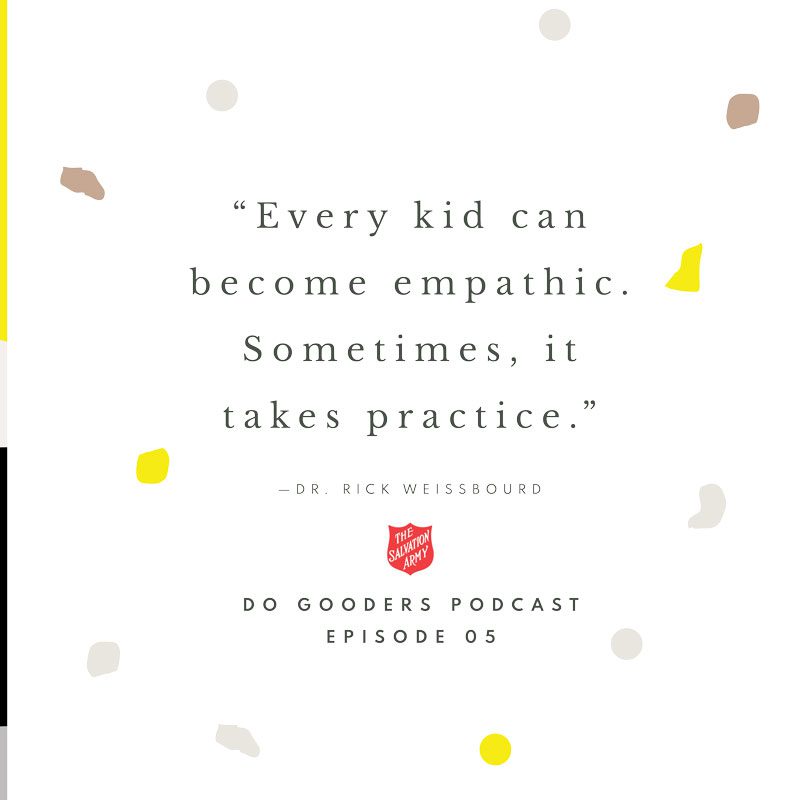 Good words from Dr. Rick Weissbourd in this show:
"I don't think that we have put front-and-center raising caring, ethical, justice-minded kids."
"Well-meaning parents, schools, people want to do the right thing, but they don't have the strategies, they don't have the tools to raise kids who are caring."
"They're also going to have better relationships. Because of those relationships, they're going to be happier their whole lives."
"Every kid can become empathic. Sometimes, it takes practice."
Additional resources:
Download this episode wherever you get your podcasts. Connect with Dr. Rick Weissbourd via Making Caring Common.  
[button color="yellow" size="normal" alignment="none" rel="follow" openin="newwindow" url="https://podcasts.apple.com/us/podcast/the-do-gooders-podcast/id1462063355″]SUBSCRIBE AND LEAVE A REVIEW[/button]