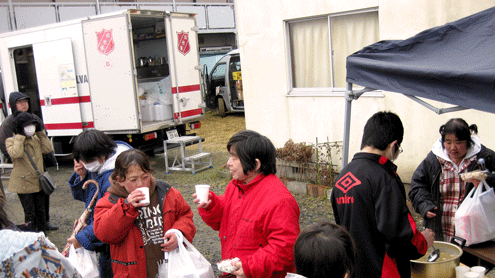 Worldwide Support Helps Salvation Army Emergency Response in Japan (Update 16 March)
THREE Salvation Army teams in Japan are providing vital assistance to people affected by the country's earthquake, the resulting tsunami and ongoing problems at a nuclear power station. The Japanese Government has recognised the Army's work and given its teams permission to enter the disaster area and use access roads that are closed off to the public.
The first of the three teams went to Sendai, where about 1,000 meals were served to evacuees. Hot meals and drinks were prepared in The Salvation Army's mobile emergency canteen and given out at Sendai Corps (Salvation Army church). Handy towels and Salvation Army publications were also distributed.
Another team went to a relief office in the Mito area and unloaded bottles of water, biscuits, blankets, nappies (diapers) and tissue boxes for distribution to evacuees.
The third team headed to an area where people had been evacuated from the vicinity around the Fukushima Daiichi nuclear power station, but snow and shortage of petrol meant they had to divert to other areas to support evacuees.
Offers of support are pouring in from around the world. Two experienced International Emergency Services workers have flown to Tokyo from International Headquarters in London to assist their Japanese colleagues. The BBC reports that volunteers from a British group which failed to obtain clearance to work in the affected areas 'donated their food and medical supplies to The Salvation Army working in the country'.
The Salvation Army's Korea Territory has arranged for the K-Water Corporation to provide 100,000 bottles of water to be sent to Japan – 30,000 bottles by the end of the week, followed by the rest within a short time – and the Korea Disaster Relief Association will be sending 5,000 first-aid kits. Salvationists in Korea are holding a month of prayer for the people of Japan.
In a touching show of solidarity 1,500 young Salvationists in Haiti – who themselves have recent experience of a devastating earthquake – made prayer for Japan a focus of their rally in Fond-des-Nègres on 11-12 March.