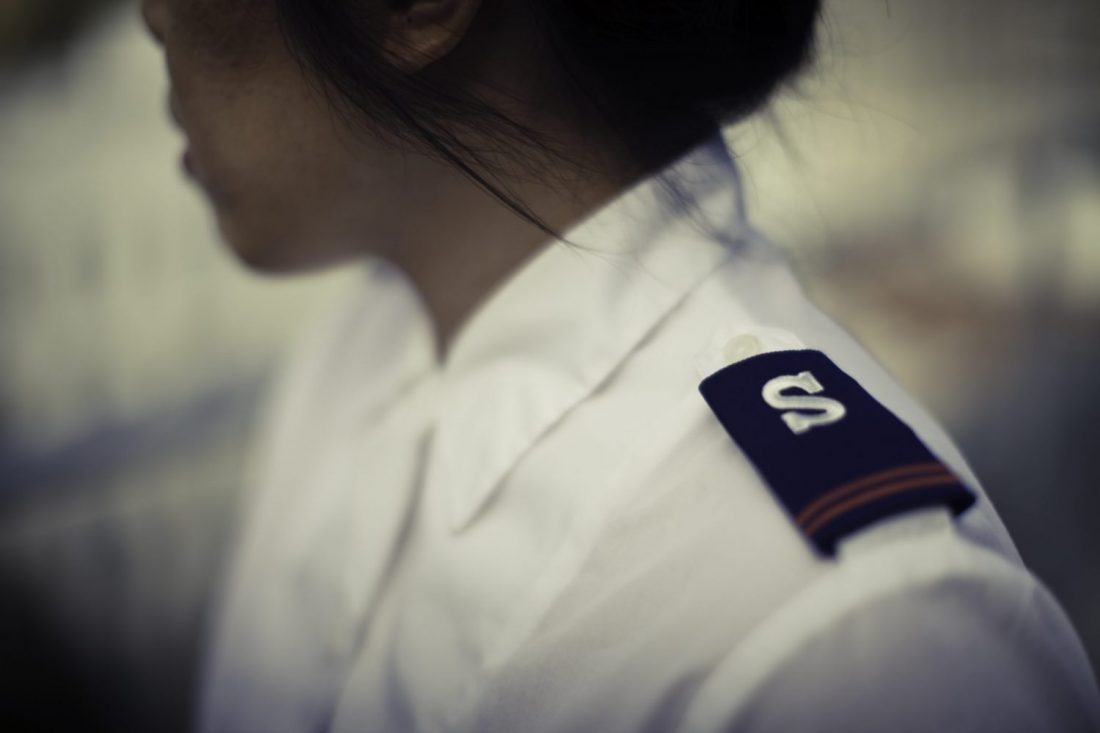 What it means to wear a Salvation Army uniform
As a teenage member of The Salvation Army, I decided I didn't want to wear a Salvation Army uniform even though it meant I could not play in the band on Sunday. My corps required band members to be soldiers of The Salvation Army, and wear the soldier's uniform—a navy suit with an S on each lapel.  
I went to each weekly rehearsal, but could not perform on Sunday out of uniform. I think, at the core of my protest, was the desire to be wanted or allowed to participate because of me, not my uniform.  
These days, while I still think it is important we are concerned about a person regardless of the uniform they may or may not wear, I have come to see great value in the witness behind the uniform.  The S on each lapel and the shoulder epaulets have raised many questions by those who wonder which airline we fly for, or in what branch of the military we serve. These interactions prove to be great opportunities to share that these letters stand for "Saved to Serve." 
I am saved to serve, and the uniform is part of my witness. And if God has saved you, then he has called you to serve him.
As newly commissioned Salvation Army officers, our first appointment was in Oahu, Hawaii, where every branch of the military was represented.  It was not unusual to see people in a variety of uniforms. I wore my uniform everywhere and it didn't feel odd. I realized then that I had to live up to the "Saved to Serve" responsibility.  
Even as I wear the uniform today, I still find it to be a reminder.  If I am driving my car in uniform, for instance, and someone cuts me off, I might want to give them a good honk of the horn. But I am reminded by that uniform that I need to be the witness and not show my discontent for being wronged.  
I once witnessed an accident on the freeway on my way to work. I was frustrated that even though the road was busy, no one stopped to help the driver after the truck had rolled several times across the lanes.  I will absolutely faint at the sight of blood, and yet I was moved to stop my car and help the driver get out of the truck laying on its side. I then waited on the side of the road until the highway patrol took my statement, and you better believe I was glad I was wearing my uniform. It provided an even greater witness as I stopped to help while so many others just swerved to avoid the mess on the road. (By the way, God protected me from fainting.)
Wearing the uniform is an outward sign of what needs to be an inward change.  It is our witness, hopefully instilling confidence in others, that we are indeed part of a God-honoring organization and, I would hope, a witness to our relationship with God.
It is not an obsolete bother, or just something we have to do as an officer or soldier in The Salvation Army.  I see the uniform as an opportunity to be a witness. In or out of uniform, if we are "Saved to Serve," we have to show our Christian witness in our relationships, in our behavior and in our words—compassionate, fair and without offensive language.  
It is an honor to show the world that we are different and to show integrity, love, service and compassion in all we do. I no longer want to make sure that I am cared for. Now I want "Saved to Serve" to be my motto, to show that God has changed my life and that I am serving him alone.
---
Do Good: 
If you'd like to make a monetary donation, please click here to make a gift.
Text 'GIVE' to 52000 to make a $10 donation to The Salvation Army. This will automatically add a one-time donation to your next mobile phone bill.
For information about volunteering, please visit volunteer.usawest.org.
To learn more about how to support The Salvation Army's relief efforts, please click here.
Download our latest Scripture series, God With Us, written from quarantine.