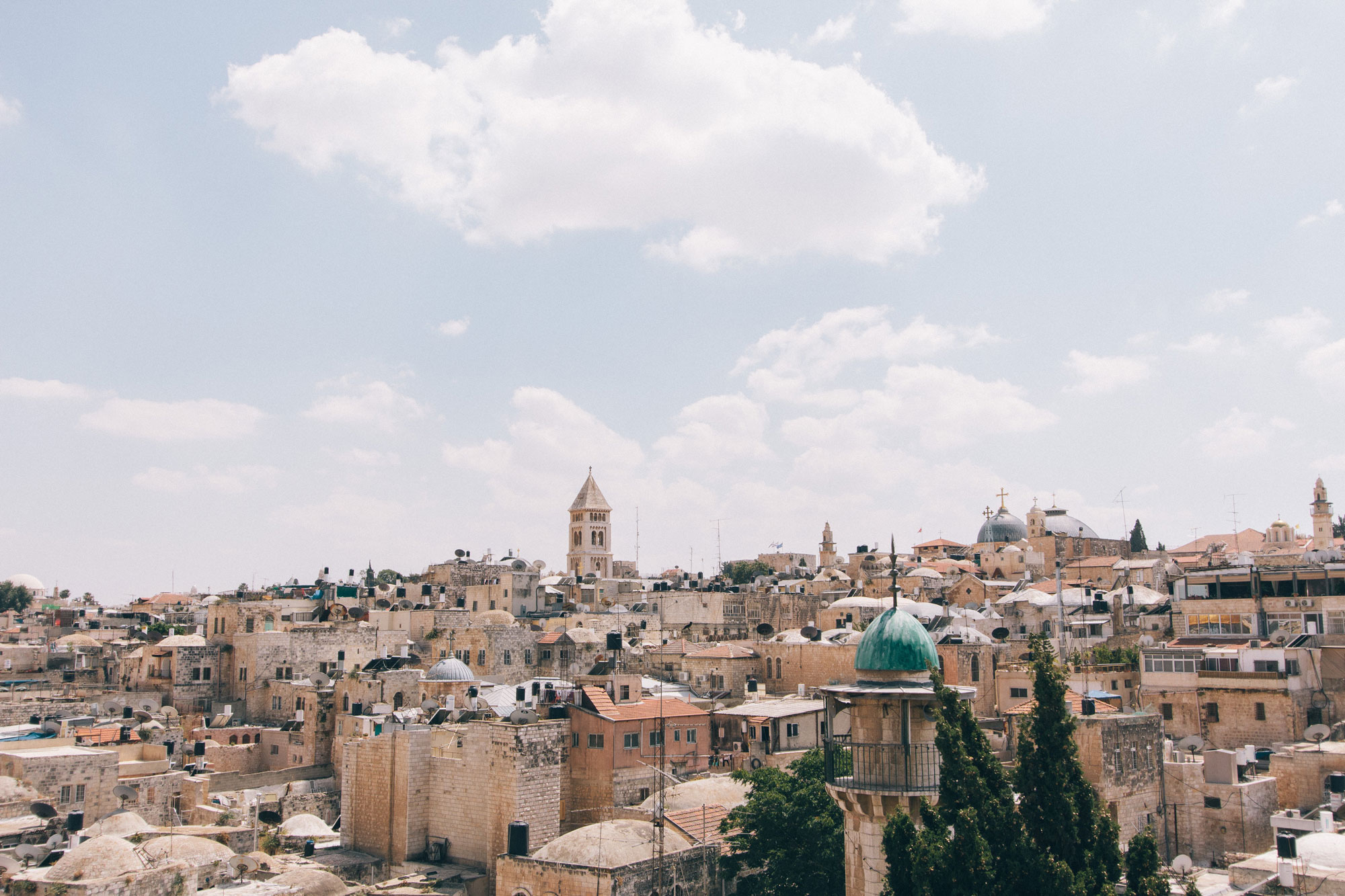 What a Jerusalem trip taught me about loving others in my ordinary life
"That hill is Mount Moriah," explained Boaz, my tour guide. "It's where Abraham went to sacrifice Isaac."
Standing across the valley on Mount Scopus in September, I did a mental calculation. According to Scripture, 6,000 years ago a man named Abraham raised a knife on that same hill, preparing to sacrifice his only son. But an angel intervened, commending Abraham's faith, and God provided another suitable sacrifice, a ram. Abraham thanked Jehovah Jireh—the God who provides (Genesis 22:1-18).
Today, the Dome of the Rock, a mosque, sits on Mount Moriah, a glittering feature of the Jerusalem skyline. Looking at it, biblical narrative seemed both immediate and distant to me—a dizzying contradiction but one I grew accustomed to during my 10-day tour of the Holy Land.
"You used to read the Bible in black and white," Boaz repeatedly said to our group, "but now it will be in technicolor."
The analogy fit.
In the West, Christians can easily let the stories recorded in Scripture become myths. But my time in the Holy Land had the opposite effect.
Instead of glazing over passages about geography and temple gates during my trip, I surveyed the land around me and pictured the people of the Bible—no longer merely characters—fulfilling their godly calling in stunning detail.
In Capernaum, I saw Peter abandoning his nets to fish for men. At En Gedi, a cave-riddled oasis, I saw David sparing Saul's life. In Jerusalem, I saw Jesus walking through the Eastern Gates—now sealed—prepared to be tried and crucified.
As I touched ancient limestone, pumice and olive trees, familiar stories transformed into historical fact. The land and the ruins beneath it confronted my doubts and confirmed my faith. As the archeological evidence testifies, the Bible does not record myths.
A man named Jesus actually spit on the earth to make mud, put it on a man's eyes and cured that man's blindness. And when a woman touched the hem of Jesus's cloak, her chronic illness ceased. A soldier's daughter died, and, after a word from Jesus, she returned to life. Jesus's work was tangible and immediate, impacting the lives of real people in the Middle East during the first century.
But, Jesus's ministry transcends that place and time, acting as the hinge-point of history. His life dictates our calendars, impacts individual experiences and influences the arc of social progress. Because of Jesus's life, Gutenberg invented the printing press (to help the masses read their Bibles), clergymen championed the first vaccines (to ease human suffering) and artists created countless masterpieces (to celebrate their savior).
So where do we fit in that legacy? What do we do with the gospel in our cultural context, separated from Jesus's life by 2,000 years and 7,000 miles?
In light of church history, the question is critical. At its best, the Church acted like Jesus did, sharing love with a tangible, complicated, hurting world. But at its worst, the church forgot this mission, prioritizing status, power, comfort or possession over the commands of Scripture.
Today, Christians must decide what legacy they want to leave, carrying the message Jesus shared without forgetting the heart of that message.
On a hill in Galilee Jesus said: "Do to others as you would have them do to you" (Luke 6:31).
And "let your light shine before men, that they may see your good deeds and praise your Father in heaven" (Matt. 5:16).
Standing on that hill, looking at the water Jesus once calmed with a word, I reflected on Jesus's message of love.
Careful stewards of the gospel can share the love our modern world desperately needs. If we obey Jesus, we show compassion, care for the marginalized and love our enemies. We reject oppression and stand up for righteousness. We embrace generosity, authenticity and selflessness. We continue a legacy born in another time and place that has since encompassed the entire globe.
If we are careless with his message, we render one of the world's greatest instruments for good—the Church—impotent, or even corrupted.
There is no calling we must answer with more sobriety.
Before returning to heaven, Jesus told his disciples, "Go and make disciples of all nations, baptizing them in the name of the Father and of the Son and of the Holy Spirit, and teaching them to obey everything I have commanded you. And surely I am with you always, to the very end of the age" (Matt. 28:18-20).
While visiting the Holy Land I recognized Jesus's tactile ministry and felt empowered to participate in it. Two-thousand years ago, people acted on Jesus's words, spreading the good news and loving one another. But Jesus is still with us. So I have the same opportunity. And you do, too.
---
Do Good:
Did you know The Salvation Army served over 24 million Americans last year fighting hunger, homelessness, substance abuse and more? Where can you help? Take our quiz to find your cause and learn how you can join in today.
Get inside the Caring Magazine Scripture Study Collection and find a suite of free, downloadable Bible studies to guide you through topics from New Beginnings Through Forgiveness, to Understanding our Imago Dei or Life Hacks From David.
Need some extra motivation to do good today? Follow Caring Magazine on Instagram for inspiring stories, podcasts and more to get you in the Fight for Good.