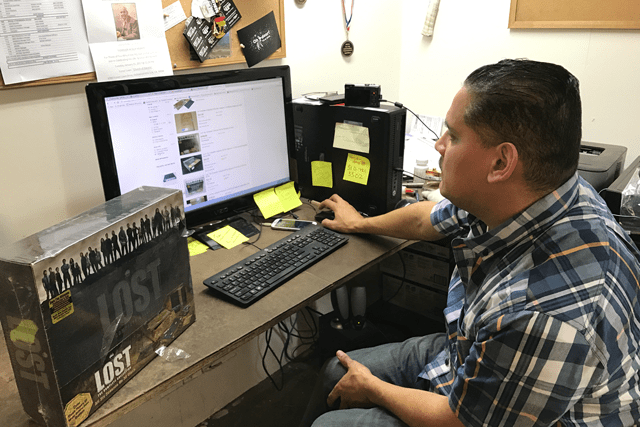 West boosts thrift sales online
Ecommerce effort aids ARC ministry
By Christin Thieme –

Vintage Tennessee license plates, silver flatware, sewing machine parts and an acoustic guitar—all part of the top 10 selling items by The Salvation Army last year on eBay.
The
ecommerce effort started
in 2014 in the Western Territory, selling over 9,800 items in 2016 for gross sales of $636,000. As a source of additional income for seven adult rehabilitation centers (ARCs) and 11 corps-run thrift stores in the Northwest and Del Oro divisions, the online thrift sales are generating more funds for ministry.
"We are constantly looking for ways to increase revenue to allow us to do more good across the West," said Piers Fairclough, Assistant Business Administration Secretary. "It's simple—fundraising, in any form, furthers the mission of The Salvation Army."
After a discounted nonprofit fee to eBay and PayPal, sales income is received at Territorial Headquarters and then attributed to the store of origin so that the profit funds local programs.
The 2016 top seller, a Franklin Library 100 Greatest Books of All Time set, was listed for $699.99 and sold for $2,175 by the Pasadena Adult Rehabilitation Center (ARC). Rather than sitting on a thrift store shelf, the online market dictated the items higher value.
"In our thrift stores, our audience is limited, but online it's a different dynamic and we can compete against other retailers," said Daniel Sandoval, Ecommerce Specialist at the Pasadena ARC and a 2015 graduate of the program. "It all comes here; it's like a turkey shoot. And you'd be surprised at what people buy."
That penchant for the unique led online buyers to win bids for everything from LP albums to a transistor radio or a suitcase full of doll heads (bought for $30) from The Salvation Army.
"We even have 65 pounds of Legos listed, and it'll probably sell for around $300," Sandoval said. "We used to throw those away."
Ecommerce specialists use an internal system that allows The Salvation Army to run one online eBay storefront for its current 18 locations. Overseen by Wesley Tran, Territorial Ecommerce Manager, employees scour store shelves, shoot and post product photos and descriptions to eBay, ship sales and respond to customer emails. In 2017, Tran plans to gross $1 million in sales and hopes to include each of the West's 23 ARCs. To join, a center simply needs a desk, packing supplies and an employee, willing to treasure hunt.
In the Pasadena ARC warehouse—a labyrinth of receiving and sorting stations—beneficiaries bring bags and boxes of donations off of trucks and begin the sifting. Anything of potential value moves to the collectibles department, a cordoned off area in the center of the maze overseen by Dale Denby, Collectibles and Ecommerce Director.
"I've been looking on eBay since its inception, so I have a catalog in my head of what sells," said Denby, a 1999 graduate of the Van Nuys ARC who has since worked for The Salvation Army. He moved up to retail manager there and in Pasadena before taking on collectibles. "We try to maximize the sale of our stuff based on what's unusual or what has sold before, and we're getting smarter at what we do. Now we only post things we know will sell."
And it's working. In its first 10 months of ecommerce operation, from March to December 2016, the Pasadena ARC grossed over $186,000 in online sales—money that will help to support a cost-free, biblically based six-month residential program to overcome addiction for 104 men and 12 women.
It is one of 141 centers across the United States, which offer a chance at rehabilitation to more than 200,000 people a year. Last year, the 1,237 thrift stores nationwide recorded nearly $611 million in sales to the public, according to the Army's
2016 annual report
.
That additional funding for increased mission starts on the warehouse floor.
"I like to walk around every hour and ask if anyone has seen anything cool," Denby said.
From there, Denby sends items on to Sandoval, who researches, photographs and posts up to 15 items per day.
"We want our store to look a certain way online, and we can present it in a certain way," Sandoval said. "The more we can earn, the more good we can do."
Shop The Salvation Army online at go.usawest.org/eBay.