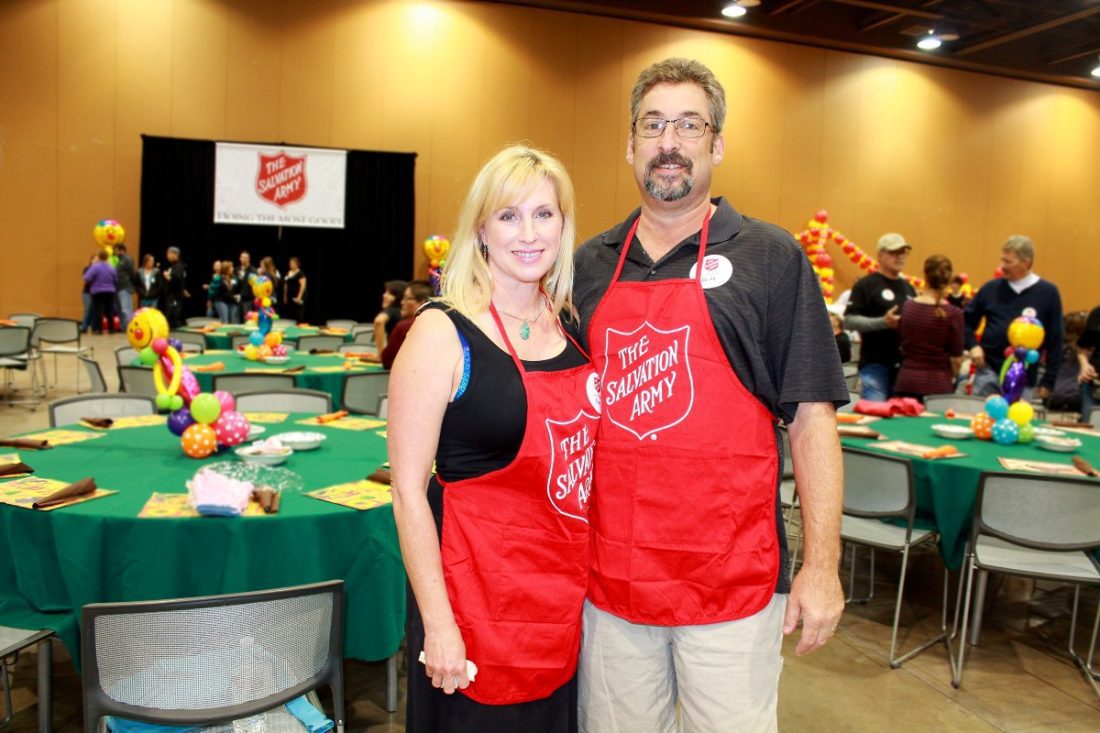 Volunteers find love
When two single parents gave their time to help serve a meal, they discovered each other.  
"At eleven months old Aaron only had me; we were alone in the world — together," said Keith Colson, who determined then to be the best dad he could be to his son.
"I had volunteered with The Salvation Army as a young adult, but once I had a child I knew it was something I wanted to pass on to him," Colson said. "I had taught Aaron the phrase 'there but for the grace of God, go I,' and we went to the Phoenix Salvation Army service center and volunteered often. That includes serving Thanksgiving and Christmas dinners to those in need."
As Aaron entered his teen years, he invited his friends to help volunteer and developed a group of peers that served with him.
"I decided early on that I would not date, but focus on raising Aaron," Colson said. "However, I prayed and asked God to bring me a great woman inside and out — a real live angel to love — once Aaron reached 18 years old."
On Christmas 2010, the father and son went to help serve dinner at The Salvation Army and got to work setting up their station. As a managing volunteer, it was Colson's duty to set up and then meet each person who signed up to help that day and assign them positions.
"Across the room, through a black curtain, emerged an incredibly beautiful lady," he said. "I had no idea who she was but determined to find out. I said to myself, 'Who is that?'"
His son, nearly 18 at the time, quickly said, "Don't do it dad; don't do it." Colson said he replied, "'Dude, I've got to,' and I walked 75 yards in her direction, wondering what in the world I was going to say."
He walked up to her and asked if she was looking for a volunteer opportunity. Amy, a single mom, was there with her daughter and mother and worked that day in Colson's station. He said he was endeared to Amy as he watched how intently she prayed for those they were going to serve.
At the end of the evening, Colson gave her his card and asked her to contact him for future volunteer opportunities.
Amy emailed him Jan. 6, 2011, inviting him to contact her next year to volunteer again.
"I shouted out to Aaron, 'She wrote me, she wrote me!'" Colson said.
He returned her email, asking if they could see each other socially. Having recently divorced, Amy suggested they be friends and soon their emails led to letters, texts and phone calls. That Jan. 21— five days after Aaron's 18th birthday — Keith and Amy had their first date.
The pair married in 2014 and returned a day early from their honeymoon to serve at a Thanksgiving dinner with The Salvation Army in Phoenix.
"When you give, it comes back to you," Colson said. "It sure did for me. God heard my prayer and he provided. We will never stop serving with The Salvation Army."