Vet loses sight, regains vision with help of The Salvation Army
Mark Saxon was an infantry doctor in Iraq, Desert Storm, before leaving the military in 1991 as he was beginning to lose his vision from cataracts.
"It covers over the eyes so you can't really see out of the eye anymore. It got real cloudy in my right eye—I could see just a little bit—and I completely lost my vision in my left eye," he said. "You can't read signs, you can't make out people's faces, I started bumping into things because I couldn't see 'em. I really started having a lot of setbacks in my life."
Unable to drive or work, Saxon ended up homeless in Maui, Hawaii.
"I was sleeping out in the bush or out on the beach," Saxon said. "I would get on the road and I'd walk to the Vet Center, which was in Wailuku, so it was from Lahaina to Wailuku and back."
That's 23 miles—one way.
Then one day Envoy Kevin Nagasaki, in-charge of the Lahaina Lighthouse Corps, drove past him on the road.
"You could tell he was military; the way he had a backpack, the way he was dressed—whitey, tighty shirts, tucked in with the cut off jeans," Nagasaki said.
Saxon walked almost every day hoping to meet with someone at the VA who could help him get help with his vision. "So, I stayed close to where the railing was so that I wouldn't be near the traffic," he said of his walk. "But by the time I got back at the end of the day, I was really tired."
He lost count of how many times he walked to the VA in a three-year period.
"I had a little Walkman radio, and I used to listen to Bible teaching everyday," Saxon said. "That's how I actually started learning the Bible and I just kept repeating it: Walk by faith and not by sight. Walk by faith and not by sight [2 Cor. 5:7]."
Saxon went to The Salvation Army corps in Lahaina for a Sunday worship service.
"We asked him to read a Scripture and he brought his Bible, and it was big print and he literally put it to his face in one eye to read the Bible," Nagasaki said. The church prayed with him for a miracle.
"I didn't know how that would come about, but I believed that God could change my circumstances," Saxon said. The Salvation Army helped him apply for VA benefits, get a copy of his discharge paperwork and the like. And then, The Salvation Army got a call that the VA wanted to fly him to Tripler Army Hospital in Oahu for cataract surgery.
"That's when the breakthrough came. They drained the fluid out of it. They did a surgical lens implant. When they take off the bandages, it's blurry," Saxon said. "Your eye starts to focus, then it all comes in clear. Practically, it's like the whole world opens up again. When you haven't seen for a long time and you get your vision back and it's clear, it takes your breath away."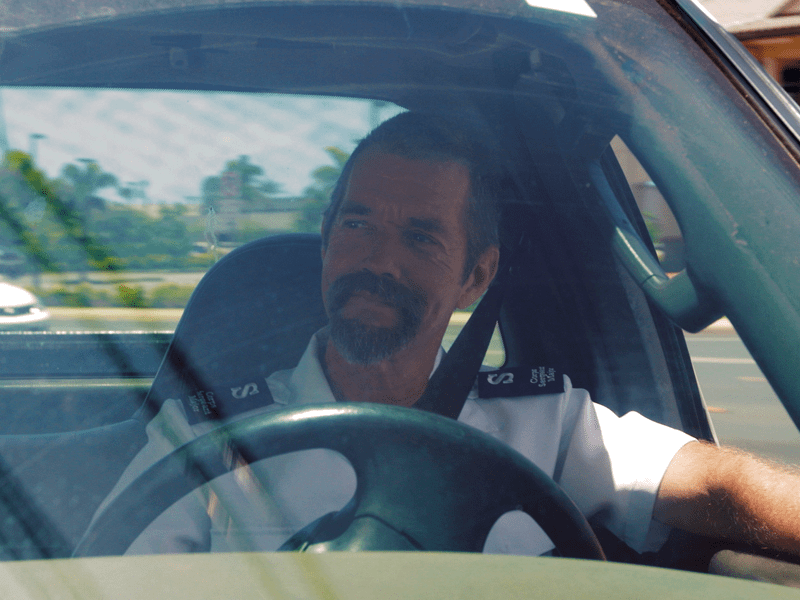 Saxon even requalified for his driver's license. "I said, 'What? This guy was blind!'" Nagasaki recalled. "I said, 'He can drive, he got his license, he passed the eye test, he did everything!'"
It was clear, Saxon said, that God had answered his prayer. He shared his testimony in Lahaina, and word of what had happened spread.
"The Salvation Army offered me a job—homeless outreach case manager," Saxon said. "I've been doing that ever since. We bring food, we bring hygiene, we bring clothing, things like that. Basic needs.
"We'll help 'em get into a homeless shelter, help with getting ID, help with getting employment," he said. "We don't care if you were an alcoholic, a druggie, it didn't matter if you didn't take a bath for two weeks. It didn't matter; we still welcome you with love and with care."
Saxon said people often ask why they're going through difficulties or trials. "I believe it's because God is preparing them for something," he said. "I didn't really understand why I was going through what I was going through, and that was all a part of his plan and purpose and I see clearly now. Because if I hadn't gone through that experience, I would never be doing what I'm doing now."
[button color="black" size="normal" alignment="none" rel="nofollow" openin="newwindow" url="helpsharechange.org"]Watch Mark tell his story at salar.my/WalkFaith and find other video testimonies here.  [/button]