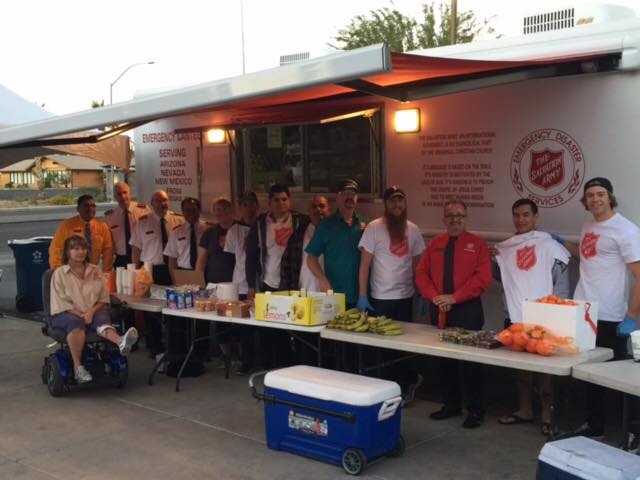 Vegas relief rolls on as victims continue recovery
The Salvation Army of Southern Nevada continues to serve those impacted by Sunday night's mass shooting in Las Vegas.
Fifty-nine people died, and more than 500 sustained injuries after a gunman opened fire on a country music festival crowd outside of Mandalay Bay hotel. It was the deadliest shooting in modern U.S. history.
According to hospital officials, at least 130 people injured in the attack remained hospitalized Tuesday, 45 of them in critical condition. At Sunrise Hospital and University Medical Center (UMC) alone, the count of those treated included 120 people who were struck by gunfire. Some of them could be facing yearslong recoveries.
The Salvation Army has returned to both hospitals as well as Valley Hospital to provide prayer and counsel to victims and their family members. Four more Salvation Army officers from Phoenix also arrived late Monday night, in addition to Lt. Colonels Doug and Sheryl Tollerud, Western Territorial Secretary for Business Administration and Assistant Program Secretary for Corps Ministries, respectively. Lt. Colonels Tollerud, who have gained access to the trauma units at Valley Hospital.
In addition to prayer and counsel, The Salvation Army has employees and volunteers stationed at two blood donation locations, serving food and water. The lines at these two locations formed well before 6 a.m. Tuesday, and remain lengthy. Once the first round of blood is used, officials expect a surge in need for another major supply.
According to Lt. Colonel Kelly Pontsler, Southwest Divisional Commander, the biggest current challenge for The Salvation Army is processing the high volume of in-kind goods—namely water, food and blankets  They are filling large trucks as quickly as possible to get them to the Owens Social Services campus and the Henderson (Nevada) Corps for redistribution.  
"The flow of communication between the team members continues to be very good," Pontsler said. "All in all, things continue to run smoothly."