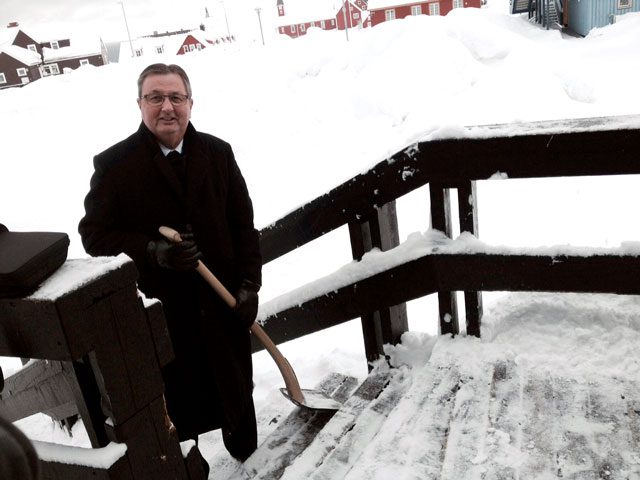 USA West supports Army's growing work in Greenland
Western territorial leaders visit partner in mission nation.
By Levi Giversen –
Commissioners James and Carolyn Knaggs, Western territorial leaders, traveled to Nuuk, Greenland, for a visit that confirmed the partnership between the West and the Denmark Territory, which includes Greenland. The Knaggs met with Danish territorial commander, Colonel Hannelise Tvedt, and took part in Army activities.
As a mission partner with the Denmark Territory, the U.S. Western Territory contributed toward the establishment of the Army's work in Greenland three years ago. This visit gave the Knaggs a sense of the pioneering work occurring in Nuuk, Greenland's capital.
"We celebrated the presence of the risen Lord in Greenland," James Knaggs said. "You know if we plan on winning the world for Jesus, it includes Greenland."
The Knaggs brought a surprise with them: a donation of almost $400,000 for the acquisition of a house for The Salvation Army in Greenland. By releasing the Army from paying rent, the burden of a tight budget will decrease.
Since February 2013, the Army has rented a house in the heart of the city, once the residence of Nuuk's former mayor, Agnethe Davidsen. The building quickly became too small for the Army's services, which include a café, soup kitchen, prison ministry and family programs.
"We are deeply grateful to our mission partner for the generous gift," Tvedt said. The West also committed to a donation of about $14,000 to promote the Army's work via the Internet, including YouTube.
The Army's pioneer officers in Greenland, Lts. Petura and Magnus Haraldsen and assistant officer Lt. Martin Mader Jensen, work closely with other churches and social service organizations on projects and initiatives. Jensen was commissioned last summer from the West's College for Officer Training at Crestmont.
During their visit the Knaggs participated at a corps service, a broadcast at the city's Christian radio station and a Sunday service at the prison.
"As we walked the snowy streets of this northern community, the officers were stopped regularly by people they know from daily contacts and ministry opportunities." Knaggs said. "Our team here is showing God's love every day in service, support and salvation teaching."
The Danish Salvation Army treated the Knaggs to a meal at Café Manna, a Christian café specializing in reindeer soup. Next time they visit, they may be treated in the Army's own facility.
Donate to The Salvation Army's work in Greenland at salvationarmy.org.