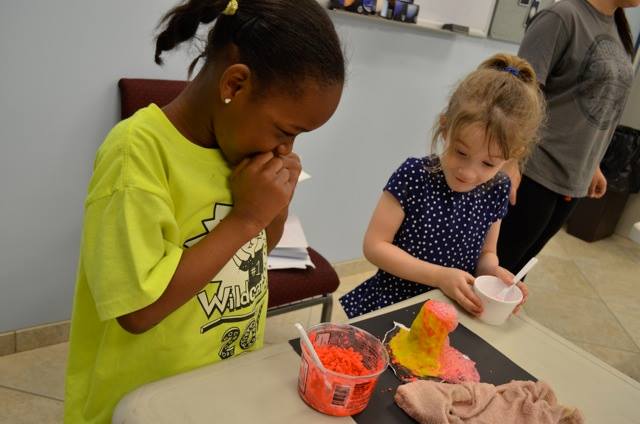 Unlearning fear
New research shows how stresses of poverty can impact childhood development; The Salvation Army devised a "two-generation" approach in response
By Caitlin Johnston –
Liz Golden finds it hard to plan for her and her son's future.
The single mother who struggled with addiction wants Geovani, 5, to have a good education, a stable home and positive life experiences. But planning long-term seems impossible when there are so many unanswered questions in the immediate future.
"I have no clue what's going to happen in five years," Golden, 28, said. "I can't even guess at this point. But I know the future's hopeful."
That sense of hope comes from Golden's and Geovani's participation in the Sarasota Salvation Army Emerge program. Part of The Salvation Army's greater Pathway of Hope program, Emerge is a youth component that aims to support stable living, enhance learning and allow the experiential living that leads to social mobility, said program founder Major Ethan Frizzell.
By taking a two-generation approach, Emerge recognizes that parents and children experience the same crisis differently.
Every Wednesday night, families gather for what would traditionally be seen as a mid-week church meeting. The evening starts with a meal prepared using only fresh ingredients. From there, families split into different sessions. A parent class focuses on housing and income stabilization, while children go into youth and character programming.
"For them, it just feels like they're coming to a church building," Frizzell said. "You're removing the labeling of 'poverty' and 'poor' and 'broken,' and saying, 'Come on in!' It's welcoming."
For Golden and Geovani, it's their favorite time of the week.
"That's where we get to spend good time together," Golden said. "He gets his homework done. We have dinner. I'm able to socialize with other grown-ups and not be at work. I have a good support team here to help me through the struggles."
By focusing specifically on the stressors affecting children, Frizzell hopes to remove the fear and uncertainty associated with poverty and work with kids to foster better executive functioning.
Frizzell first saw the need for the program two years ago when, on family nights, it became evident that the executive functioning skills of the children were limited: limited vocabulary, limited abilities, limited emotional control.
"We were helping the families get back into housing and do what they needed to do to move forward," Frizzell said, "but we weren't concentrating on the children to make sure they were up to age-level executive functioning."
Much of the conversation about poverty nationally now includes evaluating how its stresses inhibit the development of these skills in children. The concept of "total inequality" has started to enter the mainstream: looking at poverty not merely as income equality, but also the sum of the financial, psychological and cultural disadvantages that come with it.
"When we were engaging the children, we were concerned because the children were developmentally behind," Frizzell said. "Not because of a developmental disability but because of lack of developmental opportunity."
In many ways, that simply comes down to the ways fearful emotions can undermine intellectual capacity. Research conducted at Princeton, Harvard and the University of Warwick shows that low-income people struggling with financial problems live in a constant state of anxiety. Consequently, they are more likely to perform poorly on cognitive tests, working under a mental burden that's the equivalent of losing an entire night's sleep.
Frizzell points to neuroscience research that shows people who live in fear actually lose 13 IQ points.
"If you have fear as a child, it actually can delay learning," Frizzell said. "So how do we remove fear and create opportunity for learning?"
Thats where Emerge comes in. The program starts with creating stable relationships and then expanding social capital, or the concept of community and networks. Children in the program have prioritized access to The Salvation Army's after-school program, homework assistance, team sports, game room and computer lab.
"We intentionally invest in both the parent and the child at the same time," Frizzell said. "We're trying to get them back on track in a very short and intensive time."
Once families see progress in the Wednesday evening Emerge program, many of them move on to a Monday component that builds upon the same skills and concepts over a 15-week period.
"Children who live in crisis and children who are poor, their frontal lobe is, for lack of a better term, jammed," said Mary Zigman, designer and coordinator of the Family Impact Program. "We explicitly teach executive functioning skills, such as task initiation, mindfulness and self-regulation of emotions."
The results of these efforts quickly become apparent, Frizzell said. When many kids first enter the program, they're either in constant motion or they're angry.  But after developing executive functioning skills and becoming comfortable in the community, the change is noticeable, Frizzell said.
"You see this change from children running around and having this flight or fight response where they're struggling to sit down for four minutes to a family that sits down and eats together and goes through the evening without issues," he said. "It's all about meeting kids where they are and saying, 'how can we quickly get them caught up now that they're not in fear?'"