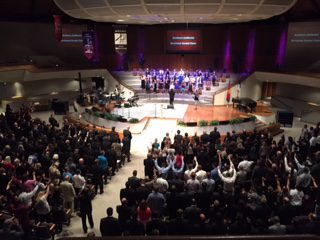 Corps, ARC stand 'United'
By Shari Fowler – 
Event joins ARC, corps and social service ministries to continue momentum of Harvest Initiative
Over 1,000 Salvationists and friends from the adult rehabilitation centers (ARC), corps and social service ministries of the Southern California Division gathered in Pasadena March 15, for the "United in Christ, United with Each Other" worship service.  
Major Chuck Fowler, Pasadena ARC administrator, welcomed the crowd and set the tone for the gathering.
"ARCs, corps and social service ministries are all here tonight as one Army to worship and celebrate Christ," Fowler said.
Special guests included Lt. Cols. Doug and Colleen Riley, divisional leaders; Lt. Cols. Man Hee and Stephanie Chang, ARC Command leaders; and Colonels Dave and Sharron Hudson, chief secretary and territorial secretary for women's ministries, respectively. Participants enjoyed music by the divisional gospel choir, testimonies of ARC alumni who are now soldiers at their local corps, and a message delivered by Dave Hudson.
The gathering was designed to carry forward the momentum of the Harvest Initiative and the efforts of the ARC "Count Me In" convention to communicate and demonstrate the need for integrated ministry in the Army.
"We want to see people from our ARCs and corps gathered as one family," said Man Hee Chang.
In his testimony, ARC alumnus James Fleming said, "You are my people. God's story of grace and mercy is way better than my story of addiction. I stayed connected to the ARC and the corps and that's what saved me."