Unique need, customized response
Downed trees provide opportunity for partnership, ministry and needs fulfillment.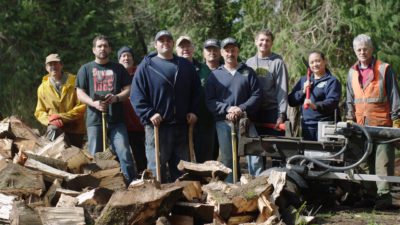 In the rural town of Coos Bay, Ore., many low-income residents rely solely on wood-burning stoves to heat their homes. So when Lt. Kevin Pope, corps officer of The Salvation Army Coos Bay Corps, received a call from City Manager Roger Craddock about some downed trees that the city needed to get rid of, he knew exactly what to do.
That phone call began a partnership between the city and The Salvation Army to supply firewood to low-income seniors and disabled individuals within Coos Bay and North Bend.
The city delivers the downed trees to the corps, where they are set aside until a large stockpile forms. Then Pope contacts the Coos Bay Fire Department and the corps' men's fellowship group to organize a day of chopping. The firefighters gladly volunteer their time for this cause, says Coos Bay Fire Department Battalion Chief Dan Crutchfield.
"We get to spend some time together and usually have fun and enjoy it, and at the end of the day we're all doing something great for the community," Crutchfield said.
"Guys just break out their chain saws and their splitting balls and just go to work," Pope said. "And it's amazing how much wood can be processed when you have that many volunteers that show up."
After the wood is chopped, volunteers deliver it to local residents.  
"It's so gratifying just to see the thankfulness in their faces," Pope said. "It's wood, I mean it's firewood, but to them it's gold."
Recipients often share their needs and concerns with Pope, who is able to pray with them. "If we didn't have the wood program, I wouldn't have that opportunity to get to their front door," he said.
Craddock has been pleased with the city's partnership with The Salvation Army on this project. "It's a great feeling, actually, to know that we had some resources that weren't being used that we could actually put to use and help people with their basic needs," he said. "We need organizations like The Salvation Army to assist in meeting those needs, and this is obviously an example of how we can partner and both achieve both our missions at the same time."
In the four years since the program's inception, the Coos Bay Corps has distributed over 130 cords of firewood—each stack measuring 4 ft. by 4 ft. by 8 ft.
"I just pray that if there is another specific need that maybe we're not seeing, that somebody will say something, and that we can take that and pray about it and find out: 'God, where can we go from here?'" Pope said. "'How can we meet these needs for the community you've called us to serve?'"