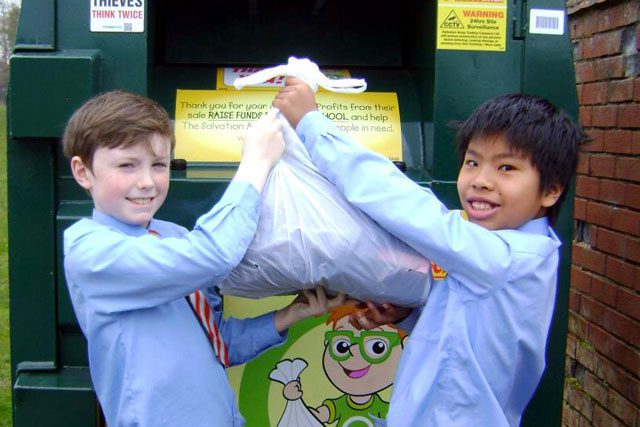 British primary school recycles 1,800 pounds of clothing for The Salvation Army
Catherine Hamou – 
Pupils, their families and staff at St Alban's Catholic Primary School in Macclesfield, England, have turned their unwanted clothes, shoes and textile items into valuable funds for their school and The Salvation Army.
As part of a Recycling Day organized by the school's Junior Recycling Officers, the school teamed up with Salvation Army Trading Company Ltd (SATCoL) to participate in its dedicated scheme for schools, Recycle With Michael.
Christine Milburn, recycling officer coordinator at the school, commented: "In the week leading up to the Recycling Day we gave each pupil a Recycle With Michael collection bag to take home and fill up with any unwanted clothes. In just a single day we managed to collect over 800 kilos [over 1,800 pounds]!"
On the afternoon of the Recycling Day the school held a special fashion show, displaying highly creative items of clothing made by pupils during the morning from recycled materials, including dresses, hats, shoes and bags. Lucinda Hodges, waste education officer for Cheshire East Council, and Nick Price, SATCoL area representative, were on hand to support the children's recycling efforts.
With a colorful new clothes bank branded with the fun kids' recycling champion, Michael, installed at its gates, the school will continue to participate in the Recycle With Michael scheme and is encouraging pupils, families and the local community to carry on donating their unwanted clothes and textiles. Local collectors from SATCoL will regularly pick up the donations and the school will be rewarded with an amount of money to spend on its own projects, dependent on the weight of donations.
Profit from the sale of donated clothing also contributes to the valuable social welfare work of The Salvation Army, including homelessness and addiction services, care for older people, help at emergency incidents, support for adult victims of human trafficking in England and Wales, a Family Tracing Service and much more.
Teresa Cooke, headteacher, said: "We're delighted to be working with SATCoL to highlight to pupils the importance of caring for the environment and stopping textiles being sent to landfill. The children and their families are really engaged with the scheme and we're planning to use the money raised from our Recycling Day to buy materials for a pop-up 'Grow Your Own' event for pupils. We'll need plenty of seeds, soil and flower pots and we'd also like to buy some composting bins."
SATCoL area representative, Nick Price, said: "It's great to see staff, pupils and their families really embracing our Recycle With Michael scheme. By donating good quality clothes and shoes to us, everyone at St Alban's is helping to extend the life of these items, making sure they are re-used rather than going to landfill. We hope the clothing bank will continue to thrive, providing the school with a way to support The Salvation Army while raising funds for its own eco projects."
For more information about SATCoL and the Recycle With Michael scheme, visit: www.salvationarmytrading.org.
From salvationarmy.org.uk