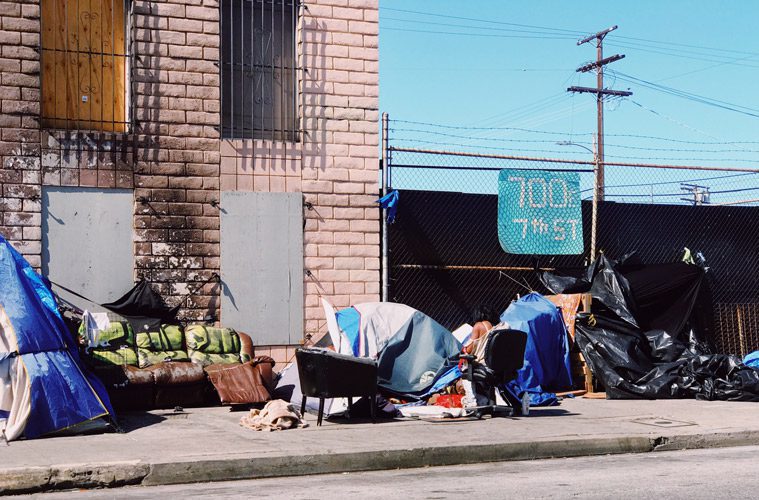 This program prevents homelessness by paying the rent
While nearly 600,000 Americans experience homelessness, many others are one expense away from it. But what if this pipeline to homelessness was preventable?
A new $12 million annual grant from the Los Angeles Homeless Services Authority (LAHSA) to The Salvation Army's Community Integration Services (CIS) Shallow Subsidy program aims to help individuals and families avoid homelessness by providing rental assistance in Los Angeles County. 
The grant, funded through Los Angeles County's Measure H, gives The Salvation Army $12 million annually for the next three years, with the possibility to extend for another two years. According to CIS Director Lisa Anderson, the program has the potential to impact 1,500 households in L.A. County.
"It's really meeting a need," Anderson said. "It's also helping us as The Salvation Army and Community Integration Services to be more involved in the efforts of the Army as well as the county in addressing the homeless crisis in L.A. County. It's providing one more tool in our toolbelt to be able to address those needs and get some of that middle ground that we weren't able to before."
Anderson said often people experiencing homelessness are put into a rapid re-housing program that pays a larger portion of their rent for up to a year, which is generally enough time for them to become stabilized. Yet, she said it can take longer to get to an income level to pay 100 percent of their rent in addition to other expenses, like utilities and food, putting them at risk to become homeless again.
The Army's Shallow Subsidy program is unique and continues to be shaped through collaboration and regular communication with LAHSA and L.A. County. The only other program Anderson knows that is like it is in Washington, D.C., though it's much smaller. 
"It's kind of a pilot, although it's a very large pilot," Anderson said of the L.A. program.
To qualify, individuals and families must be enrolled in a rapid re-housing program and need assistance to maintain their housing due to rent burden and low income. The Shallow Subsidy program provides monthly rent subsidies of $300 for individuals and $500 for households with two or more people. This assistance can last up to five years, depending on the level of need, and is paid directly to the recipients' landlord.
The program has prioritized 20 percent of its slots for those over age 62 who are in a homeless prevention program and need rental assistance while waiting for affordable housing. 
"It's a type of funding that hasn't been done before for addressing homelessness prevention issues in that it provides a smaller amount of rental assistance for a longer period of time," Anderson said. "It's geared toward households that have been stabilized on their own or through more intensive case management services."
CIS began receiving referrals for Shallow Subsidy in May 2019. According to Shallow Subsidy Supervisor Crystina Leyva, there have been nearly 200 referrals as of October 2019.
One of Leyva's first clients for the program was an older veteran living in a unit by himself. After he paid rent, he had $100 left for the month. His case manager connected him with the Shallow Subsidy program, where he qualified for $300 of monthly rent assistance. 
"I went with our staff for the first inspection and he was crying," Leyva said. "Three hundred dollars makes a real difference for him." 
Leyva is located at Bell Shelter, one of the 14 CIS locations throughout L.A. County. The locations were set up following the closure of the Haven, a program run on the V.A. campus in West L.A., in 2015. When the Army's Social Services department realized the bulk of its work was in the community at the time of the Haven's closure, it began CIS branch offices.
When LAHSA announced the grant to subsidize rent for those at risk of becoming homeless, several agencies applied, but The Salvation Army was the only agency to get the grant because it had the streamlined infrastructure in place to reach individuals throughout the county: its corps. 
"For social services, that has been really, really rewarding to see how we have leveraged our corps to reach more people," said Pilar Buelna, Divisional Director of Development for Social Services. "This is an example of how our corps and government social services programs can work together to not only offer services but bring them to the corps."
---
Do Good: