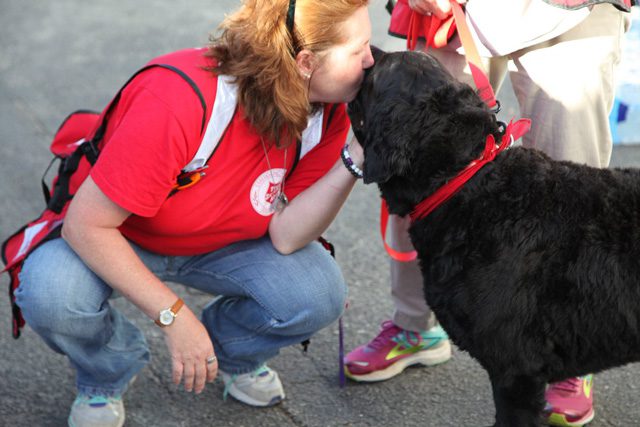 Therapy dogs join Salvation Army's Hurricane Florence response
By Lindsay Crossland –
For what's believed to be the first time in its history of disaster response, The Salvation Army has tapped Therapy Dogs International (TDI) to work alongside them.
TDI is a volunteer organization dedicated to helping handlers get their therapy dogs to wherever they're needed most. From nursing homes to hospitals—and now disaster relief sites such as Wilmington, North Carolina—the dogs provide comfort and care in a way only they can.
If you followed Jazz, a Goldendoodle, around for a day, you might find him with his head in the lap of a little girl reading him a book while she waits on her mother to file a government assistance application. This process can take several hours due to the high volume of need.
"I couldn't believe the magnitude of people impacted by Hurricane Florence," said Debbie Willis, Jazz's handler. "It does our hearts good to see our dogs making someone feel better, especially the children going through this."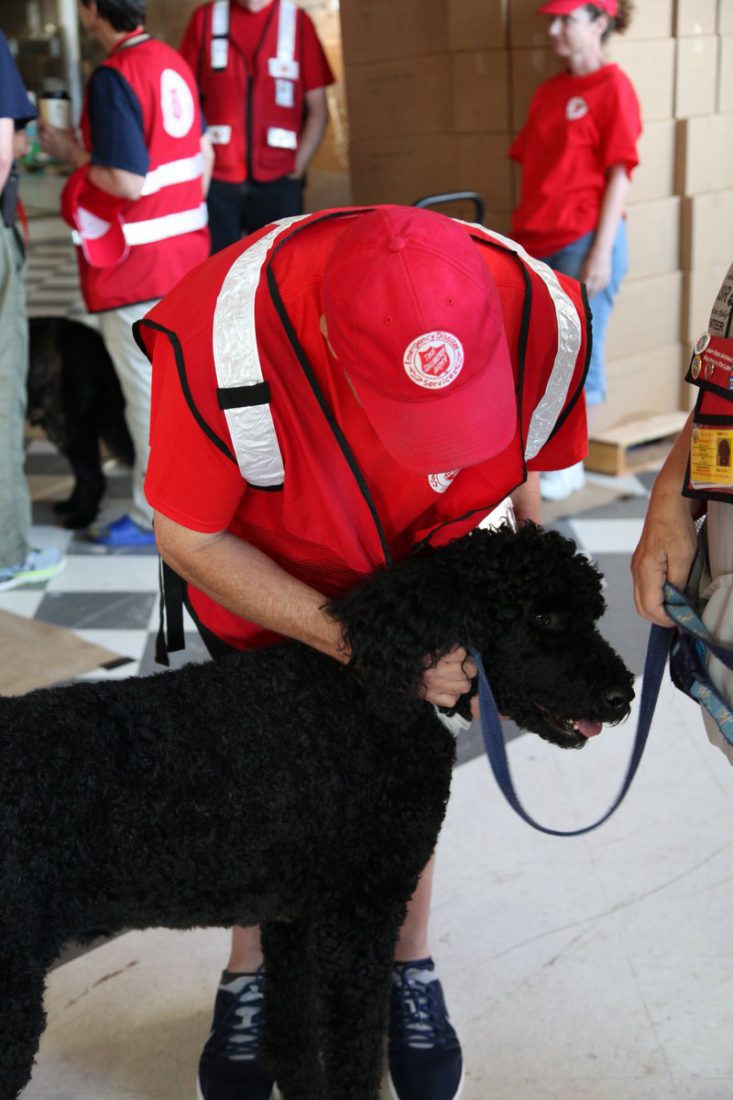 Wally, a long-haired Labrador Retriever, could be found sitting with a Salvation Army volunteer while she stroked his head and processed her day—a day spent driving out to rural areas to serve meals to hundreds of people who had lost so much from the storm.
"The therapy dogs add another level to our emotional and spiritual care efforts. It's another connection we're making with people that have just experienced trauma," said Kevin Chinault, Director of Social Services for The Salvation Army of Clearwater and Upper Pinellas County, Florida. "Even when people won't talk, they'll connect. The therapy dogs are truly helping us provide the much-needed ministry of presence."
And that's not all they're doing. Numerous studies have evaluated the physiological impact of therapy dog interactions, documenting significantly reduced heart rates in both medical patients and healthy volunteers. Playing with a dog can also elevate levels of serotonin and dopamine, nerve transmitters that are known to have pleasurable and calming properties, which lead to lower blood pressure.
"Some of these people were in need before the hurricane, and now they're going through the heightened stress of a disaster," said Jane Willis, Wally's handler. "They don't think something as simple as a dog can make them feel better, but the unconditional love of a dog that doesn't want anything back from you helps release some of that stress, and it makes a big difference."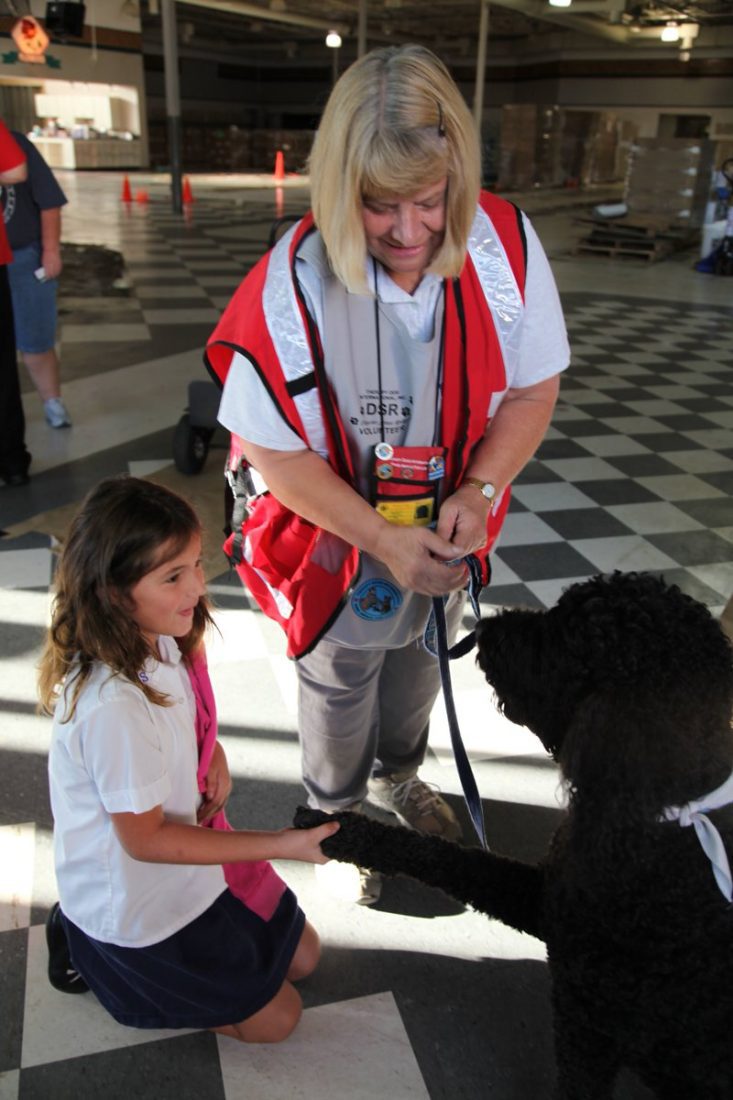 Jane Willis remembers a woman coming up to Wally and starting to cry as she hugged him.
"She didn't say much of anything, but she was able to find some release and comfort in him," she said.
A typical disaster deployment with The Salvation Army lasts 14 days, and though the work is rewarding, it can be emotionally exhausting. In some cases, secondary trauma—sometimes known as compassion fatigue or indirect trauma—can even take root. That's why the therapy dogs are on-site for anyone who needs them.
"The therapy dogs accomplish as much with the staff and volunteers as they do with the people that have gone through the disaster," said Steven Hartsook, Incident Commander for The Salvation Army's response in Wilmington. "They've had a big impact on us, especially when we're missing home. They help us care for our team and give a little bit of respite so that we can continue working and caring for others."