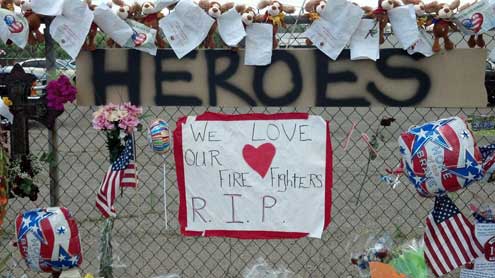 The Salvation Army Continues to Support Yarnell Hill Fire Relief Efforts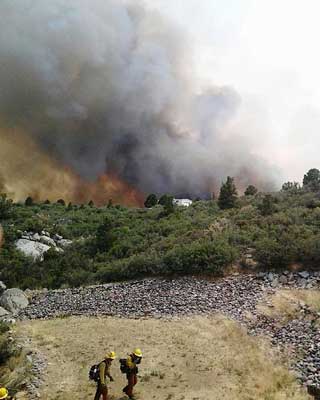 The Salvation Army provided emotional and physical support in Yarnell, Ariz., after a fire destroyed more than 50 homes, and killed 19 firefighters on June 30.
"What a lot of [people] don't realize is that 51 children were left without fathers, 24 from another sector were injured, and four are in the County Burn Unit," said Rich Bauer, director of community programs at United Phoenix Firefighter Charities. "This is the worst tragedy for firefighters anywhere in the world since the attacks on 9/11."
During the first five days of the fire, The Salvation Army distributed thousands of meals and drinks to first responders and evacuees of the Yarnell Hill fires. Members of the Prescott (Ariz.) Corps offered spiritual and emotional guidance, while Salvation Army Emergency Disaster Services gave out clothing, clean-up kits, utility assistance and groceries to those affected by the fire.
"As is the case with disasters, the Army's work has been extraordinary, and it has only just begun," said Marlene Klotz-Collins, a member of The Salvation Army Phoenix Advisory Board and the National Advisory Board. "Countless individuals have been introduced to The Salvation Army during these heartbreaking days…for many, many people, the Army is no longer a 'best kept secret.'"
According to Southwest Divisional Commander Lt. Colonel Joe Posillico, the Yavapai County Emergency Operations Center reported that most of the families that lost their homes have little income and no insurance, so The Salvation Army has temporary housing available, if needed.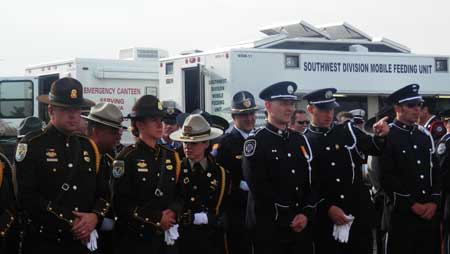 On July 7, a 125-mile processional carried the bodies of the 19 fallen firefighters from Phoenix to Prescott, their hometown. The 19 white hearses with the name of each firefighter posted on the side of the vehicle slowly passed the Prescott Corps, where members and Corps Officer Lt. Elaine Mansoor and Assistant Corps Officer Lt. Mareah Morrow stood to honor them. Mansoor and Morrow—just commissioned—recently arrived in Prescott for their first Salvation Army appointment.
"This has been one of the most heartbreaking situations I have ever been in," Morrow said. "At the same time, I am blessed and encouraged to see a community rally together and support one another in any and every way they can."
Army volunteers offered meals, prayers and encouragement to members of the processional at the Yavapai County Fairgrounds.
"Nineteen is just a number to most people, but when you see 19 hearses carrying 19 of your fallen brothers, reality punches you in the stomach" Bauer said.
Support for the command center, the families and the community continued through a memorial service on July 9; afterward, funerals took place over the next four days for each firefighter.
Salvation Army personnel are stationed in Yarnell, where they will operate two assistance centers at the Yarnell Community Presbyterian Church and State Individual Assistance Center. The centers will be open daily from 9 a.m. to 2 p.m. to help with the physical, emotional and spiritual needs of the community.
"Our hearts go out to the families of this community because we know them and love them," said Captain Randy Hart, incident commander for The Salvation Army. "We are humbled to help out in any way that we can."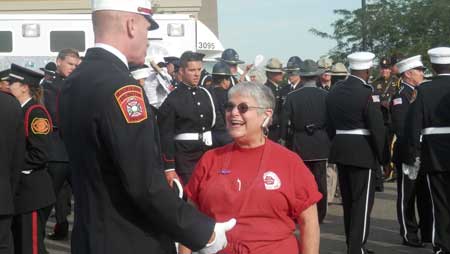 Recovery efforts are expected to be long-term and The Salvation Army will be present as long as needed.
"We believe that God is a the great comforter and encourager," Posillico said. "In spite of the tremendous loss of life, he will make his presence known and felt by those who have suffered such loss."
Donate online at donate.salvationarmyusa.org/southwest/Yarnell-Fire, or call 1-800-SAL-ARMY (1-800-725-2769) and designate "AZ Fires." Mail checks to The Salvation Army, P.O. Box 80066, Prescott, AZ 86304 (note "AZ Fires").