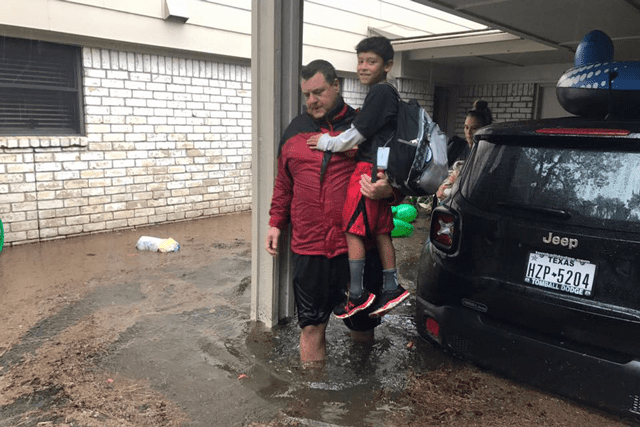 The Salvation Army continues response for Hurricane Harvey victims
The Salvation Army continues to provide practical assistance and emotional and spiritual care in cities throughout the areas affected by Hurricane Harvey in southern Texas. Some areas of Houston have seen over 40 inches of rainfall with another seven to 13 inches expected through September 1. At least 11 deaths have been reported, and over 30,000 people have evacuated their homes.
The Salvation Army is providing emergency assistance throughout the city as rain continues to fall and flood waters rise in Houston. The levees and rivers are swollen with water and threaten to add more flood damage to the area.
Captain Jay Ward, Commanding Officer of the Houston Northwest Corps, and his son helped evacuate 32 people by boat.
"It's devastating out here," Ward said. "I've been working disaster all my life but this is the worst I've seen. People are coming out in their boats and helping to save people."
Salvation Army units are ready to move in and serve those in need as additional areas of the city become accessible. As of August 28, 6,288 meals, 7,162 snacks, and 5,664 drinks have been provided.
A mobile kitchen from The Salvation Army in McAllen, Texas, served meals, snacks and hydration to residents and first responders while a team from Muskogee, Oklahoma, drove through the devastated streets serving sandwiches and drinks to people working to salvage what they could from their damaged homes. Several people requested prayer from team members.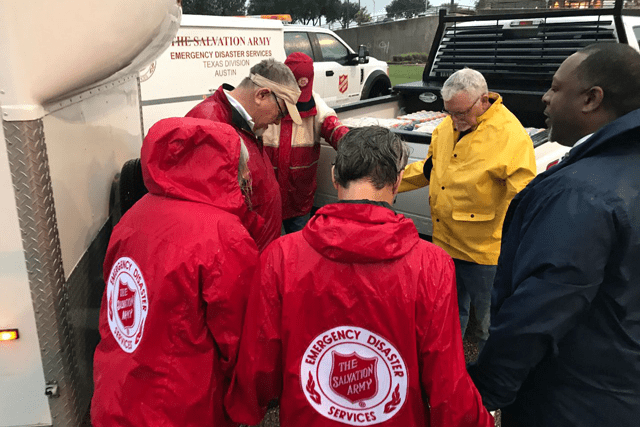 The cities of Rockport and Aransas Pass found themselves directly in the path of Hurricane Harvey and sustained significant damage. A Salvation Army team from Oklahoma established service in Rockport on August 29 while a second unit continues to provide support in Aransas Pass.
Houston's Harbor Light Center, Sally's House, Family Residence and the Conroe Red Shield lodge are housing as many evacuees as possible while other locations remain on standby.
To support relief efforts visit helpsalvationarmy.org.