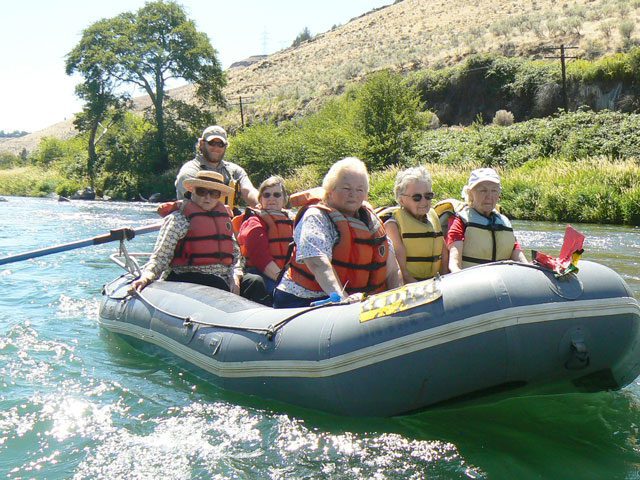 The Salvation Army and seniors
By Karen Gleason –
When is a person "old"?
[wp_charts title="barchart" type="bar" width="60%" align="alignright" margin="5px 20px" datasets="3.1,4.9,9,16.6,25.5,35,41.4,56,79.7,92″ labels="1900,1920,1940,1960,1980,2000,2011,2020,2040,2060″]
While The Salvation Army defines a senior as anyone age 55 or older, the U.S. government puts the starting age at 65. According to the Department of Health and Human Services Administration on Aging, older adults represented 12.4 percent of the population in 2000 but are expected to grow to 19 percent of the population by 2030. Today the U.S. population includes roughly 35 million seniors.
"People are living longer and living more of their life in better health than before," Richard Suzman, of the National Institute on Aging, said in a report to ABC News.
Whatever age it begins, older adulthood—with its growing numbers—presents challenges and opportunities for those who serve this population.
In The Salvation Army, women's ministries departments oversee older adult ministries. But the actual outreach originates in other departments: program manages camp meetings for seniors, adult day care programs, and senior nutrition and health services; and business administration manages the Silvercrest residences, the Army's senior housing facilities.
"In The Salvation Army, we think of seniors as people who need things provided for them—meals, exercise, interests—instead of as people who could be service providers themselves," said Lt. Col. Diane O'Brien, secretary for older adult ministries in the West.
According to O'Brien, it's time to re-think the Army's older adult ministries. "Older adults are the hands we need for our 'senior' ministries," she said. "They should be our volunteers."
A Pew Research Center survey showed that as people age, religion becomes increasingly important to them, with 70 percent of those age 75 and above acknowledging its significance in their lives.
Currently, The Salvation Army maintains a number of programs that successfully engage older adults through social, physical and spiritual means.
[gss columns="4″ ids="7137,7136,7135,7140,7139,7141,7142,7143,7147,7146,7145,7148,7149,7150″] Rose Center for Seniors
The 42-year-old vision for The Salvation Army Rose Center for Seniors in Portland, Ore., remains clear today: to provide a program to meet the needs of older adults in the community. In 2013, it boasted 731 members.
It is adjacent to the Portland Tabernacle Corps and a Silvercrest residence, which allows three dimensions of Army ministry to seniors—social, physical and spiritual—to fit seamlessly together.
"An outstanding feature of the Rose Center is that it has not strayed from its original purpose," said Center Director Becky Bitah. "[This is] a testimony to the planning, preparation and sensitivity to the universal needs of seniors."
According to Sophie White, Rose Center historian, the center exists to develop or even substitute for an individual's relationships and interests, provide opportunity to contribute time and skills to the development of the community, and to provide entertainment, education and recreation.
"I don't know what I would do if I didn't have the Rose Center to come to," said Paula Brooks, 68, who joined after she retired. "I would probably just sit home and watch TV." She participates in craft groups, Pinochle club, outings and lunch, and volunteers to prepare the monthly newsletter for mailing.
Lt. Colonel Judy Smith, Cascade divisional commander, once served as the center's first director.
"When the Rose Center for Seniors was just a dream we could not have imagined how successful it would become," Smith said. "God has truly blessed the program with a director who is caring and loving, a facility that meets so many needs of Portland-area seniors, and the tremendous support of the Portland Tabernacle Corps."
Gladys Wood, 91, lives at the Silvercrest, attends the corps and volunteers at the center. She volunteers daily in the center's dining room taking payments for lunch, serving meals and helping with cleanup. She says that her life took on new meaning when, at age 87, she could walk to the Rose Center and become part of its ministry.
Mary Sikorski, 92, has been a member almost 20 years. "The Rose Center exercise group is probably what keeps me alive," she said. "It gives me a reason to get out, and the exercises have definitely helped me with strength and flexibility."
Silvercrest Residences
The Western Territory operates 37 Silvercrest Residences to low-income people above age 62 "in an environment that is sensitive and responsible to the needs of the individual residents, but not intrusive of personal privacy."
These sought-after apartment facilities are located in nine states, including one location in San Francisco managed by an outside source, with 22-257 units each. Most receive grants from the Department of Housing and Urban Development's (HUD) 202 program, which mandates that no religious demands be placed on residents. However, an invitation to attend worship services and Bible studies may be extended.
"Across the territory, we have several examples of good relationships between the Silvercrests and the nearby corps, even if the corps is not adjacent," Lawrence said, noting that a successful association between the two requires both a Silvercrest manager and a corps officer committed to the relationship.
Prior to becoming Escondido, Calif., corps officers in 2013, Lts. James and Hilda Parks served as managers of the Chula Vista, Calif., Silvercrest.
"We know that…as an officer we can provide different services for the residents that the manager cannot," Hilda Parks said. They offer transportation services to the market, volunteer opportunities at the corps and provide dinner every Thursday at the Silvercrest. The corps' community service teens help by preparing and serving the dinner, and playing Bingo with the seniors.
"I learned that the property manager can be the last landlord that the seniors may have and then heaven will be the next home for some of them," Parks said. "I saw the lonely, sick and sad low-income seniors. I said to myself that if this is the last housing for the seniors, we must make this a happy place, and provide the greatest service we can."
Dorothy Richmond, a resident of the Tulare, Calif., Silvercrest, said she appreciates the safety, landscaping and activities, but most of all—the sense of community.
"You can count on company and coffee every morning," she said. "We share rides together and go to local events together. We visit each other in the hospital and mourn together when one of our neighbors leaves this earthly life. In short, we are are a family."
Korean Senior College
The Salvation Army's Phoenix Senior College is "the place of hope for seniors in the Korean community," said Captain Kihyun Oh, who with his wife, Aeran, leads the Valley of the Sun Korean Corps in Glendale, Ariz.
Appointed in 2008 to the then Phoenix Korean Corps, the Ohs made changes to the corps building and its activities. They renamed the senior program "Senior College," acknowledging the value Koreans place on education.
As attendance grew, they placed ads in the local Korean newspaper, reaching more people. They even picked up those who needed a ride.
Today, several passenger vans transport seniors from across the Valley every Tuesday, bringing them to Senior College. The corps recently received a large bus for its ministry.
What started as a weekly program of about 10 older adults in 2008 now numbers up to 100 people.
"Five years ago, only a few people knew our corps and Senior College," Kihyun Oh said. "But now our Senior College is a famous place that most seniors want to join."
Each week, senior college begins with a worship service, followed by educational and recreational activities, including English and Spanish classes, computer, golf, line dance, calligraphy, stretching and Bingo. A lunch features Korean food, and guests lecture on maintaining a healthy lifestyle.
"I thank God and The Salvation Army for Senior College," said Up Nip Kim, 81. After experiencing long-term back pain, her doctor recommended surgery.
"One day I attended a health lecture at Senior College and learned how to exercise to reduce back pain," she said. "After 10 days of doing that exercise, I started to walk without pain…One year later, I still do that exercise and now I garden at my house."
Oh said the Senior College is "a place with many serving hearts and hands."
"They know that in the Senior College, there is something special that they can't get from any other place," he said. "We want to serve them as the one church in the Korean community."
The spring semester of the Korean Senior College begins March 11.