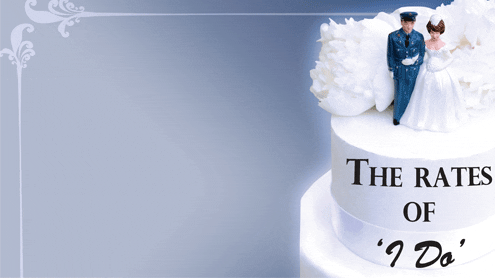 The Rates of 'I Do'
As the Pew Research Center reports a decline in marriage rates, how does the Army fare?
By Alma Bahman and Christin Davis
In November 2010, the Pew Research Center, in conjunction with Time, released a report on "The Decline of Marriage And Rise of New Families," based on a nationwide survey conducted in October 2010. The report notes striking differences by generation on the institution of marriage and a decline in marriage rates among all groups. But this represents society as a whole; how are other cultures with more specialized views on marriage—like The Salvation Army—affected?
The Salvation Army doesn't keep statistics on marriages performed so New Frontier gathered general information from members and officials regarding Salvation Army marriage traditions, issues and trends and compared it to the results of the Pew study. Overall, it seems the Army also reflects a generational difference in marriage and a rise in new families.
Age-old institution
"Marriage is a man and woman who made vows to each other and God about their relationship; it is more than a basic friendship, it's a special kind of commitment," said Commissioner James Knaggs, Western Territorial Commander, who married his wife, Carolyn, 39 years ago. "I am such a fan of marriage…it's fabulous."
Yet, Knaggs said, "It's not as simple as it used to be."
According to the Pew Research Center, 72 percent of adults in the U.S. were married in 1960 compared to 52 percent in 2008.
In recent years, statistics from the U.S. Census Bureau's American Community Survey show a 4.1 percent decline in the number of U.S. adults who are now married (except separated) from 2005 (53.4 percent) to 2009 (49.3 percent). The rate of those never married increased 3.7 percent and the rate of divorce increased by 0.4 percent.
Marriage in The Salvation Army is generally no different from American culture; couples face the same issues from money to raising kids to what's for dinner to communication problems.
"One of the number one reasons that people come to talk to me as a pastor is about their relationship, about their marriage," said Major John Chamness, corps officer of the Kroc Center in Cour d'Alene, Idaho.
For this reason, cadets studying to become officers at the College for Officers Training at Crestmont learn how to provide premarital counseling using Prepare/Enrich, designed by Life Innovations, Inc. The one-day workshop teaches facilitators to assess a couple's strengths and weaknesses, resolve conflict and utilize exercises that will help the relationship.
This premarital counseling is strongly encouraged for couples wishing to be married by a Salvation Army officer, though the individuals do not need to be members of the church. Officers, however, may only marry another officer or an individual "pursuing officership." In some countries, including Australia, an officer may marry a non-officer.
"I believe if you truly love someone, the better plan is to get married because that commitment will hold you through the most difficult storm," Knaggs said. "The Bible hasn't changed its position on marriage, yet, in the Army we don't convey judgmentalism. Nothing is insurmountable or unforgiveable, but love, loyalty and fidelity should never go out of style."
A differing value system
The survey attributes many of the changing trends and behaviors to the actions of the younger generation. The Pew Research Center said the Millennials (ages 20 to 29) stand out from all other groups—they are marrying later, more apt to cohabitate or have a child outside of marriage.
In 1960, 68 percent of those 20 to 29 were married; in 2008, just 26 percent were. It is unknown what percentage of this age group will one day marry, but it is clear that the average age at which men and women first marry is now the highest ever recorded, risen by roughly five years in the past half century, according to the U.S. Census Bureau. Even so, college-educated young adults are more likely than young adults lacking a bachelor's degree to have married by the age of 30.
"It's interesting," said Dr. Jack Anderson, clinical psychologist and consultant for the officer care and development department for Western Territorial Headquarters. "In the [Crestmont] training college there are a lot of young couples that don't fit society's trend." He said there are still Army couples who marry in their early 20s.
The share of currently divorced or separated people tripled from 5 percent in 1960 to 14 percent in 2008, however, the divorce rate has decreased over the past 20 years following its peak in 1979.
"My parents' attitude was you stay together no matter what. [In] my generation…it's OK to get out if it doesn't work," Chamness said. "In the church we say we believe in marriage and support family values but statistics don't prove that because the divorce rate is the same [for Christians]."
Anderson also noticed an increasing number of officers and cadets who have either gone through divorce and are remarried, and in some cases single parent families. "This would have been unheard of a generation ago," he said.
Nearly half of those under age 30 (46 percent) say the growing variety of family arrangements is a good thing, compared with just 30 percent of those ages 30 and older. Twenty percent of those ages 18 to 29 think having more same sex couples raising children is a good thing, compared to only 7 percent of those age 65 and older.
Army families are also reaching beyond the nuclear ideal in different ways.
"Both officer and soldier families reflect in a high degree the society at large," Anderson said. "Many of the people who come to the Army are coming from very distressing situations involving domestic violence, parental abandonment, substance abuse and the predictive outcome of not having grown up in an intact family."
The norm now is more the "dysfunctional family," Anderson said, a term used in sociological and anthropological contexts referring to a family whose interrelationships detract from the health and well-being of its members.
"With the programs and outreach we offer, the Army comes in more direct contact with hurting families," Anderson said, noting the high number of children growing up in single parent families, living in foster settings or being raised by grandparents.
Marriage is no longer considered a prerequisite for parenthood. According to the Pew Research Center, the share of children born to unmarried mothers over the past 50 years has increased eightfold from 5 percent in 1960 to 41 percent in 2008. This means the share of children under 18 living with two married parents has decreased from 87 percent in 1960 to 64 percent in 2008.
Adoption represents one increasingly common family variety within the Army. Major Peggy Helms, a pastoral care counselor for Western Territorial Headquarters said she knows several couples that have already raised families who have decided to take care of less-fortunate children.
"Some officers have taken foster kids into their homes," Helms said. "[The kids are] not adopted but [the couple] made a home for them." She also said it wouldn't be out of place for single officers to adopt.
Officers: At work and under pressure
One of the most unique factors in marriage issues relating to The Salvation Army is that for officer couples, working for the same employer is inherent in their marriage.
"With many husbands and wives, one goes to the bank and one's a schoolteacher…while in the Army we have the same work environment," Helms said.
Personnel departments appoint officers who are the best fit for the positions available at each Army corps (i.e. Salvationist churches), division or territory. Once married, officers are always appointed together.
"The wife kind of accepted the position that went along with the husband's appointment," Helms said, drawing from her own experience when her late-husband took the role of divisional secretary.
But keeping couples together ironically creates a separation. In the October 2010 issue of The Officer, Captain Lisa Van Cleef, corps officer at the Kroc Center in San Diego, Calif., wrote about her experience with the Army's inconsistencies in the way wives are appointed.
She still believes the Army values women but she was taken by surprise when she and her husband, John, received a divisional appointment, he as administrator and she as associate administrator.
"The question I've asked of my leaders…has been why is it that in a corps setting we are partners, but if we are moved to staff appointments the woman is typically subordinate, the word 'assistant' or 'associate' often placed before her title?" Van Cleef wrote.
Knaggs said that in a corps setting, the couple handles its roles however it likes, though in divisional appointments the husband is given the dominant role. He said it's a male-dominated way of thinking and something that, he believes, needs to change. However, Knaggs said he has met with five couples regarding promoting the wife to divisional commander and none of them wanted a position over their husbands.
"They said, 'Don't do this to our marriage,'" Knaggs said.
Army tradition continues to promote wives in the ranks along with their husbands after the rank of major, and a married woman has never been nominated for General. The issue of appointments for married women officers was a hot topic at the 2011 High Council, according to Knaggs. Though there are no solutions yet, Knaggs said this inconsistency is something he has been challenged to examine further.
In the church
Not surprisingly, religiosity is also linked to family views and values.
"People yearn to hear about God's truth concerning marriage and family structure because it provides a secure foundation for the abundant life," Anderson said.
Among adults who attend religious services at least once a week, 72 percent believe a child needs both a mother and father to grow up happily, compared to 62 percent of those who attend services monthly and 44 percent of those who never attend.
Almost half (45 percent) of those who attend religious services weekly say the new family arrangements are a bad thing, compared to just 19 percent of those who attend less frequently.
Anderson said he has not noticed any difference in people's attitudes toward "traditional marriage between one man and one woman," which the Pew survey supports—despite a societal shift in the marriage rate, 67 percent of Americans are optimistic about the "future of marriage and family."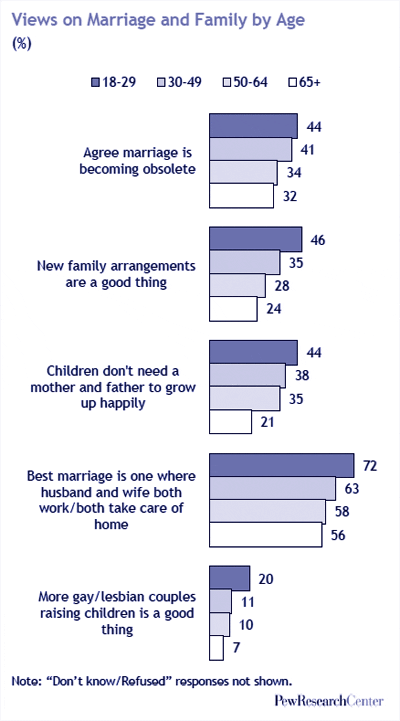 Find the full Pew Research Center report on "The Decline of Marriage and Rise of New Families" at pewsocialtrends.org.
Do the results of the Pew Research Center's study accurately reflect trends in marriage and family in The Salvation Army? Join our discussion online at
facebook.com/tsanewfrontier.