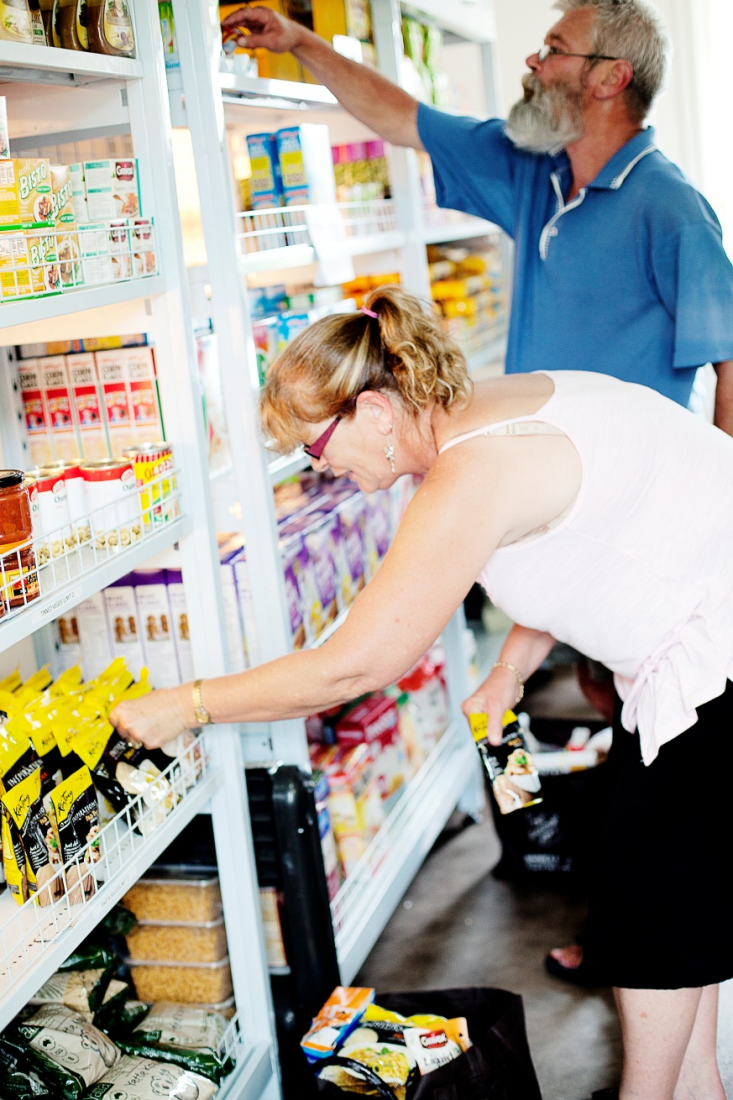 The Food 4 Life Market
Walk into Sydney's Food 4 Life Market and something might confuse you: None of the products have price tags. That's because customers always pay the same price for all of their groceries––just $15.
The Salvation Army in Australia opened the Food 4 Life Market in the Sydney suburb of Busby in August 2013 to offer a lifeline to those in the community facing food insecurity. Residents of the local postal code can register for a free membership to the market, which earns them a complimentary Salvation Army reusable shopping bag and a voucher to fill one full bag of groceries each week for a fixed price of $15. According to Store Manager Joel Spicer, a full bag of groceries is worth approximately $60 of food.
"Many residents in the area have a lack of access to healthy, quality and affordable food partially due to the increasing costs of living," Spicer said. "Parents often skip meals to feed their kids. The market gives residents the integrity of going out in public and selecting what they want themselves."
The Salvation Army opened the first Food 4 Life Market in Warwick Farm, a suburb of the greater Liverpool area, in July 2009.
Paul Lynch, member of the New South Wales Legislative Assembly, assessed more than $100,000 to the Food 4 Life Market as part of the Community Building Partnership Program. He estimated that 12 percent of all residents in this postal code suffer with some level of food insecurity. Many are in public housing, single parents, or struggling with drug and alcohol abuse, according to Spicer.
Stocked with fresh fruits and vegetables, meat, bread, milk and a plethora of nutritious options, the market has helped many residents like Ema, 31. A single mother of four kids, all under the age of 9, she discovered the market at a community event.
"Without the Food 4 Life Market, I would not be able to keep my family functioning," she said. "Now I do not have to stress and worry where my next meal is going to come from or how I am going to feed my kids."
Samantha, 30, is also a single mother. Since she began volunteering at Food 4 Life, she accepted Christ into her life. She feels she is now starting to fulfill the plan and purpose he has for her life.
"I love chatting [with] people and helping people by listening to the issues they have in their lives," she said. "I love servicing the community by providing a place where families can come to receive assistance. This gives a huge helping hand."
The Food 4 Life Market is also equipped with an adjacent café area, where customers can sit for a complimentary cup of coffee and fellowship with other customers and store volunteers.
"This café area provides a space where local residents can make new friends, build relationships and just have a chat with someone in a safe and welcoming environment," Spicer said. "This creates a great sense of community and belonging."
John, 55, is the most experienced volunteer at Food 4 Life and like an assistant manager, according to Spicer. He said he likes that customers can shop for a reasonable price so they can save money to pay bills or do something nice.
He said, "I like seeing customers going out happy with a full bag."