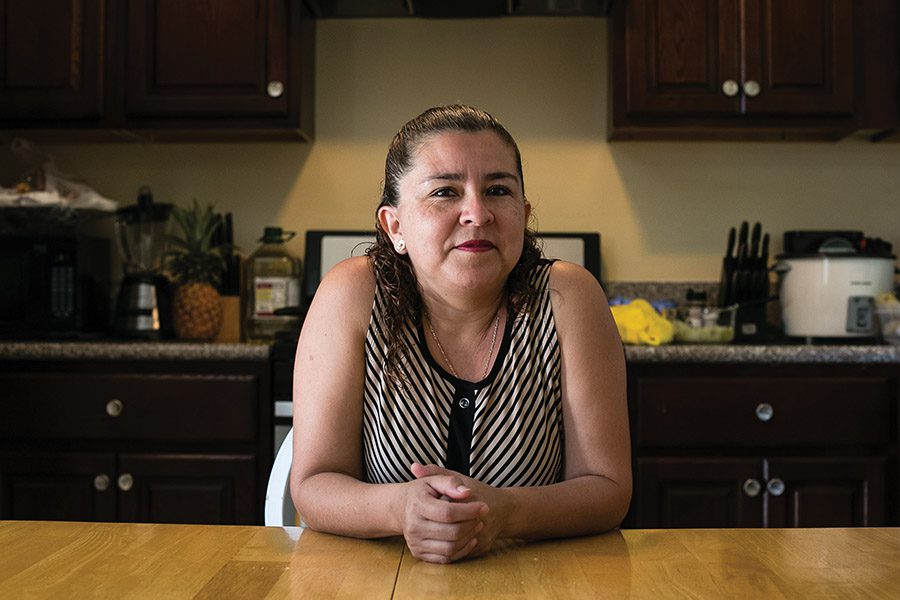 Surviving servitude
When Lydia pressed for her money, her employers simply got more creative with their accounting. At one point, the family gave her a cell phone, but charged her $180 a week to cover calls to Mexico she says she never made.
The Salvation Army combats labor trafficking and helps survivors reclaim their lives.
With a sunny disposition to match her bright yellow sundress, Lydia sits at her kitchen table. For the past year, she's lived in this modest three-bedroom, two-bathroom apartment in Orange County, Calif., along with two of her four children and a couple of family friends. Their quarters are tight, but impeccably kept and even a bit cozy. Behind her, a door opens up onto a small yard with a big tree and enough roaming room for the family dog.
This, along with her stable job of four years working in food service at the Sisters of St. Joseph of Orange, is just the sort of new life Lydia imagined when she immigrated to the U.S. from Mexico over a decade ago, trekking alone across the desert no-man's-land between the two countries back in 2005. What she couldn't imagine then was that feat of physical endurance would prove to be just the beginning of her ordeal.
Because for three years, Lydia survived a life of domestic servitude—virtually held hostage by her employers, routinely paid a fraction of what she was promised or nothing at all, and kept on her feet upward of 18 hours a day. She was, for all intents and purposes, a slave, and she's far from alone—estimates vary widely, but forced labor like the kind Lydia endured, whether it be in sweatshops, hair salons or part of the sex trade, is estimated to be a more than $1 billion industry in the U.S. alone.
Her tale echoes what many go through.
Like many poor immigrants, Lydia had jumped at the opportunity to work as a nanny. She had landed in Bakersfield, Calif., where she spent five months working the fields daily from 6 a.m., often skipping lunch because she lacked the money to buy it. So when she heard through a friend about a wealthy couple in Orange County looking for someone to tend to their kids, she snapped up their offer, which included room, board and $200 a week in exchange for the care of two infants. They upheld their end of the deal for exactly one month.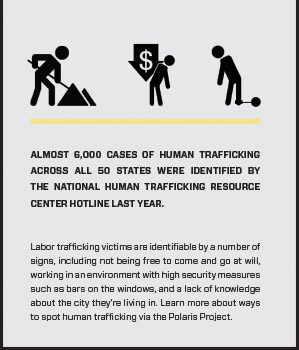 First, they began piling on duties—cleaning the house and doing the laundry in addition to watching the children; then they demanded she begin cooking as well.
"Sometimes…I go to my bed [at] 12 or 1 o'clock in the middle of the night," she recalled. "Sometimes [I] sleep two or three hours."
When Lydia pressed for her money, her employers simply got more creative with their accounting. At one point, the family gave her a cell phone, but charged her $180 a week to cover calls to Mexico she says she never made. "I never see the bill," she said. "I say, give me the bill. They say, it's not necessary."
"Sometimes I receive $20, $40," she recalled. "They say, 'this is your change.'"
Eventually, she was told to stop communicating with other neighborhood nannies—in fact, she was told she could no longer leave the house, and the family used their home alarm to police her movements. "The lady say, 'you only talking with my children and no one else,'" she said. "For me, it was little jail. I can't talk to anyone; I can't go outside. I take care of the babies 24 hours. I can't see my family; I can't call my family."
After a year, she began to feel ill. When she asked to visit a doctor, she was told it wouldn't be allowed. Hoping to seek medical help, she escaped late one evening while the couple were out at a party, after slipping a wedge into her door jam to prevent the house alarm from registering. Around 1 a.m., Lydia threw on a sweater and raced outside, leaving all of her other possessions behind. She jumped into the car of a waiting friend and took off.
The next day, her employer called, informing Lydia that she was fired and threatening to report her to immigration. Two hours later, the woman's husband called back, demanding Lydia pay $500 if she wanted to retrieve her possessions. If she didn't come up with the money, the couple threatened to call the police and tell them Lydia had stolen some of their possessions.
These kind of intimidation tactics are common in human trafficking cases, says Dwayne Angebrandt, a special agent with the Immigration and Customs Enforcement (ICE) office in downtown Santa Ana.
Traffickers have been known to threaten to kill families back home, and to use voodoo and Santeria to frighten victims. Other times they have filed police reports against the victims, just to prove they can.
"In some cases, we've had instances of a domestic violence call coming in, and it was an allegation that the victim was doing something to one of the kids. And then when the police would get there, they're like oh it's just a misunderstanding, and they sweep it under the rug," Angebrandt said. "But what has that done to the victim? It's reinforced if you do something against us we're going to have law enforcement take care of it."
In Lydia's case, she was led to the abusive family only after arriving in the U.S. But it's not uncommon for criminal enterprises to smuggle laborers into the country; in fact, the U.S. state department estimates that up to 17,500 people are trafficked into the country each year. In 2009, ICE uncovered a Southern California eldercare facility that repeatedly brought workers into the country under the guise of martial artists traveling to tournaments.
"They were being groomed overseas as to how to present themselves in the interviews," Angebrandt said. "They were even taught very minimal moves so that if they were questioned…they would be able to do a little bit of kata."
In this way, abuse of the legal process becomes just another tool of control. "That's one thing they'll hold over the victim's head," he said. "They'll basically tell the victim they were were complicit in the fraud that got them into this country to begin with, so they'll go to jail if they ever try to leave."
In fact, fear of running afoul of immigration officials is one of the most potent obstacles preventing victims from getting help.
Though terrified—Lydia began living in a series of rented garages just after her escape, trying to stay one step ahead of her former captors who were attempting to track her down—she was willing to reach out for help. She just had no idea where to turn.
"I cry on the bus," she said. "One lady I talk to, I tell her my story. She say you need help, you are alone [and that's] not good."
Lydia was first directed to the labor department, which told her it would open an investigation, but it would take three to four months. She then went to the Mexican consulate, which in turn sent her to the public law center. They told her to call the police. That's when The Salvation Army arrived on the scene.
Part of a vital partnership between law enforcement, faith-based organizations and nonprofits, The Salvation Army of Orange County has operated an eight-bed safe house for trafficking survivors since 2009—emergency housing that allows people like Lydia to escape bondage and begin to heal.
It's intentionally not a shelter, said Priscilla Santos, the Army's anti-trafficking program services coordinator. "We work with a lot of survivors who have had negative experiences in shelters," she said. "All the rules and regulations remind them of when they were being controlled.
"Our approach is that we walk alongside them, from crisis to self-sufficiency to thriving," Santos said. "It's the relationship that makes the difference, not necessarily the program."
As a founding member of the Orange County Human Trafficking Task Force, The Salvation Army serves as part of the group's core leadership, helping to make decisions on how human trafficking efforts are addressed in the region. The group also undertakes extensive outreach efforts, including training law enforcement and educating the general public, who are often the first line of defense against the practice. If officials must wait for victims to summon the courage to come forward, the violation might not become apparent until after the perpetrators have fled the scene.
Over the past seven years, The Salvation Army program has served 131 trafficking survivors and families, 92 cases of which were involved in labor trafficking. Many were involved in domestic servitude, but the practice can also be found in the hotel housekeeping and hospitality as well, where subcontractors engage in forced labor. According to Santos, Orange County has seen a big influx of a different brand of the practice, something called servile marriage, in which wives of both Americans and foreign nationals are brought to the U.S., kept in isolation and forced to be domestic servants.
It was through the assistance of The Salvation Army that Lydia was ultimately able to secure not only legal employment but also legal status—in her case a special type of visa called a U visa, one of two types of visas created in 2000 to assist victims of crime and human trafficking in the U.S.
Last September, Lydia and her children all received green cards. "I say, 'thank you, God' because I no longer remember my bad life before," she said. "For long time I don't have food, house, family, money, but now everything is different."
Ultimately, however, nothing came of investigations into her case—criminal charges were dropped and the family declared bankruptcy to avoid civil penalties. Lydia said her former employers have another nanny now.
"So I say, it's not only me," Lydia said. "I listen the stories before [coming here], working lot of hours in the house and not getting paid. I think it's not true. Not [in the] United States. I come, I say oh my God, it's true. It happened in my life, to me."
[button color="black" size="normal" alignment="none" rel="follow" openin="newwindow" ]Report concerns about possible instances of human trafficking to the National Hotline at 888-373-7888 or by texting HELP to BeFree (233733).[/button]