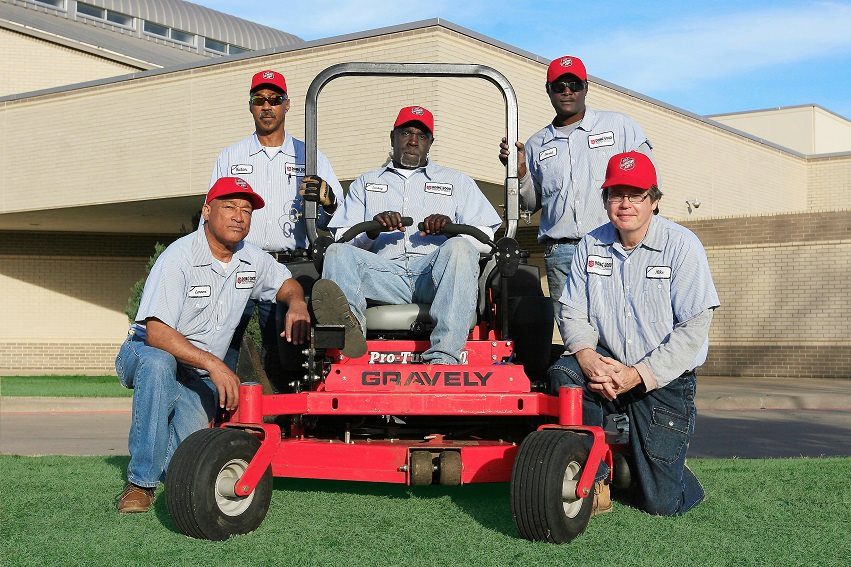 Social enterprise expands in Dallas
Half of the men who've worked at The Salvation Army's landscaping venture have gone on to full-time work.
The Salvation Army Green Works Landscape Management company has grown its business by roughly 400 percent since late 2013, due in part to a partnership with Habitat for Humanity.
Green Works, The Salvation Army Dallas-Fort Worth Metroplex Command's in-house landscape management company, uses workers hired from the nearby Carr P. Collins Social Service Center. Some of these men are recovering from addiction, some are veterans, but all are homeless, unemployed and hard-pressed to find work elsewhere.
"You've got something to put on a resumé, which, when you look at it, a lot of them have nothing," said Donnie Freeman, social enterprise manager for the command. "A lot of them haven't worked in years and so it's hard to find a job. Now, when they go fill out an application, they can say, 'Well I worked for The Salvation Army on their landscaping company.'"
Freeman launched the initiative in 2010, when The Salvation Army Dallas-Fort Worth Metroplex Command discovered it was spending a substantial amount of money on paying an outside contractor to maintain its own properties. He brought in a professional to train the men at Carr P. Collins Social Service Center in lawn and plant care, proper equipment usage, safety and irrigation.
Since April 2013, when the program gained permission to carry out work for entities other than The Salvation Army, the company has since increased its workload to maintaining 247 properties. Many of those are lots or properties owned by Habitat for Humanity, with whom The Salvation Army partnered a year ago.
"We're working toward a point where we'll be completely self-funded," he said. "We're getting close."
With donations from local advisory board members, the program has helped launch 37 employees, including Kevin Kirby, into other full-time work.
"When I got out of jail, I didn't have any money," Kirby said. "I didn't have any money until I went to The Salvation Army and went through that program. In those three months I was in the program, I was able to do what I needed to do once I got out. If I could've worked more hours I would have."
After working just three months in the program, Kirby dropped off his updated resume and a letter of recommendation from Freeman to a few employers. He had more offers than he knew what to do with.
"I'm still in contact with [The Salvation Army] today, thanking them for what they did for me," he said.
Recently, Freeman even helped launch a mobile car washing business, which also employs men from the Carr P. Collins Social Service Center. While still in its infancy, Freeman said he looks to expand the venture early next year.