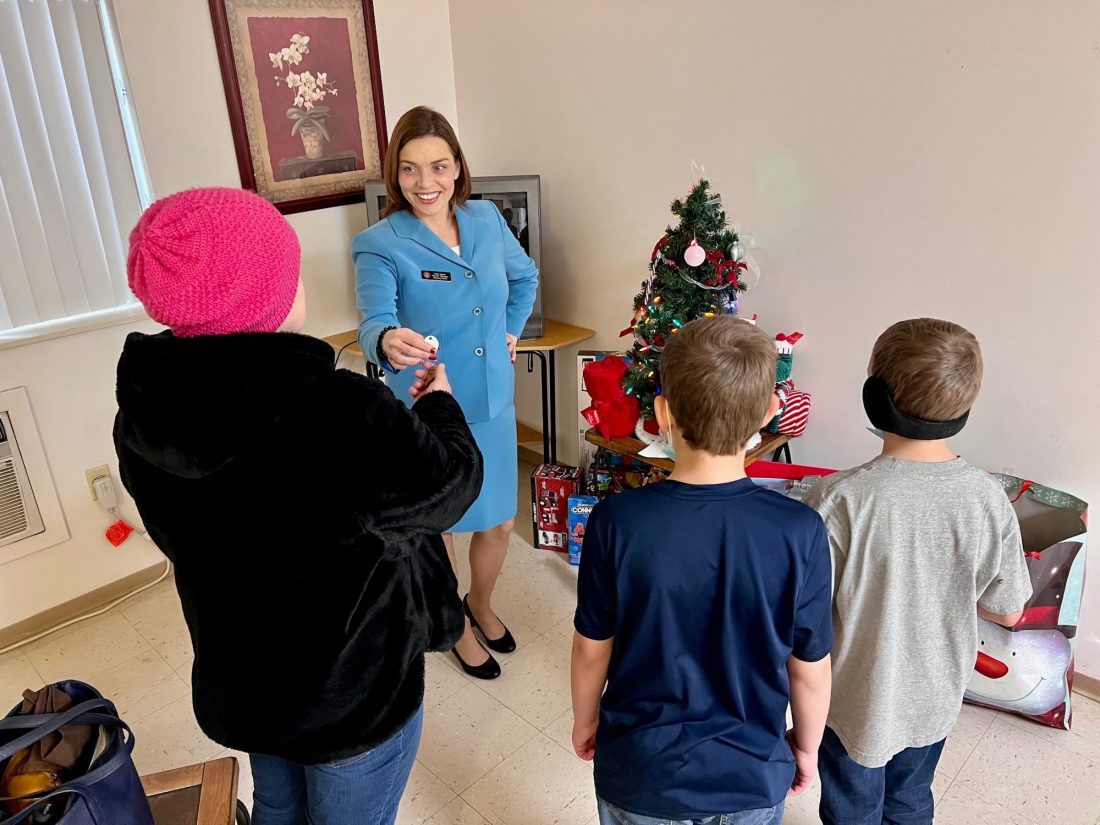 Single mother and sons find home with The Salvation Army just in time for Christmas
Following years of abuse, a life-saving miracle occurred just days before Christmas for Patty and her two young sons, Troy, 10, and Tim, 8.
Recently, Patty found the courage to escape an abusive relationship and fled with her two sons and only a handful of clothes. With no family to help, they became homeless; living in their vehicle, in shelters, or wherever they could find a roof over their heads. This small family had to leave all support systems because of the domestic violence situation.
Patty and her sons found solace this week when they moved into a three-bedroom unit at The Salvation Army Stepping Stones Transitional Housing complex in Spokane, Washington. Waiting for them in the living room were presents under a small, decorated Christmas tree, as well as new kitchenware and some food in the refrigerator and cupboards.
When the boys saw the presents, their faces broke out with big smiles, and they both said, "Wow!" Patty stood back and took everything in, including the joy she saw on her sons' faces. All she could say was, "I'm probably going to cry later."
The Christmas miracle began while The Salvation Army was working with local shelters to get families off the streets and into safe surroundings. During this time, Sarah Aguirre, assistant manager of Stepping Stones, learned about Patty and her two sons. During their conversations, Patty shared about the love and support she received as a child from The Salvation Army following difficult years at home.
As a young girl, her parents struggled with drug abuse, which led to Patty being taken away and briefly residing at The Salvation Army Sally House, the only emergency foster care placement program in Eastern Washington for children, ages 2-12, who have been abused, abandoned, neglected or found in a home with criminal activity.
Patty was in-and-out of foster care during her childhood and has no immediate family. However, she said her fondest memories were the love and guidance she received at Sally's House, and later, at The Salvation Army Camp Gifford on Deer Lake when her foster families sent her to summer camp.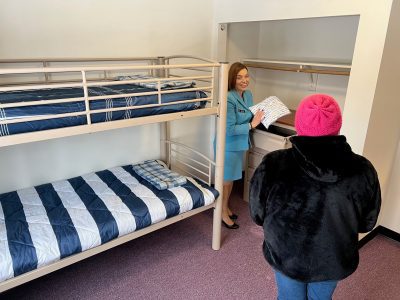 Aguirre knew that this family could benefit from the Stepping Stones program, which serves working homeless families that meet the HUD standards of being at, or below, 30–50 percent of the area median income for Spokane County. However, there was a waiting list to get in.
Aguirre and Patty remained in contact. Patty said she never ceased praying that she and her young sons would find housing before Christmas. Her prayers were answered when a family transitioned out of Stepping Stones and into permanent housing.
Ironically, the two boys were enrolled in the local school district and already have classmates that reside at Stepping Stones. Their wish for finding a place to belong with friends unfolded days before Christmas.
Erin Kauffman, manager of Stepping Stones, said that Patty told her, "I believe in my heart that The Salvation Army Stepping Stones will provide a place of healing for me and my children."
The Stepping Stones program allows up to two years of residency while families work to get into permanent housing. As Patty begins to rebuild her life as a single mother, she will have a new job while working toward her GED, and, ultimately, enroll in a 16-month bachelor's degree program in family therapy or case management so that she can help other women who have experienced the same trauma as herself. During this time, Patty will also receive free assistance with various classes including, but not limited to life skills, self-esteem, self-sufficiency and finances.
"I've been praying that this program would serve as a stepping stone for more families and a place where single moms, like Patty, can capture what they've missed in their lives," said Aguirre, who had the privilege of handing Patty the key to her new unit.
---
Do Good:
You can help create more holiday miracles for families through The Salvation Army Stepping Stones. Six three-bedroom units are currently unfurnished and require a loving touch before anyone can move in, estimated at $4,000 per unit for furniture, linens and kitchenware. To give to the effort, or for more information, contact Erin Kauffman at 509-325-7288, ext. 2303, or erin.kauffman@usw.salvationarmy.org.
You've probably seen the red kettles and thrift stores, and while we're rightfully well known for both…The Salvation Army is so much more than red kettles and thrift stores. So who are we? What do we do? Where? Right this way for Salvation Army 101.
You may think your day is too filled to the brim for anything more…but it's in his presence that you find rest. Where you are assured God is doing a beautiful work in you. Where you find a way to love—because he first loved you. Get inside the Caring Magazine Scripture Study Collection and find a suite of free, printable Bible studies to guide you through topics from New Beginnings Through Forgiveness, to Understanding our Imago Dei or Life Hacks From David.