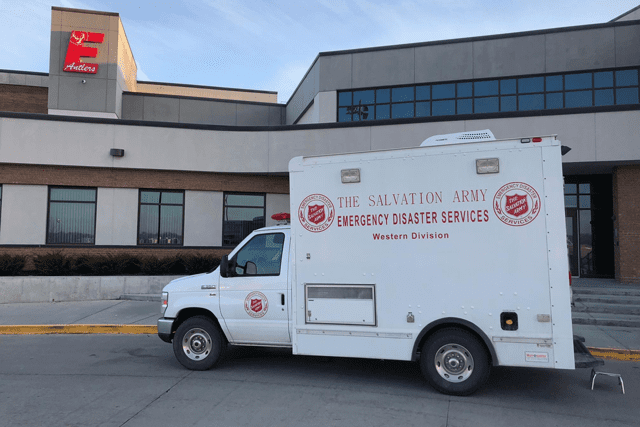 Sinclair, Salvation Army partner again, this time to help the Midwest
By Sinclair –
Sinclair Broadcast Group is teaming up with The Salvation Army Western Division to deliver aid to areas devastated by severe flooding in the Midwest.
Sinclair is holding its Day of Giving on March 25 to ask for donations to its Heartland Flood Relief fund, which will prop up the work of The Salvation Army's Western Division. The two groups have worked together often of late, including after Florida's Hurricane Florence and California's Carr Fire.
"Through the Heartland Flood Relief fund, Sinclair will continue its work with The Salvation Army to help the local communities in Nebraska and Iowa that are facing mass devastation, including the complete destruction of numerous homes and roadways," said Scott Livingston, Sinclair's Senior Vice President of News. "We are committed to serving the residents of these communities, and strongly encourage our viewers to donate what they can to help their neighbors."
Four of Sinclairs stations are located in the affected areas: KHGI in Lincoln, Nebraska; KPTM in Omaha, Nebraska; KGAN in Cedar Rapids, Iowa; KPTH in Sioux City, Iowa; and KDSM in Des Moines, Iowa.
According to a report by The Associated Press, Nebraska Emergency Management Agency said the estimated damage statewide from recent flooding is more than $640 million. Iowa Gov. Kim Reynolds stated that nine counties were added to the state's flash flooding disaster proclamation, bringing the total to 52 out of Iowa's 99 counties.
The storm surge damaged properties in Nebraska, Iowa and Missouri and has been blamed for two deaths in Nebraska and one in Iowa.
"I want to thank the incredible teams at KHGI, KPTM, KGAN, KPTH and KDSM in Nebraska and Iowa for providing tireless coverage of the storm, ensuring our viewers were consistently updated throughout the disaster. We pride ourselves on our ability to deliver continuous, crucial news updates, especially when our viewers need it most," said KHGI's General Manager, Vince Barresi, who is leading the Heartland Relief Fund. "Now, in the wake of the storm, these same teams are banding together to help their community rebuild, supporting the idea that local news stations must do what they can to get involved in times of crisis."
To support relief efforts, visit centralusa.salvationarmy.org/omaha