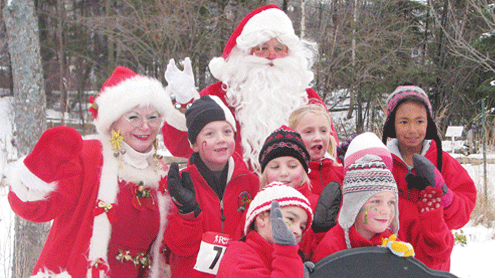 Shuffling with Santa to help families in need
The Salvation Army in Canada holds Christmas run/walks across the country.
On Dec. 3, 39 cities across Canada participated in The Salvation Army "Santa Shuffle" to raise funds to help the Army meet the needs of the poor in local neighborhoods.
The 5k/1k walk/run event serves two purposes: to bring families and friends together and to generate enough money to assist people in need during not only the Christmas season, but throughout the year.
In Sudbury, Ontario, the shuffle raised more than $20,000, which will be used to build a playground at Cedar Place, the Army's new shelter.
"Cedar Place is a homeless shelter for women and families. We take people in who are homeless, and give them shelter until they can find a place to live on their own," said Major Barbara Carey, administrator.
The facility officially opened its doors in October 2011. Proceeds from last year's Santa Shuffle helped renovate the Cedar Street home purchased for the shelter. Prior to this acquisition, The Salvation Army housed families in motel rooms.
"People need to give back to the community. It's all about the responsibility to take care of each other. That's what the community is. It just makes people feel good to do it," Carey said.
The Santa Shuffle was made possible thanks to national partners All Weather Windows and The Running Room.