Soup and hope: every day at 4 am, this truck serves the homeless
Nightly soup run offers a meal, plants a seed.  
"We're getting a chance to serve people, you know, like Jesus did." –Pete Broz
"Well, we usually show up down here about 4:15. They've got cooks that cook the food all day. Once we load the truck all up, we've got about a three or four-mile journey down to Dorchester Park," said volunteer Pete Broz as he drove a Salvation Army canteen on a Soup Run in Colorado Springs. "They'll be a whole bunch of people waiting for us when we get there. Pop open the doors, and we usually have a couple people inside serving. And we just kinda hang out. Give everybody a few minutes of joy."
Year-round, every day of the week, Salvation Army volunteers feed up to 200 people a night in the park.
"This truck, the volunteers here on this truck, they're here every day," said Keith, who had come for dinner. "They look out for us. I love this truck 'cuz it's here everyday on point, on time."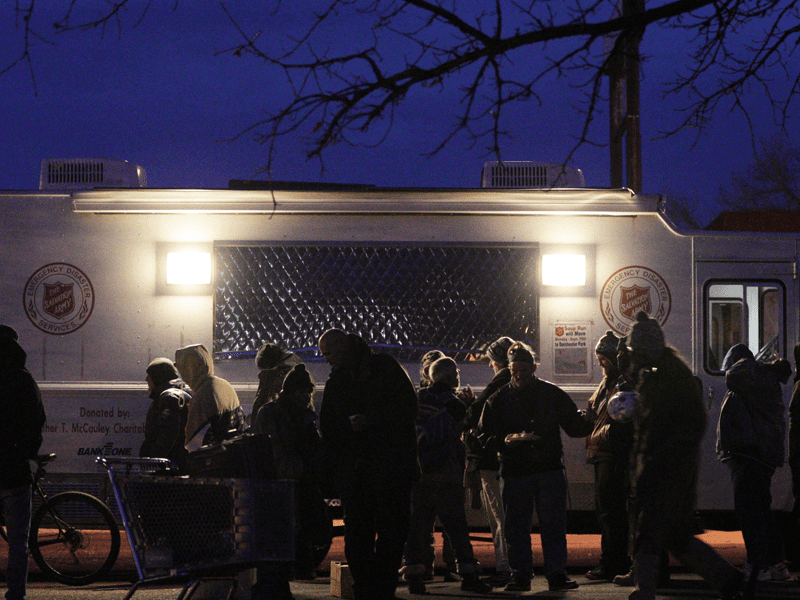 As Broz said, a hot meal can be deeply meaningful to someone who is hungry and cold.
"Coming to our truck and getting a smile and getting a hot meal and a hot cup of coffee—that just means the world to a lot of these people and they are very grateful for it," he said.
"We provide the meal but our biggest hope is that these people we're serving will come to know the Lord," Broz said. "That's the only thing that really will transform these people's lives. They've gone through so much and your heart just goes out to them. We don't preach at people, we just try to talk to them and listen to them more than anything else and we try to plant a seed in their heart so that one day they will look for God."
He said one frequent visitor, Danny, has long struggled with homelessness and addiction. "We talk to him about God and his redemptive plan for his life," Broz said. "He has accepted Christ since we've known him, so that's a neat thing to see."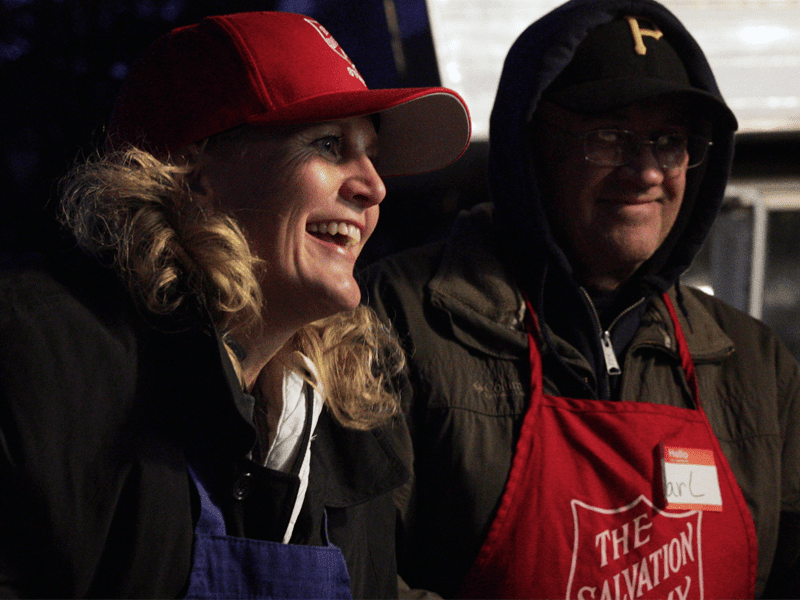 Another father with his two children was referred to the R.J. Montgomery Shelter by Soup Run volunteers. "Thank God for them doing that," he said. "If it wasn't for that soup truck we would've been in a lot of trouble."
For Broz, it is about having the opportunity to help others.
"We're getting a chance to serve people, you know, like Jesus did," he said. "You don't have these chances all the time. To have this ministry where we can drive the truck and we can hand out food to 100 plus people, you know, it's great.
"If anyone is looking for something to do, I really recommend volunteering for something like this," he said. "It really changes your life."
[button color="black" size="normal" alignment="none" rel="follow" openin="newwindow" url="westernusa.salvationarmy.org"]Find a volunteer opportunity near you at westernusa.salvationarmy.org.[/button]