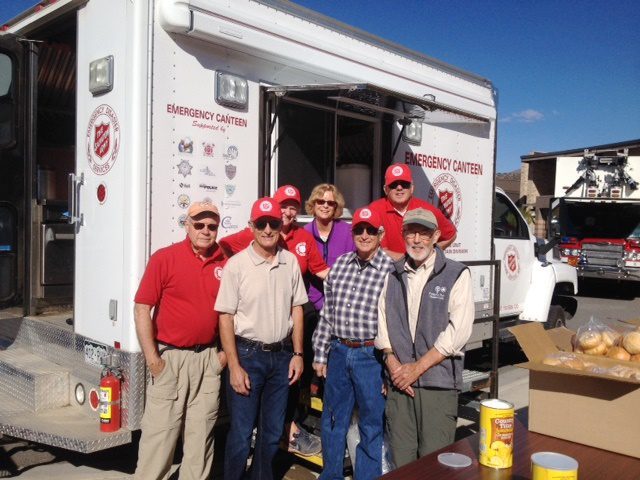 SERVICE AT THE POINT OF NEED
Nearly 23,000 volunteers served over 161,000 people from 474 Service Extension units in The Salvation Army Western Territory last year.
When the Vail Pass on the I-70 closes, stranding drivers on their way to Denver at over 10,000 feet above sea level in the Rocky Mountains of Colorado, Dan Smith gets a call and goes to work.
With Fire Department volunteers, he creates a makeshift 150-bed emergency shelter in 30 minutes, with cots spread across the town council chamber, in the hallway to the police department and in the basement of the nearby chapel.
"When it's 20-below and the snow is coming down, we don't want people sitting in a running car on the road," Smith said. "Everyone thinks the pass will open as soon as they get out of the car, so when I walk the line and I can't  get them to move, I try having police officers and fire personnel encourage them to the shelter. Then, I pull the grandma card."
Smith, retired from Exxon and a former Vail Mountain Rescue mission coordinator, has served as the volunteer advisory council chairman of the Vail Valley Service Center for 14 years. In the roughly 25 emergency shelter situations he's managed, he said he's learned that grandmas are the only ones who can sway a family from their car to safety—and he has a list of them on standby to help The Salvation Army.
In 2015, nearly 23,000 volunteers served over 161,000 people from 474 Service Extension units in the Western Territory. 
"We're the go-to people, so when there is a problem, we get a call, and they don't hit bureaucracy, they get a human," Smith said. "We're fairly practical and pragmatic. We do things that don't fit in anybody else's wheelhouse. We get the problem solved."
Smith's Service Extension unit is part of a Salvation Army initiative that started in 1941 as a way to meet the needs of Americans living in areas without a corps—"in rural communities, little towns and cross-road settlements found in every state of the nation," according to a 1947 article in The War Cry. On the heels of the Great Depression, many at the time had joined an exodus to the West looking for a better life. When the U.S. entered World War II in late 1941, the West's population rose at three times the national average.   
"The best example that I heard was that we worked with a pastor in small town to make sure he had bucket full of gas to help people get on their way as they came through and not get stuck," said Shaun Jones, director of Service Extension in the Northwest Division. "If you take 'service extension' and switch it to 'extension of services,' that's really what it is—and doing so in a quiet, very deliberate fashion."
From the start, "local leading citizens" of "social-minded people" accepted responsibility of sponsoring The Salvation Army and directing welfare on its behalf. In 2015, nearly 23,000 volunteers served over 161,000 people from 474 Service Extension units in the Western Territory.
A unit's mandate is to serve clients; though no religious services are provided, the ultimate goal is to open a corps in that community. These units primarily fulfill basic emergency need—food, utility or transportation assistance—through volunteers that are recruited as service representatives.   
"Part of their job is to connect with local leaders, find out needs not being addressed, try to fit into some of those gaps," Jones said. "It doesn't make sense to give out food vouchers in a community with two food banks, but maybe there's a fuel need for people to travel to work."
That was the case in Darrington, Wash., after many of the job opportunities shifted to Everett, adding a 40-mile commute for local workers. For three years, the local Service Extension unit provided $400 a month in fuel assistance. Then the 2014 Oso mudslide affected the same community, turning the drive to work into a 120-mile trip because of road closures. The Service Extension unit provided $15,000 in fuel assistance as a result.
The need for fuel also led to the start of the Vail Service Center in Vail, Colo., which began as a program for stranded motorists in 1983. Today it provides basic emergency assistance along with more nuanced needs, like a durable medical equipment lending library that loans wheelchairs, crutches, toilet risers and more to residents in partnership with the Shaw Cancer Center. A community garden, in partnership with Colorado Mountain College and Colorado State University Extension and largely funded by the Eagle County and Winn Foundation, provides fresh vegetables to gardeners with 75 percent of the crops going to the food pantry that feeds 500 households on average each month. A greenhouse is nearly complete to extend the growing season.  
And similarly in each community, services are tailored to the specific needs in that location—and are sometimes operated from a home, church, food bank, police department or other social services provider.  
"I have to have roller skates on to keep up with all of it," said Sandy McCain, Service Extension director in the Golden State Division, who started her work for the Army from her living room—a unit that became the Ridgecrest Corps. "It's not so much a job but a ministry. I love what we stand for, love what we do, appreciate the grace in which we operate and the love that we give to people that don't always feel loved."
The representatives in her division prepare over 2,000 meals a month in a feeding program for farm workers affected by the California drought, run a summer STEM camp and after-school program for kids, offer budget counseling to families, and deliver propane to seniors for heat.
"We are God's hand extended out to the people in need, and we treat our clients with great respect," McCain said. "We're the introduction to The Salvation Army."
In every location, Service Extension units raise their own funds through mail appeals and the annual Red Kettle Campaign, even sending a portion in support to the respective divisional headquarters as the corps do. A mid-sized unit operates on anywhere from $6,000 to $20,000 annually.
"It's a hallmark of our community that we partner and work together with generous volunteers who want to make a difference," said Tsu Wolin-Brown, coordinator of the Vail Valley Service Center. "We are helping people who need it but also giving people the opportunity to give, and to teach their kids to give."
Smith will be the first to tell you that "I don't do it; I just get it done"—almost entirely through the work of volunteers. As he said, "Our whole value is one-on-one human relationships."
"We do the strange things that don't fit," he said, "but if you look at them, you can see this needs to be done."