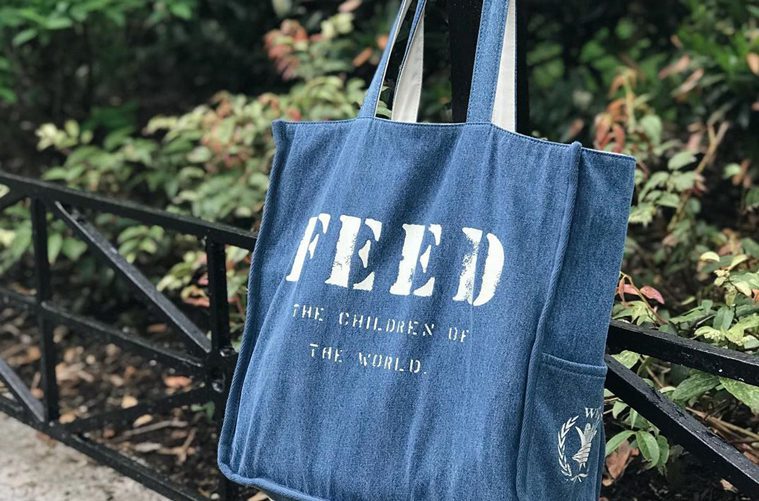 10 self-care brands doing good in the world
Are you giving yourself the same care and attention you give to others?
We're often taught to put others first, but it's important to take care of yourself in order to do your best caring for those around you.
There are countless ways you can express self-care—in the way you unwind, present yourself to others and feel confident within. Whether it's making sure you stay hydrated by drinking enough water throughout the day, taking a bath to unwind, creating a fitness plan or looking your best at the office, self-care spans every aspect of your being. It's about treating yourself with care, and going into the world with intention.
Here are 10 brands that can help you feel good while also doing good for the world.
Give your skin some love with a body butter that leaves you feeling silky smooth. Thistle Farms is a self-care shop with a mission to help female survivors of human trafficking, addiction and prostitution find opportunities and gain independence. Try the Nourishing Body Butter in Citrus Wood ($16) with all-natural aromatherapy. Thistle Farms has offered over 14,000 hours of counseling throughout its 20 years of business and employs 59 survivors.
Stowaway Cosmetics offers products that are simple, refined, clean and hardworking in a minimal, portable package. It aimed to be different in an industry that manufactures makeup to sell at the highest markup, even though much of it will go to waste. Instead, these "right-sized," premium yet affordable products—like the double duty Cheek & Lip Rouge—are sized for easy carry and for you to finish. That also means your makeup bag will no longer be overflowing with half used items. Each one is EU compliant, and made with safe ingredients.
Poured by women artisans who are former refugees, Prosperity Candles are designed with sustainability in mind. The Liberte Pot Candles come with a wildflower seed paper and instructions for how to plant it in the vessel once the candle is finished. If you're sensitive to fragrance, know the candles are poured to order, so you can decide how strongly to scent your candle—or leave the scent out altogether. You candle will come with a card sharing the story of the woman who poured it, with the artisan taking home 15-30 percent of the retail price.
A women-led nonprofit, The Little Market was founded by blogger Lauren Conrad to empower women. The purchase of its fair trade products—like the oversized market basket Palm Shopper —promote positive change and a meaningful income in the artisan's life right where they are made.
Rebel Nell was started with the sole purpose of employing, educating and empowering disadvantaged women in Detroit. The jewelry is made from unique local materials, while providing a transitional opportunity for women. The Brass Post Earrings are handmade with graffiti sourced from Detroit.
Each year, Americans throw away 2.5 million plastic bottles. Many of the bottles don't ever reach the landfill and instead find their way into storm drains and eventually, the ocean. Reusable water bottles are nothing new but the Faucet Face Water Bottle aims to bring awareness to the benefits of tap water. Three clever glass bottle designs read "Tap is Terrific," "Hose Water" and one depicts hummingbirds, to spread the word about the environmental damage bottled water causes. In addition to keeping plastic bottles out of landfills, the glass bottles feature BPA-free caps and cut down on emissions created by transporting bottled water to stores.
Feed Project's Sturdy Market Tote displays the number 50, the number of school meals the bag provides with its purchase. The meals feed children in schools around the world, and in America through Feed Project's on-the-ground partners. So far, the bags have led to more than 100 million meals served. The cotton canvas tote comes in three colors, and boasts sturdy sides designed to keep produce safe from store to home. Leather handles add additional durability for trips to the market and the bag's exterior pockets help keep your phone and wallet easily accessible.
This Dark Chocolate with Cinnamon Hot Cocoa ($5.99) is full of indulgent, exotic flavor of dark chocolate and a hint of Sumatran cinnamon. Hand selected in the Dominican Republic, the products—from cocoa to mixes for brownies and cookies—are all Fair Trade, ensuring the farmers and their families are paid a premium price for their harvests. Connect with the cocoa farmers by scanning the QR Code on the back of the package and write them a message.
A b.a.r.e.—"bringing antiseptic resources to everyone"—bar of soap is preservative, synthetic and paraben-free, and wrapped in plantable paper that is embedded with wildflower seeds. A portion of the proceeds from each purchase go to a carepoint in Uganda for vitamins, vaccines and soap.
Subscribe to Causebox ($49.95) and you'll receive a new box each season with a selection of socially conscious products that in turn have allowed Causebox to donate more than 20,000 meals and support artisan groups in every corner of the world.
What's your favorite way to do self-care?